Alumni News |
May, 2010
Santo Tolone in the Viafarini DOCVA – No soul for sale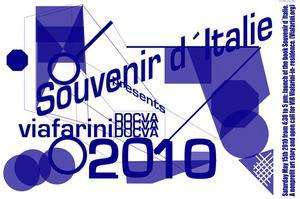 Our Italian artist in residence, Santo Tolone, participated in the Viafarini DOCVA at the Tate Modern for No Soul For Sale
China Purple by Flavio Favelli
From May 14 to May 16 Viafarini DOCVA represents itself through an installation-room by Flavio Favelli, China Purple, a cupboard full of memorabilia, "jewels"… souvenirs of Viafarini!s history. China Purple represents a showcase for the publication Souvenir d!Italie.
A nonprofit art story as well as an occasion to put on display a series of contributions by some of the artists who exhibited at Viafarini throughout the 20 years long history of the organisation: Francesco Arena, Ricardo Baruzzi, Pierluigi Calignano, Paolo Canevari, Gianni Caravaggio, David Casini, Gea Casolaro, Maurizio Cattelan, Manuele Cerutti, Martin Creed, Gabriele Di Matteo, Jimmie Durham, Emilio Fantin, Linda Fregni Nagler, Giulio Frigo, goldiechiari, Andreas Golinski, Paolo Gonzato, Alice Guareschi, Claudia Losi, Lorenza Lucchi Basili, Giovanni Kronenberg, Kim Jones, Armin Linke, Margherita Manzelli, Eva Marisaldi, Maria Morganti, Margherita Morgantin, Liliana Moro, Giovanni Oberti, Yoshua Okon, Giovanni Ozzola, Alessandro Pessoli, Luigi Presicce, Tobias Rehberger, Francesca Rivetti, Stefano Romano, Maia Sambonet,
Dragana Sapanjos, Sissi, Santo Tolone, Luca Trevisani, Nico Vascellari, Alessandro Zuek Simonetti.
In addition a series of artist portfolio are available for consultation: Meris Angioletti, Davide Balliano, Francesco Barocco, Rossana Buremi, Valerio Carrubba, David Casini,
Loredana Di Lillo, Chiara Fumai, Andreas Golinski, Alice Guareschi, Giorgio Guidi, Alessandro Roma, Matteo Rosa, Andrea Sala, Maia Sambonet, Marinella Senatore, Santo Tolone, Eugenia Vanni, Nico Vascellari.
More info: http://www.festivalartecontemporanea.it/viafarini-docva-alla-tate-modern-per-no-soul-for-sale
RELATED: