2018 | NYC | Artist
Winner Jumalon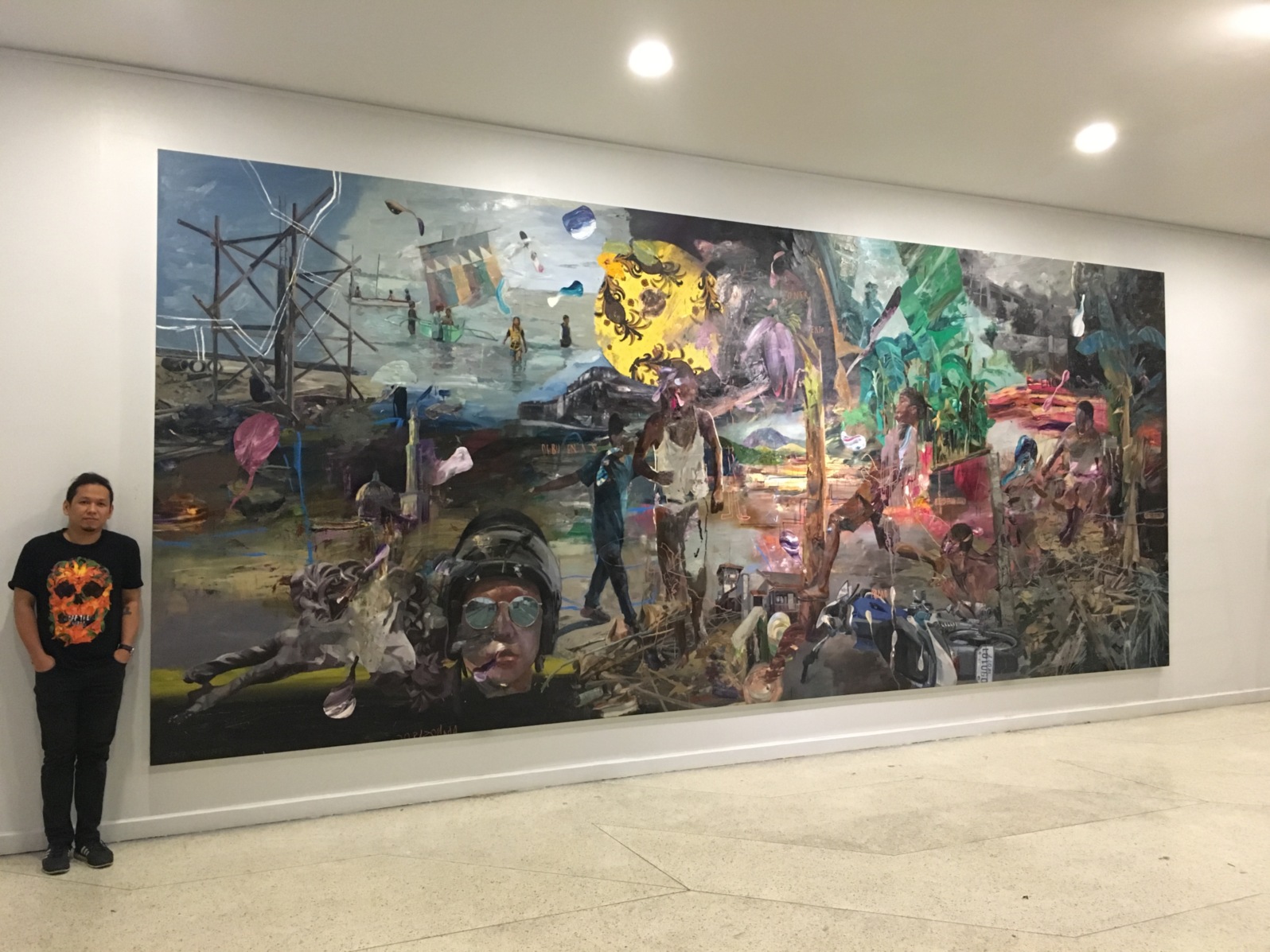 No Te Vayas( Don't Go)
2016, oil on canvas, 304cm x 670cm
Bio / Statement:
Winner Jumalon is one of the most compelling and widely acclaimed Filipino artists of his generation. He is known for his ongoing exploration of personal, cultural and artistic identities, and often focuses on the relationships between painters, paintings and the art world. Infusing into his works implicit elements with strong subliminal context, Jumalon's figurative style emotionally taps into the viewers' subconscious. His portraiture is highly detailed, rugged, and brilliantly question the formation of identity itself. His use of the human figure bears such powerful qualities, speaking in deep context beyond their aesthetic sensibilities.
Solo exhibitions include 2016 I Come in Peace, START and Tiroche DeLeon Collection in collaboration with Yavuz Gallery, Serge Tiroche Residency House, Jaffa, Israel Chispa (Spark), Solo presentation at Art Fair Philippines 2016, presented by Yavuz Gallery, Makati City, Philippines; 2015 Juramento, Yavuz Gallery, Singapore; 2012 Recent Find, Manila Contemporary, Manila, Philippines One In Mind, West Gallery; Ayala Museum, Manila Philippines; 2011 Equilibrium, Bencab Museum, Baguio City, Philippines; 2010 A Part, Pinto Art Gallery, Manila, Philippines; 2008 Mapping Asia, Soka Art Center, Taipei, Taiwan; 2007 Destroyed Images, Ark Gallery, Jakarta, Indonesia; 2006 Face Values, Richard Koh Fine Art, Kuala Lumpur, Malaysia.
Group exhibitions include 2017 Rondo II, Altro Mondo, Manila, Philippines, How The Sea Is Never Still, Altro Mondo, Manila, Philippines,  Almost There, Jorge B. Vargas Museum, Manila, Philippines; 2016 Essentia, Boston Gallery, Manila, Philippines; 2015 Re:View 2015, Bencab Museum, Baguio City, Philippines; Stop Look Listen, 1335Mabini, Manila, Philippines; 2014 Picture Life, Tinaw Art Gallery, Manila, Philippines; 2013 Lost in the Crowd: Contemporary Figuration, Manila Contemporary, Philippines,  Contemporary Philippines 1915 - Present, Metropolitan Museum, Manila, Philippines, 2012 Monumental Southeast Asia, Valentine Willie Fine Arts, Helutrans Art Space, Singapore, 2011 Munnyfestation: A Custom Munny Show, Blac Artspace, Manila, Philippines, Re: View 2011, Bencab Museum, Baguio City, Philippines
Honors include 2016 Tiroche Deleon Collection Residency Program, Jaffa, Israel, 2009 13 Artists Award of the Cultural Center of the Philippines 10 Outstanding Artists, Nokia, Philippines, and 2008 Shortlist, Ateneo Art Awards, Philippines among others.
Support: Winner Jumalon's residency is made possible with support from Asian Cultural Council (ACC).