2017 | NYC | Artist
Daniel Mantilla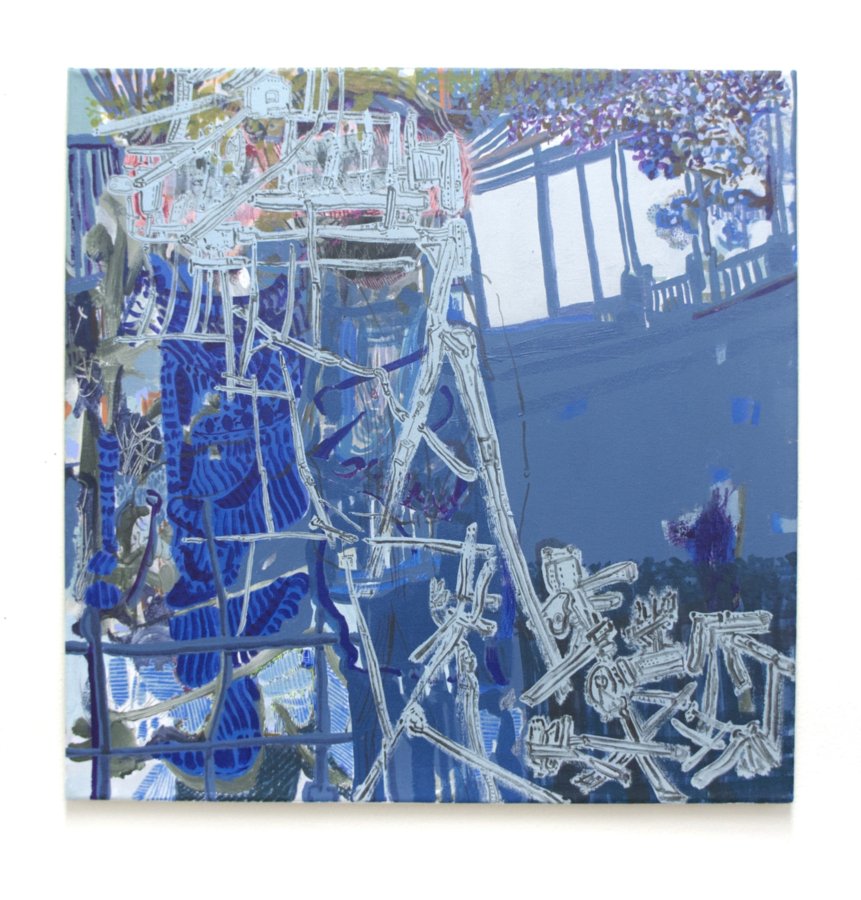 SONY DSC
Solutions (Good Friends), 2015, Acrylic on Canvas 50cmx50cm
Bio / Statement:
Daniel Mantilla is the first artist to be selected for the Liquitex Cadmium-Free Research Residency at RU. Mantilla works from memory, direct observation, and from visual sources such as cartoon animation manuals, and booklets for assembling domestic or office workspaces.  He also studies the possibilities offered by the installation of large cut-outs that he places and rearranges on the wall, floor, hung from the ceiling or installed in windows.  From that investigation, he makes collages, prints, and paintings that are directly composed on a chosen support in an attempt to keep the work as a continuous process and to keep the directness from the large cut-outs.
Using diverse materials and a wide range of marking methods and depictive styles, Mantilla`s protagonists inherit the staccato energy of his line as restless activity. His cast of characters engage, observe, support, disrupt, love, hate and converse in environments suggestive of domestic spaces, urban settings, gardens and river banks. Spatial uncertainty prevails as attempts are made towards equilibrium using rickety structures and contraptions that also require some assistance. Mantilla remembers handmade scaffolds supporting precarious structures from his childhood in Bogota and Ibague, and discarded materials repurposed to buttress falling walls or patch bridges and houses.
These ad hoc solutions have become metaphors for his character`s efforts at communication and interpersonal relations. All is in flux, identities are unstable, things and events are in transition to uncertain destinations. Though dangers exist, there are no dull moments, and the overall tone of Mantilla`s scenes is one of adventure, resilience and surprise.  It is possible that inventiveness and imagination may, in the end, win the day. 
Excerpt from Openings to Further Enclosures by Joel Carreiro, Curator.
In 2017, Mantilla had a solo exhibition, "Openings to Further Enclosures", at Thomas Hunter Project Space – New York, NY. In 2016 and 2015 participated in exhibitions of artists' books at Tempus Project, Tampa, FL, and at Watkins College of Art, Design, & Film Library, Nashville, Tennessee. In 2015 he was part of the Bronx Museum AIM Biennial, The Bronx Museum of the Arts, New York, NY. Other exhibitions also include – MFA Thesis Exhibition, Hunter College (2014), Sullivan Galleries, SAIC, Lawn Gallery, and The Whitney Houston Biennial at Murdertown, Chicago, IL (2012) Museo de Arte del Tolima (2012 and 2009) Ibagué, Colombia. Museum of Science and Industry(2010), the Tampa Museum of Art (2008), and the USF Contemporary Art Museum(2007, 2006), Tampa, FL. Mantilla was also part of exhibitions sponsored by the Bank of the Republic in various cities of Colombia and in Yeida Spain, and at the United Nations in Bogotá, Colombia (1995 – 2009) among others. Awards and Residencies - Artists in the Marketplace, Bronx Museum of the Arts, Bronx, NY (2015) Kossak Travel Grant, Hunter College, New York, NY. (2013) Recognition Painting Award Julio Fajardo, Museo de Arte del Tolima, Ibague, Colombia. (2012) SAIC Grant and SAIC Recognition Scholarship, School of the Art Institute of Chicago, Chicago, IL. (2011-2012) Artistic Talent Grant, College of Visual and Performing Arts, University of South Florida,Tampa, Fl. (2004-2008) Second Place in the National Poster Competition - sponsored by the United Nations. Bogotá, Colombia (1995).
Support: Daniel Mantilla's residency is made possible with support from Liquitex.