2019 | NYC | Artist
Charlie Gross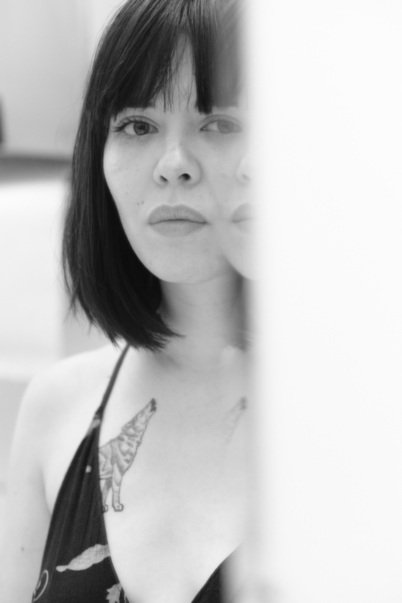 Theo, a patient at Kings County Hospital, told Gross she was either walking into traffic or into the hospital, and is now publishing poetry about her experience. Photo courtesy of Charlie Gross.
Artist name: Charlie Gross
Dates of residency: Nov, 2016; Feb, 2017; Feb, 2019 - ongoing
Born: Pittsburgh, PA
Hometown: Brooklyn, NY
Lives and works: New York City
URL: http://www.charliegrossphoto.com
Education: BA, Comparative Literature, Columbia University; MA, Clinical Psychology, Graduate Center of the City University of New York
BIO/ STATEMENT:
Charlie Gross lives in New York City and works as a photographer, psychotherapist in a private practice, and treats young adult substance abuse patients at the Weill Cornell Midtown Treatment Center. He is the co-founder of Sounds of Saving, a music-based mental health initiative that works in partnership with the National Suicide Prevention Lifeline to destigmatize mental health and bring awareness to resources. Before training in psychology, Gross worked as a portrait and reportage photographer – largely in the music world, which included a longstanding stint as a touring photographer for American singer and songwriter Beck. His psychologically infused environmental portraiture - posed or candid - explores mental states in visual contexts with a focus on both the private and interior life and the interplay between cultural and social elements.
Since 2016, Gross has been an artist-in-residence with the Psychiatry Department at NYC Health + Hospital Kings County embedded within the Partial Hospitalization Program, a transitional day program that lies between inpatient and outpatient treatment. Through collaborative photographic portraiture and oral history, he is documenting individual experiences of mental illness and the process of recovery for young adult patients both in and out of the hospital setting. Gross' project is supported in part by the Economic Hardship Reporting Project and includes publications in The New York Review of Books and Lenny Letter.
With the support of Residency Unlimited (RU) and the New York City Department of Cultural Affairs, Gross has started a new installment of the project running a photography group within the Kings County Partial Hospitalization Program in which clients will have the opportunity to use photography to share their stories about mental health struggles and recoveries. The work will culminate in an exhibition of the collaborative work at NYC Health + Hospital Kings County in Summer 2020.
Charlie Gross's residency is made possible with the support of Residency Unlimited in partnership with NYC Health & Hospitals / Kings County's Behavioral Health Services Program.