Event | Mar 13 2012 7:00 PM
Screening of experimental film and video practices in former Yugoslavia (1965 – 1990) curated by Branka Bencic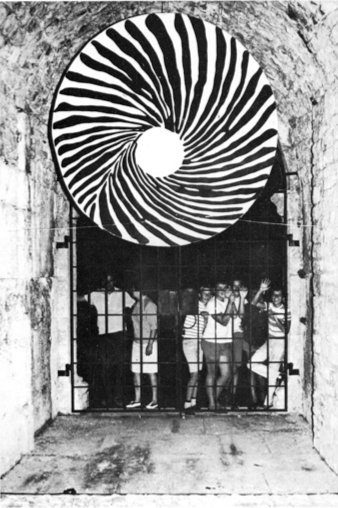 Date:  Tuesday, March 20, 2012
7pm – 8:30pm
Location: Residency Unlimited
360 Court Street, Brooklyn, NY 11231
Church entrance through green door. (subway F/G Carroll street, President Street exit)
Residency Unlimited is delighted to present a series of films and videos selected by Branka Bencic that were shown at MAFAF – a no longer existing alternative film festival held in Pula (Croatia) between 1965 and 199, that showcased works of outstanding Yugoslav filmmakers such as Tomislav Gotovac, Želimir Žilnik, Dusan Makavejev.
A catalyst for independent cinematography and the cine club movement, MAFAF was instrumental in fostering the emergence of conceptual art practices in the visual arts, as well as the Yugoslav Black Wave film movement from 1960s and early 1970s. MAFAF created a shift in the dominant cinematic language giving birth to new paradigms in the aesthetics and production of film. During MAFAF years numerous artists and filmmakers emerged and subsequently gained an important role in contemporary art, visual culture as well as professional cinematography.
At this occasion, Branka Bencic will make a brief introduction about the works she selected and MAFAF's role in the history of experimental and alternative cinema in Yugoslavia. The moving images differ in style and genres ranging from expressive visuality, surrealist codes to structural cinema and experiments with language, rhythm and montage. The majority of the films represent the human form and are developed as film portraits, utilizing mechanisms of the documentary approach, direct cinema and strategies of self representation.
Screening program:
Sava Trifkovic Hands Of Purple Distances (1962) 10 min
Ivan Martinac Rondo (1962), 6 min
Tomislav Gotovac T (1969) 15 min
Vladimir Petek 222 (1963) 4 min
Ivan Faktor, Susac, Kusik, Alebic (1979) 4 min
A. F. Stasenko All Days Like One (1970), 8min
Zdravko Mustac My Name Is Film, (1987) 3.30min
Vladislav Knezevic In the Colourbox (1989/1990) 6 min
Bio: Branka Bencic is an independent curator, researcher and writer based in Zagreb, Croatia. She is the founder and Curator Cinemaniac, research platform for exhibiting moving images established in 2002 as the support program of Pula Film Festival. Bencic has curated 30 group exhibitions and more than 40 solo shows by emerging and established artists, film and video screening programs in Croatia and internationally. She has lectured on contemporary art practices, artist film and video and publishes regularly on contemporary art and visual culture in newspapers, art magazines and exhibition catalogues.
Bencic is a member of AICA, HZSU Croatian freelance art professionals association as well as the Board Member and Curator of the Festival Polis Adriatic Europe. Bencic serves as jury member of the Oberhausen International Short Film Festival; 25FPS International experimental film festival, KulturKontakt, Vienna and VisuraAperta Momjan, Croatia.