Talks | Aug 21 2012 6:30 PM
RU Talk: Sonya Schönberger in conversation with Jodi Waynberg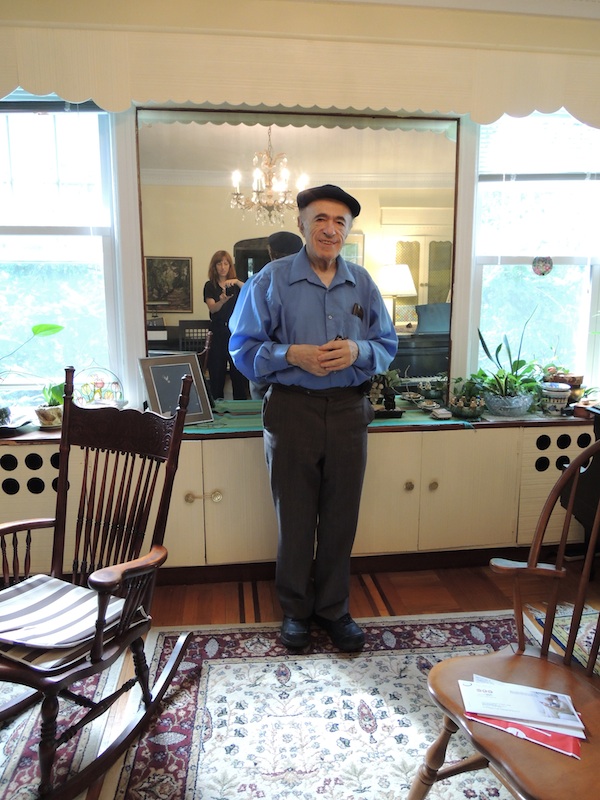 RU Talk: Sonya Schönberger in conversation with Jodi Waynberg
With Miriam Ibrahim and Leonie Ettinger reading "nix zu reissen und zu beissen"
Tuesday August 21, 2012 6:30pm
Location: Residency Unlimited
360 Court Street (green door)
Brooklyn, NY 11231
directions here
Residency Unlimited is delighted to invite you to an insight into German artist Sonya Schönberger's most recent body of work "nix zu reissen und zu beissen", followed by an conversation between Schönberger and curator Jodi Waynberg.
For nearly two years, Schönberger has amassed an archive of conversations with eyewitnesses from World War II, each interview an excavation of silenced cultural memory and an exploration of how the impacts and traumas of the war transformed generations of Germans. By meeting with victims and perpetrators, Schönberger is able to shed light onto neglected narratives of everyday life in the Third Reich, the lasting imprints of escape, and life after the war.
Schönberger will present a selection of memories collected during her New York residency, read by actors Miriam Ibrahim and Leonie Ettinger, as well as discuss the relationship between this project and her ongoing engagement with questions about home, identity, ancestry, and tradition.
Miriam Ibrahim grew up in Germany and Ethiopia. She began performing in high school and graduated from Stage School Music, Dance and Drama Hamburg in 2005. Throughout various theaters in Germany she played roles in Crucible (Theater Bonn), Hair (Theater an der Rott) and Mutter Afrika (Deutsches Schauspielhaus Hamburg) and others. She moved to New York City in 2010 to study at the Stella Adler Studio of Acting where she successfully graduated. In New York she played in Eastern Standard, Escape from Happiness, Crucible. In addition to her work as an actress and producer she also teaches (BINI e.V. Germany, Backstage Hamburg, Geminin Trust Ethiopia) and directs ("Playroom", "Fear", "Sterntaler", "Der Kluge Hase"). Right now she is assistant directing in "Playing with Fire" by A. Strindberg, directed by John Gould Rubin (The Private Theatre). She is co-founder and artistic director of the multi arts organization The Shades of Gray.
Leonie Ettinger is a New York City based actress, stage manager, producer and an aspiring dramaturg. She graduated with a B.A. in Anthropology and Media from Goldsmiths College – University of London and lately completed three years of MFA-equivalent training at the Stella Adler Studio of Acting. Before moving to New York, she trained in the UK at London Drama School, London School of Dramatic Arts and Central School of Speech and Drama. She has acted and participated in various productions in Germany, Israel and the UK including the FFT Düsseldorf and The Tricycle Theatre, London. New York City collaborations include The Living Theatre, Poetic Theater Productions, LEIMAY, Urban Stages, undergroundzero, The Private Theatre with John Gould Rubin and La MaMa ETC with Everett Quinton. She is Head of PR and Marketing at The Shades of Gray – a New York City based multi arts organization.
Sonya Schönberger is currently artist in residence in New York City at RU, within the framework of the Residency Unlimited (RU) / Flux Factory (FF) program with support from Schloss Balmoral, Stiftung Rheinland Pfalz für Kultur(Germany).
Jodi Waynberg is a curator and art historian based in New York City and is currently serving as curatorial consultant for RU. Waynberg served as an Assistant Curator at the Contemporary Jewish Museum in San Francisco until 2011 and worked on exhibitions that include Chagall and the Artists of the Russian Jewish Theater, 1919-1949 and Maira Kalman: Various Illuminations (of a Crazy World). Additionally, she was a regular contributor to ArtSpeak China, a collaborative encyclopedia of contemporary Chinese art. Waynberg graduated Phi Beta Kappa from the University of California, Santa Cruz with a BA in art history, earning honors for her thesis Judgement's Consumption: De-flective Judgement and Thomas Struth's Museum Photographs series.
This discussion is made possible in part by the New York State Council on the Arts with the support of Governor Andrew Cuomo and the New York State Legislature.
<img title="nysca_cmyk" src="http://www.residencyunlimited.org/wp-content/uploads/2010/02/nysca_cmyk-239x300.jpg" alt="" width="80" /></a><img title="s2dlogo" src="http://www.residencyunlimited.org/wp-content/uploads/2009/05/s2dlogo-300x45.jpg" alt="s2dlogo" width="292" height="43" />
RELATED: