Talks | Sep 18 2018 6.30pm
RU Talk: Maess Anand in conversation with Monicka Wielgos-Bonvallet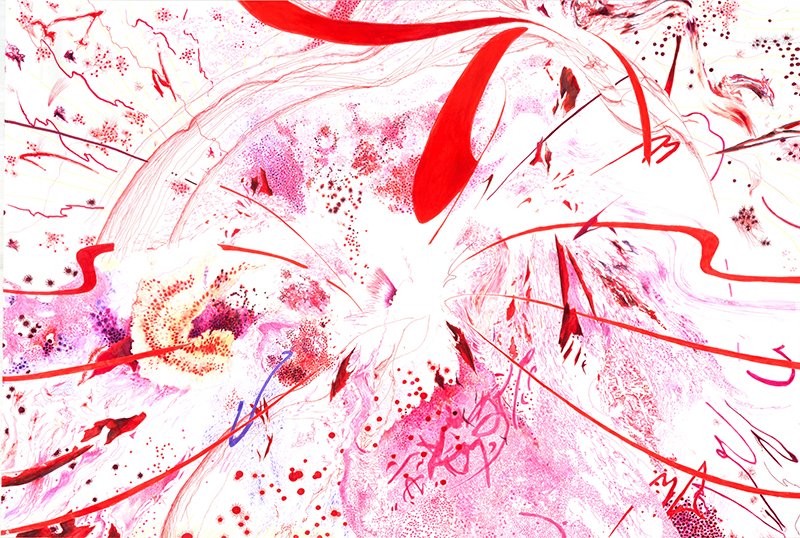 Maess Anand: Histopahtology findings 2, 39.3 x 27.5 in, pen and marker on paper, 2017
Tuesday, September 18, 2018
6.30pm (free and open to the public)
Residency Unlimited (RU)
360 Court Street (enter the Church through the main entrance)
Brooklyn, NY 11231
Polish artist Maess Anand discusses her drawing practice and the influence on her work of research into organisms attacked by cancer. A discussion with Monicka Wielgos-Bonvallet, Postdoctoral Fellow at NYU Langone Medical Center and translational cancer researcher.
***
Maess Anand's works examine organisms attacked by cancer. Using scientific material that involves cancer related databases, microscopic views, histopathology images, Kaplan-Meier curves, 2D and 3D modeling, the artist combines these visual facts about cancer into expressive images. Of interest is both physiologic response but also mental outcome of such suffering. Specifically, how the disease changes the lives of patients and people closest to them (especially how the perception of time changes for a patient); how the body changes on a tissue level when affected by cancer, how the groundbreaking oncology treatments change the way that cancer is perceived in culture. Maess Anand's drawings have been reviewed by world's leading medical journal The Lancet Oncology. Also the interview about this cycle of works can be found at Contemporary Lynx.
With Alex Urso, Maess curated Biennale de La Biche; the smallest biennale in the world held on deserted island near Guadeloupe. The was event reviewed by The Guardian, Hyperallergic, Artnet,  Art Review, Observer (2017).
See the exhibition history here. 
Dr. Wielgos-Bonvallet is a postdoctoral fellow working with Dr. Douglas Levine at NYU Langone. She is currently working on expanding the ovarian cancer patient population by identifying the off-target effects of various PARP inhibitors. During her fellowship, she received independent funding to support her work through the National Institutes of Health.  Recently, she presented her " highly rated" abstract at the 2017 AACR Ovarian Cancer Meeting.
She obtained a BS in Molecular and Cellular Biology from the University of Illinois at Urbana-Champaign and then a PhD in Pharmacology and Toxicology from the University of Alabama at Birmingham. During her PhD work, she joined Dr. Eddy Yang's lab focusing on translational oncology research. Her thesis work focused on discovering the mechanism behind the sensitivity to PARP inhibition in HER2+ parental and trastuzumab resistant breast cancer cell lines. The work from her thesis project was featured in "Molecular Cancer Research Highlights: Selected Articles from March 2017 Issue".  Furthermore, her preclinical research project resulted in a multi-institutional clinical trial assessing PARP inhibition with trastuzumab in patients with metastatic or recurrent HER2+ breast cancer. During this time, she also worked closely with the Susan G. Komen Foundation to engage and educate the general public about breast cancer research.
This program is made possible with the support from the Adam Mickiewicz Institute and Sugar Hill Capital Partners Studio Program.

RELATED: