Talks | Nov 20 2018 6.30pm
RU Talk: Glexis Novoa in conversation with Marcela Guerrero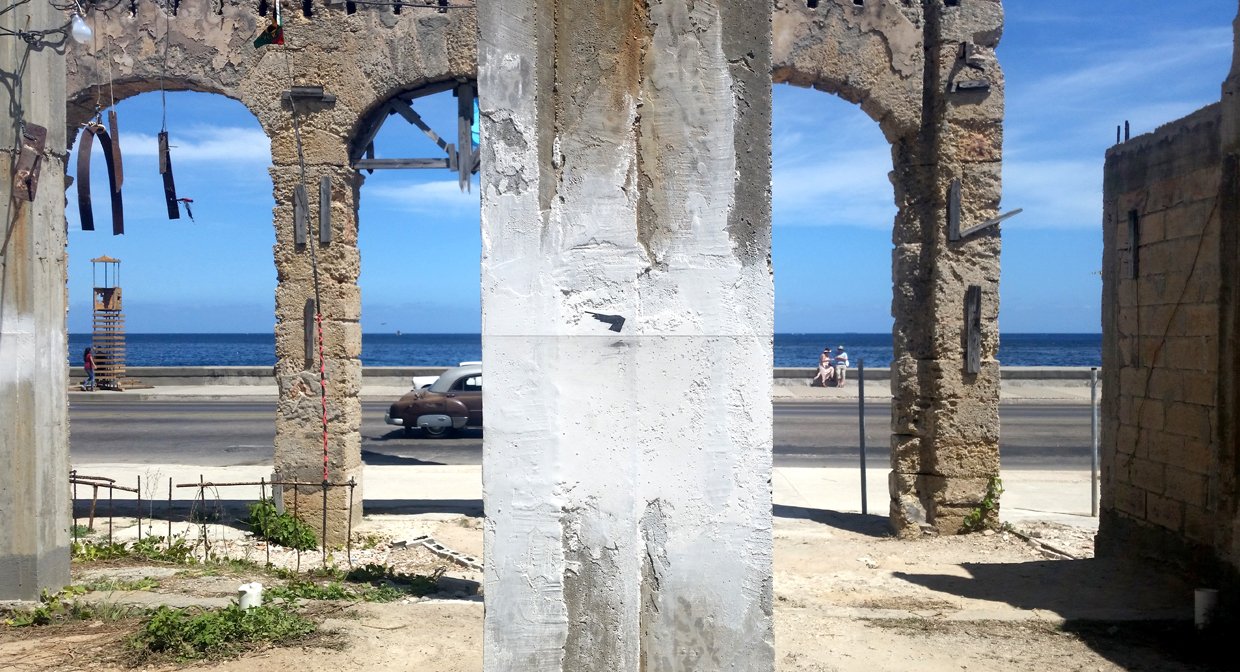 Glexis Novoa: Emptiness, 2015. site-specific graphite drawing at an abandoned building inhabited by homeless; XII Havana Biennial, Havana
Tuesday, November 20, 2018
6.30pm (free and open to the public)
Residency Unlimited (RU)
360 Court Street (enter the Church through the main entrance)
Brooklyn, NY 11231
In dialogue with Marcela Guerrero, assistant curator at the Whitney Museum, the RU Miami/Havana based artist Glexis Novoa will explain how his use of multimedia and drawing on marble act as an instrument of social and political criticism. This will be an opportunity to see new works realized during Novoa's residency at RU.
***
Since the late eighties Glexis Novoa has been producing work in many different media, including painting, installation, performance, and most recently graphite drawings on marble - a medium and material that would later become his focal investigation. Novoa compiles and decants information codified as symbols and canonical images representative of historical nuclei of power. Novoa is represented by David Castillo Gallery in Miami and Galería La Acacia, Havana. Novoa's work has been included in many collections including American Express, Minneapolis; Centro Wifredo Lam, Havana; Cintas Fellowship New York, NY; Cisneros Fontanals Art Foundation (CIFO) Madrid; Federal Reserve Bank of Atlanta, Atlanta; Fondo Cubano de Bienes Culturales Havana, Cuba; Lehigh University Art Galleries Teaching Collection Bethlehem, Pennsylvania; Lowe Museum University of Miami, Coral Gables, Florida; Ludwig Forum Fur Internationale Kunst, Aachen; The Farber Collection, New York; Museo Nacional de Bellas Artes, Havana; Nassau County Museum of Art, Long Island, New York; Pérez Art Museum Miami, Miami, Florida; Related Group, Miami, Florida; Sprint Corporation Overland Park, Kansas; The Shelley & Donald Rubin (Private collection), New York
Marcela Guerrero is Assistant Curator at the Whitney Museum of American Art, New York, where she recently curated the exhibition Pacha, Llaqta, Wasichay: Indigenous Space, Modern Architecture, July 13—September 30, 2018. From 2014 to 2017 she worked as Curatorial Fellow at the Hammer Museum in Los Angeles, where she was involved in the much-lauded exhibition Radical Women: Latin American Art, 1960-1985, organized as part of the Getty Foundation's Pacific Standard Time: LA/LA initiative and guest-curated by Cecilia Fajardo-Hill and Andrea Giunta. Prior to joining the Hammer, she worked in the Latin American and Latino art department at the Museum of Fine Arts, Houston, where she served as research coordinator for the International Center for the Arts of the Americas. Guerrero's writing has appeared in exhibition catalogues and in art journals such as caa.reviews, ArtNexus, Caribbean Intransit: The Arts Journal, Gulf Coast: A Journal of Literature and Fine Arts, Interventions: International Journal of Postcolonial Studies, and Diálogo. This summer Guerrero will make her exhibition debut at the Whitney with Pacha, Llaqta, Wasichay: Indigenous Space, Modern Architecture, New Art (provisional title), a group show that gives center stage to contemporary art practices that highlight indigenous thinking around the built environment. Born and raised in Puerto Rico, Guerrero holds a PhD in art history from the University of Wisconsin, Madison.
This program is made possible with support from Rockefeller Brothers Fund and Cuban Arts Fund.


RELATED: