Talks | Nov 2 2018 6.30pm
RU Event: Portal at a divided fountain, Liza Grobler and Heinrich Kruse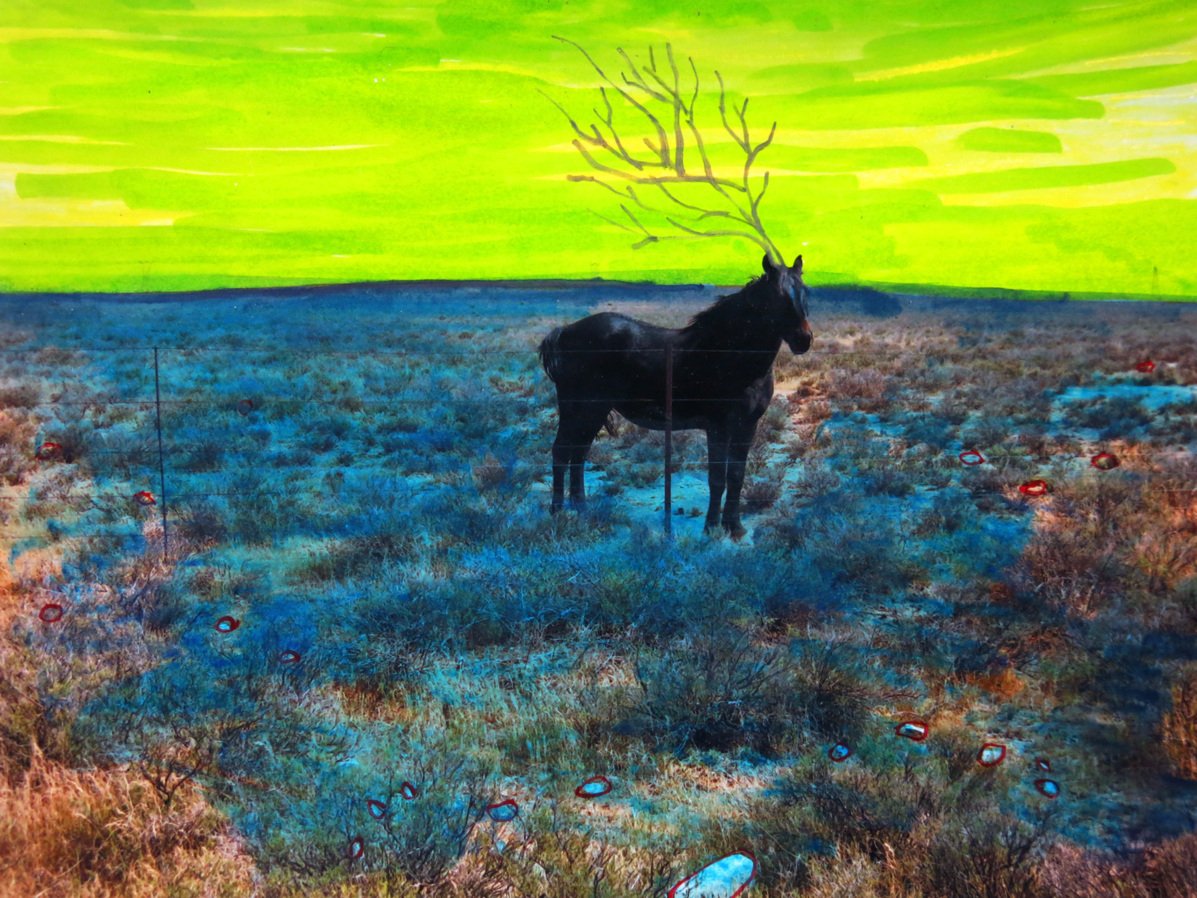 Friday, November 2, 2018
6.30pm (free and open to the public)
Residency Unlimited (RU)
360 Court Street (enter the Church through the main entrance)
Brooklyn, NY 11231
RU is pleased to present Portal at a divided fountain. South African artist Liza Grobler, and percussionist Heinrich Kruse will share a multi-sensory tale from the Southern tip of Africa. Sixty drawings in sixty minutes will usurp the borders of time.  Set against percussive rhythms an immersive visual narration and installation will unfold. The photographs were taken at the architectural ruins of Deelfontein (South Africa), but the drawings and story materialized in Brooklyn (New York). 
Over the course of the evening, Liza Grobler will narrate a tale that exists between history and nature, time and space. This is not only a story of nomadic hunters, an enchanted hotel and mythical beasts, but also one of a great battle between the mighty British Empire and a group of hot-headed Afrikaans farmers. The main character, however, is the Landscape, which holds the fossils of many millennia and the secrets of numerous generations in her womb.
Folks say the ghostly sound of a lonely violin can be heard long after midnight on starry nights, but my introduction to the place is at on a Tuesday morning, with the sun scorching down on the golden wheat that surrounds the ruins. A summer's day in the Karoo can last forever...
Destinations, whether new or old, are expectations shrouded in imagined landscapes.
(William E. Glassley; A Wilder Time)
***
Liza Grobler has a foot in the twentieth century, a dream in the twenty first and a small house and large studio in Woodstock, South Africa. Her work is largely process driven and incorporates unusual materials such as thorns, beads and trampolines as well as traditional media such as oil paint, drawing and obsessive crocheting. Often, pieces consist of small repetitive actions that result in large experiential spaces. The viewer is an accomplice that is invited to touch, smell and interact. Represented by the Everard Read/CIRCA Galleries, Grobler's work has been featured in 15 acclaimed solo exhibitions and numerous group and site-specific projects. Blindfolded Line, Dancing Through Time (2014), travelled for eight months to various museums in South Africa. In 2015, she realized a permanent public artwork for the Cape Town International Design Capital. In 2016, IZIKO Museums commissioned Grobler to create a site-specific work for the atrium of the National Gallery. In 2017, Everard Read/CIRCA asked Grolbler to conceptualize a solo project for the Unframed section of the Cape Town International Art Fair. See exhibition history here.
Heinrich Kruse (b. Vereeniging, South Africa) is a Classically trained Percussionist, with a Bachelor's Degree in Percussion Performance from the University of Stellenbosch in the Western Cape, South Africa. In 1999, Heinrich won the audition and was appointed Principal Percussionist of the Cape Town Philharmonic Orchestra. In 2003 he began his career in Musical Theater, with the International tour of Cats (produced by Really Useful Group) to China, Taiwan, South Korea, Sweden, Norway and Finland. At the end of 2006, Heinrich moved to the United Kingdom to be with his future wife, the South African born West End and Broadway actress Amra-Faye Wright. With London as his base, he subbed on Chicago the Musical in the West End, and did the U.K. tour of the same production in late 2007.In 2008, he joined the London based Americana band Laetoli Steps, and later that year became a full member of Oswald The Band, based in Glasgow, Scotland, where he lived between 2008/2009. He played with numerous bands in his first couple of years in NYC, most notably the female duo Starnes & Shah, and recorded the album Red Brick Tide in 2011. In 2013, he did his first tour of the U.S. and Canada with the National Tour of West Side Story for Troika Entertainment. This was followed by touring the U.S. and Canada again with Disney's 1st National Tour of Newsies, beginning in the Fall of 2014.In 2016, as part of the tour, Heinrich played drums on Disney's Live Capture recording of Newsies at the Pantages Theater in Hollywood, CA. The film is now available for streaming on Netflix.
Heinrich plays DW Drums, Paiste, Sabian and Bosporus Cymbals, Evans Drum Heads and Vic Firth Sticks.
This program is made possible with support from Spier Arts Trust and Sugar Hill Capital Partners Studio Program.


RELATED: