Exhibitions | May 23 2013 7:00 PM
"Reading Blue" , a performance by Tove Storch.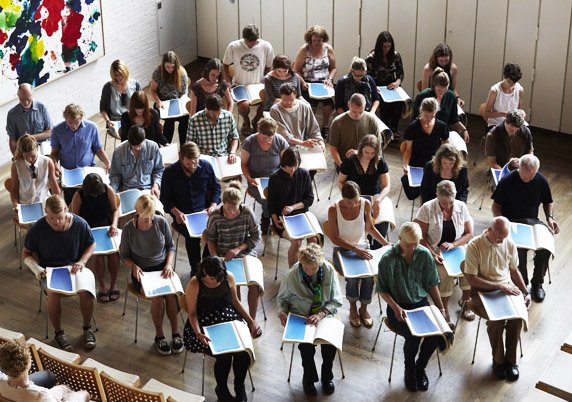 Thursday May 23, 2013, 7pm sharp
Free and open to the public
Residency Unlimited
360 Court Street #4 (big green doors)
Brooklyn, NY 11231
A curatorial proposal by Aukje Lepoutre Ravn
You are cordially invited to attend the performance 'Reading Blue" by Danish artist Tove Storch that was presented at the Louisiana Museum of Modern Art (Denmark) in May 2012.
For this one-off twenty minute performance, Storch examines the materiality and tactility of the color blue through a silent and meditative reading of twenty hand-colored books containing no letters or words, but only the prints of twenty unique shades of blue. Twenty performers will sit on chairs holding each their book. Slowly and their individual pace, the performers will flip page by page, giving the impression of a fully concentrated, uninterrupted and focused reading.
Trained as a classical sculptor Tove Storch sees her performances as a natural extension of her sculptural practice and perceived her performances as equally sculptural. Storch also defines the reading of color books as a kind of magnifying glass to see the qualities of color as material more clearly. Storch's performance radiates both a physical and a mental concentration as the prerequisite for obtaining a complete state of focused learning. Like this, Reading of Blue goes beyond the immediate decipherment of color and reaches deeper into the ontology of physical, materialized color.
Curated by RU's curator in residency Aukje Lepoutre Ravn, Reading of Blue suggests the experience of an inner non-linguistic reading that seeks to understand the perceptive complexity of color while inviting the viewer to adapt and absorb the staged atmosphere of personal immersion. As an open and public gesture the reading will transform the nature of the introverted and personal mono-experience of reading into a shared aesthetic experience.
This program is supported in part by Grosserer L. F. Foghts Fond.
Bios:
Based in Copenhagen, Tove Storch (b. 1981) works with sculpture and performance to explore dualistic relationships between strength and fragility of certain materials, shapes and spaces. In her work, Storch combines architectural and minimalist forms in metal with fragile materials such as translucent silk and paper. Her work comments on the experience of space, color and sculptural presence. Although Storch's sculptures are mostly static they are often also deeply engaged with movement and spatial relations. Through her work Tove Storch creates a physical presence of materials that pinpoint a sensuous and phenomenological rise to human reflection, which makes us sharpen our senses, intensify our perception and engage in the implied subtext of her sculptures. Not only as objects that embody aesthetic and poetic gestures, but also as objects that refer to the sheer beauty of simple natural phenomenon.
Aukje Lepoutre Ravn (b. 1979) is an art historian, writer, curator and the director of Traneudstillingen Exhibition Space in Copenhagen, Denmark http://www.traneudstillingen.dk. Lepoutre Ravn holds a MA Research Degree in Art History from Aarhus University in Denmark, with a curatorial field study at PS1 Contemporary Art Center, New York, where she worked on the exhibition Into Me / Out of Me. Lepoutre Ravn has written numerous art reviews, catalogue texts and essays for institutions and individual artists.
Lepoutre Ravn's recent curatorial projects at include Sympathy for the Invisible, Fundação Ecarta, Porto Alegre, Brazil (2012), SALVAJES- Digesting Europe Piece by Piece, (co-curated with Guillermo Creus, 2012) Traneudstillingen, Copenhagen, with artists Luis Camnitzer, Carlos Motta, Jonathas de Andrade, Melanie Smith and Wilfredo Prieto among others, Peter Brandt: I Died In Italy But No One Knows It Traneudstillingen, Copenhagen (2010) and The Eye in the Door at Nikolaj Kunsthal, Copenhagen (2009) with artists Omer Fast, Paul Pfeiffer, A.K. Dolven among others.
Aukje's approach to her curatorial practice often stems from an interest to identify and examine various natural, historical and cultural phenomena that are not fully apparent, visible or communicated outside their own time and domain, but has the potential to enrich our contemporary understanding of our global world. For her residency at RU Aukje will be preparing a solo-show by Danish artist Tove Storch to be presented in New York in 2014.