Exhibitions | Jun 23 2018 3-7pm
Open Studio with Thomas Canto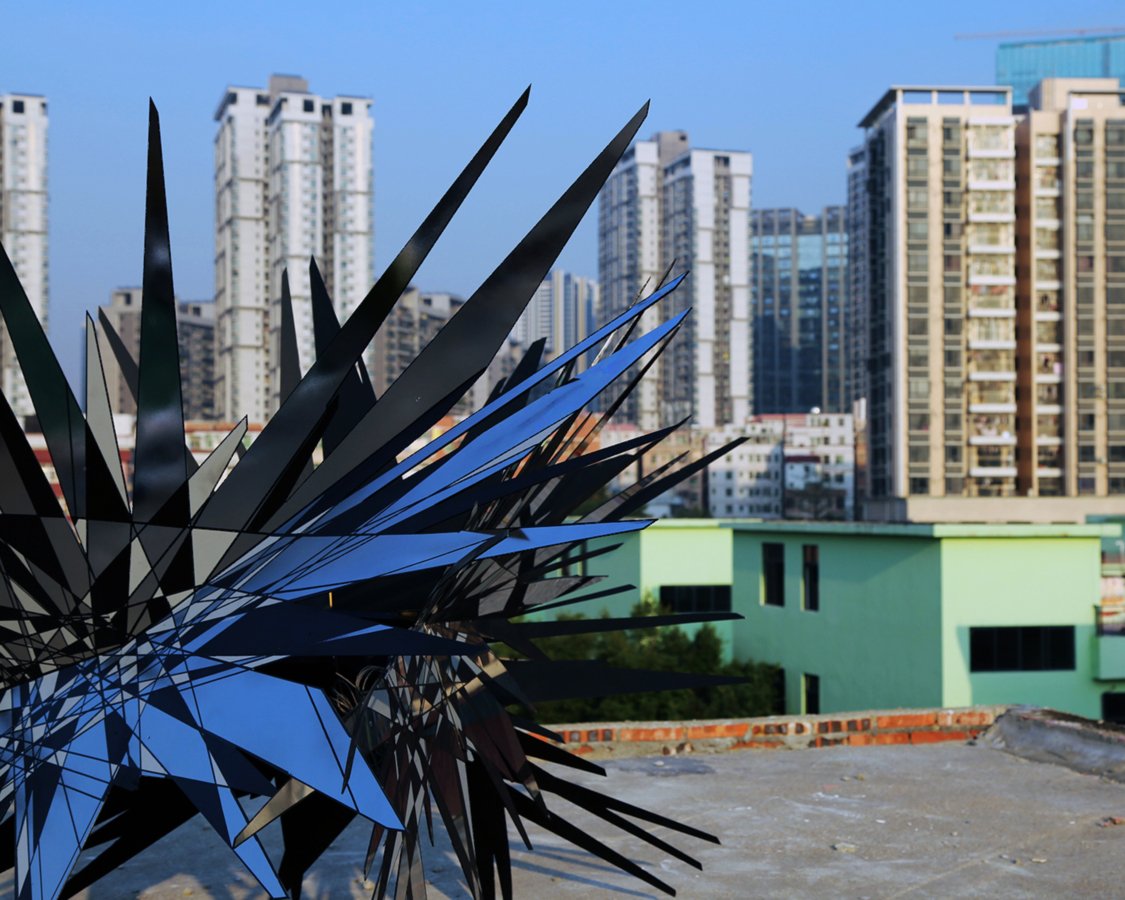 Thomas Canto: Gravitational inertia infinity, 2018
Saturday, June 23, 2018
3-7pm (free and open to the public)
313 STUDIOS, 2nd Floor, Studio #9
313 Butler Street, Brooklyn NY 11217
Join us in the studio of the French artist Thomas Canto to experience a unique body of work that lies at the intersection of painting and sculpture. Created over the course of the artist's residency at RU, Canto refers to his abstract installations as Temporal geometries. In her text that will be included in a monograph dedicated to the artist's work, the writer Allison C. Meier remarks upon the phenomenon of refraction as a defining feature of his work:
"When witnessing Thomas Canto's work, I'm reminded of my encounters with cities like New York, London, and Beijing, where new buildings are constantly augmenting the identity of the city, and contributing to a contained chaos of light. Canto's installations, that immerse viewers in kaleidoscopic paintings of lines and slices of color, recall the reflection and refraction of light in cities. The monochromatic colors, with bursts of blue, red, and other primary colors, seem like abstractions of all that steel and glass playing with the hues of the sky. There's also a sense of disorientation in his work that's similar to how, in a city, a density of reflective surfaces create a landscape of refracting light.
Refraction is the bending of light due to a transmission medium that changes its course. How color is shattered into radiating lines in Canto's work is similar to how a prism breaks up light into its component colors and releases them as a rainbow. We see objects because of light reflecting from them and often, in a city with so many surfaces, that can happen with different mediums whether early morning fog or hot air in summer. These illusions include seemingly wet pavement on a dry day, or an inverted street seen through a raindrop. In his video mapping installations, or even in his more compact framed works, Canto manages to  freeze these light-bending urban moments."
***
Thomas Canto is represented by the Matthew Liu Fine Arts space in Shanghai. Most recent solo exhibitions include: "Structuring shadows", RX Gallery, Paris, 2017; "Illusory perspective", Centre Georges Pompidou, Paris, 2016; "Gravitational transparencies", Matthew Liu Fine arts, Shanghai, 2016 and "Suspended landscape", ArtCentral, Projects section, Hong Kong, 2016. Selected projects and group exhibitions include: "Artistes à la une", Palais de Tokyo, Paris, 2015; Installation, Mohamed VI contemporary and modern art museum, Rabat (Morocco); Installation, K11 Foundation, Wuhan (China); Installtion, Volklingen art Biennale, Germany; Installation, Magda Danysz Gallery project, Shanghai and Paris.
RELATED: