Activities | Apr 18 2021 10am - 11:15am
Online Kundalini Yoga session with Colleen Martin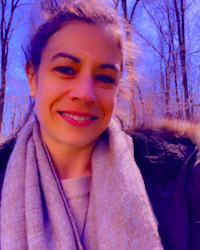 April 18th
10:00 - 11:15AM
Register the virtual session here.
Continuing to root ourselves in the Spring season, we will practice the Kriya To Relax and Release Fear so the seeds and ideas we plant will spring from our true and creative self. We remove what we no longer need, the inner fear and attachments that hold us back and open up ourselves to be who we are. Practicing Kundalini Yoga can connect us to our deeper and truest Self. When we strip away fear, we're more able to find our originality, our voice, our spirit.
Led by Colleen Martin, this new monthly Kundalini yoga series focuses on the connections between creativity and well-being. Colleen is an artist and Kundalini yoga instructor based in Brooklyn. She has been studying the mind-body connection for over a decade. She became a certified Pilates Mat Instructor in 2009 and is currently a KRI Certified Instructor of Kundalini Yoga and Yoga Alliance RYT, teaching Kundalini Kriya Yoga at Hari NYC The Treehouse, focusing on the energetics of yoga, meditation, breath work and body alignment.
Suggested donation to Colleen $5
Venmo @Colleen-Martin31
PayPal 
Previous sessions:
Mar 28th 2021
This second KY session led by Colleen Martin will reflect on the Spring Equinox. We will align ourselves with the start of the new season, renewing ourselves after the long winter months of rest and restoration. By clearing and cultivating the Divine Woman within each of us, we nurture our invincible nature. We will clear our mind of "noise," release imagined disabilities, and open our hearts to receiving love.
Feb 28th 2021