Event | Jun 6 2012
Ombretta Agrò & Angelo Bellobono introducing Atla(s)now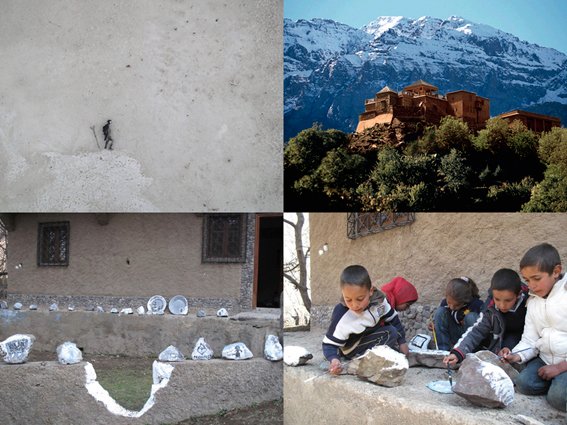 Residency Unlimited is delighted to invite you to a discussion between the curator Ombretta Agrò and the artist Angelo Bellobono who will introduce his latest initiative Atla(s)now. Developed on the Higher Morroccan Atlas mountains, the Atla(s)now project incorporates an artists-in-residence component and strives to create a community platform where art and skiing are used as a means of economic and social development.
Wed. June 6th at 7pm.
Location: Residency Unlimited
360 Court Street, Brooklyn, NY 11231
Church entrance through green door. (subway F/G Carroll street, President Street exit)
directions here
Atla(s)now
http://www.atlasnowproject.com
Did you know that Africa has some ice, snow and cold weather?
The Atla(s)now project is set in the mountainous region of Imlil, Asni and Oukameiden, a territory with a strong eco-touristic vocation just 60 km from Marrakech. Conceived by Angelo Bellobono in collaboration with Aniko Boehler and Alessandro Facente, Atla(s)now consists of an artists-in-residence program, the first Atlas Spread out museum, art workshops and training activities for ski club and local instructors that are organized to empower their knowledge and reinforce the local microeconomy in an eco-sustainable way. Motivated by the principles of microeconomics, Bellobono and his team with the support of students from the ESAV/Ecole supérieure des arts visuels de Marrakech are actively engaging the participation of the local community. Atlas(s)now activates key concepts such as the relationship between art and sport whilst encouraging the use of local resources and labor for artistic and cultural production through site specific projects developed by artists in residence.
Atla(s)now was presented at the fourth edition of the Marrakech Biennale (February-June 2012)
http://www.higheratlas.org/parallel-program/
Bios:
Angelo Bellobono (b. 1964) is a self-taught artist. He was born in Italy and currently lives in New York and Rome. His conceptual research informs his use of paintings, drawings, video and performance. Throughout his entire oeuvre Bellobono has placed human beings and the territory they inhabit at the centre of his artistic research, investigating issues of belonging and identity both from a socio-cultural as well as geo-biological point of view. Through paintings, performances and video animations, Bellobono seeks to break through stereotypes, decontextualizing people, objects and concepts. Bellobono's works have been exhibited extensively in Europe, USA, Asia, and Africa, including the Marrakech Biennal; the Macro Museum in Rome; the Museum of Modern Art of New Delhi and Cairo City; the XV Quadriennale of Rome, the Volume foundation and many private galleries.
http://www.angelobellobono.com
Ombretta Agrò Andruff (b. 1971) is a New York-based freelance curator, consultant and art critic. Since her move from Italy to the US in 1998, she has curated solo and group shows in Europe, the US and India collaborating with museums, art festivals, commercial galleries and art fairs such as Artists Space, GAle GAtes et al., Queens Museum of Art, Lower Manhattan Cultural Council, The Armory Show, The Art Basel Miami Fair, The Downtown Arts Festival, The d.u.m.b.o. art under the Bridge Festival, the Esso Gallery, Dorsky Gallery Curatorial Programs, the 2006 Winter Olympic Games, and the Religare Arts Initiative. Ombretta is also a contributor to various art publications and has written essays for several books and catalogues. She is a consultant for the Italian Cultural Institute of New York, the advisory firm Art Assets and since 2007 has been the International Art Advisor for the New Delhi-based Religare Art.