Exhibitions | Sep 1 - 30 2016
New Rochelle BID / RU collaboration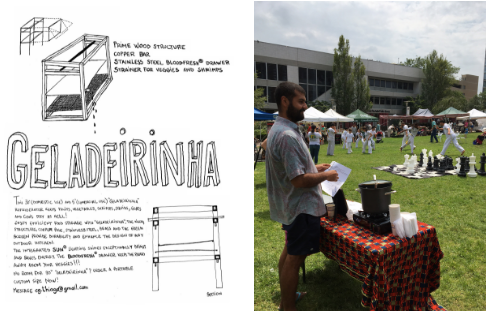 RU's artist in residency collaboration with the New Rochelle Business Improvement District (BID) at 5 Anderson Street concludes this month with a series of events.
Join us September 10th, when resident artist Victoria Estok's hosts Screening & Surveillance: See, Hear, No Evil; a video piece investigating ritualistic audio, symbolism, and poetic gestures to pose the question, "which world do you choose?". Simultaneously, Chelsea arts group Field Projects will present the visiting exhibition Ghosts, curated by Beth Livensperger.
Ghosts, features eight artists who take on questions of transformation, dwelling and the unknown. Additionally, resident artist Brandy Bajalia will participate in New Rochelle's Street Fair on September 18th, by providing a mint crushing event, where visitors will learn the many uses and medicinal qualities of the herb through storytelling and conversation.
Our residency will culminate with Open Studios during the local New Rochelle event, ArtsFest taking place September 24th. We have been lucky to call Arts at 5 Anderson our home for several months and look forward to continue our collaboration with the New Rochelle BID in the coming year.
--
This program is made possible with the support of the New Rochelle Business Improvement District (BID).