Talks | Nov 1 2018 1pm
Meet Over Lunch: The Good Death Roundtable with Heide Hatry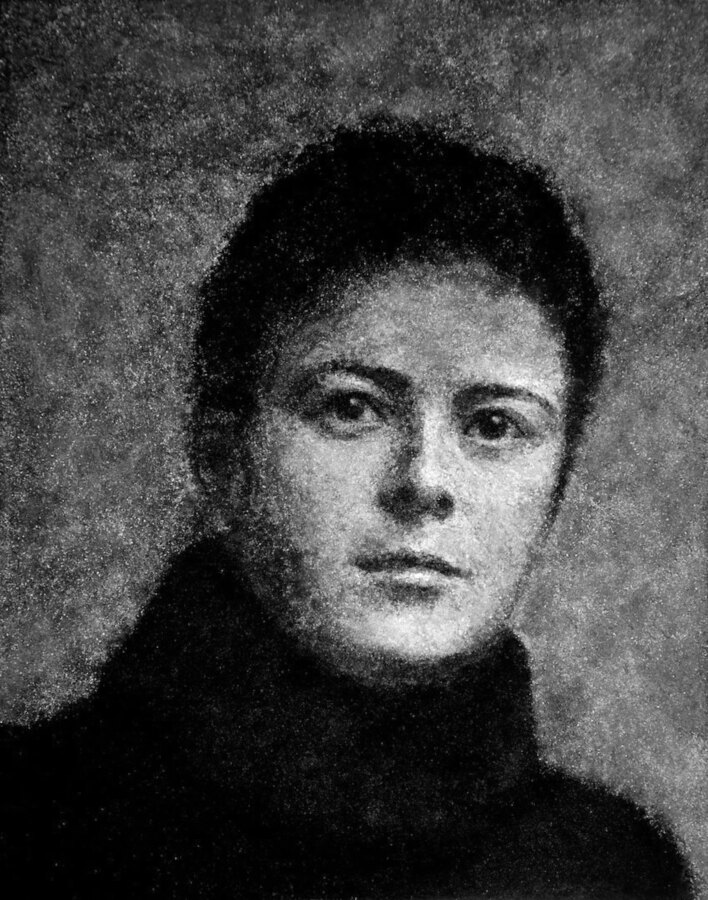 Heide Hatry. Lena Sereda, 2016. Mosaic (loose cremated ash particles from Lena Sereda, pulverized birch coal, and white marble dust on beeswax) 14 x 11 in. 
Thursday, November 1, 2018
1pm (free and open to the public)
Residency Unlimited (RU)
360 Court Street (enter the Church through the main entrance)
Brooklyn, NY 11231
What are other ways to think about memorialization and living with the remains of our loved ones? Bethany Tabor will lead an open-format conversation with artist Heide Hatry whose project Icons in Ash investigates memorialization and image-making as well as explores alternative, artistic uses of cremated remains. How does this mode of memorialization push forward how we live with the remains of our loved ones? What does having cremated remains dwelling in an art object mean for our relationship with death?
Reimagine End of Life is a week of exploring big questions about life and death through art, creativity, and conversation. For the last few months, artists, storytellers, healthcare professionals, faith and community leaders, and innovators across all five boroughs of New York City have been uniting to create a unique week of events that will prove to be reflective of this city's diversity and spirit. With more than 100 events set to explore death and celebrate life from every perspective, we invite you to join us in questioning how we think about our most universal experience.
***
Bethany Tabor is a writer and researcher who is persistently exploring themes of death and dying in the realms of visual and performance art. She holds a Master's degree in Performance Studies from New York University where she examined the politics of death and decomposition as it relates to reenactment and reperformance in her thesis, Death in the White Cube, a Reperformance. She is currently the Public Programs Associate at Pioneer Works in Brooklyn.
Heide Hatry studied art at various German art schools and art history at the University of Heidelberg. She taught at a private art school for 15 years while simultaneously conducting an international business as an antiquarian bookseller. Since moving to New York in 2003 she has curated numerous exhibitions and has shown her own work at museums and galleries around the world while editing more than two-dozen books and art catalogues. Hatry is known for her performance work, her conceptual work using unconventional materials, her collaborative conceptual artist's books, including Skin (2005), Heads and Tales (2008), Not a Rose (2012), and Icons in Ash (2017), her room installations, and her unique artist's books. Her most recent body of work, Icons in Ash, consists of portraits made from the cremated remains of their subjects, a social art project that has made a significant impact on the lives of their survivors and contributed to a re-imagining of our relationship to the dead. In October and November 2018, Icons in Ash will be presented at KGB bar and two events, the talk and the exhibition at the Merchant's House Museum. 
This event is produced in collaboration with Residency Unlimited and Reimagine NYC.
The Meet Over Lunch series is an ongoing invitation extended to local and visiting art practitioners to present their practice and projects over lunch to the RU community.