Talks | Jul 18 2018 1pm
Meet Over Lunch: Anaïs Duplan presents the Center for Afrofuturist Studies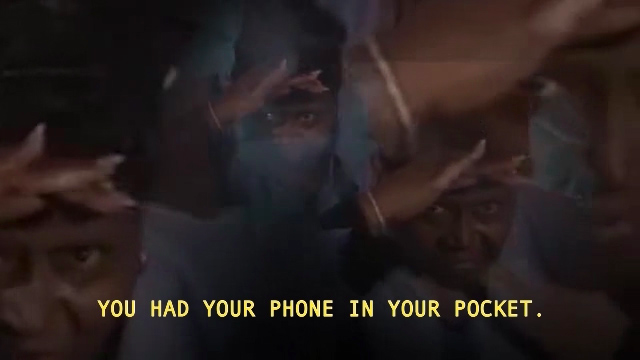 "The Lovers are the Audience Who Watch: Episode One," video, 1:00:00, 2017
Wednesday, July 18, 2018
1pm (free and open to the public)
Residency Unlimited (RU)
360 Court Street (enter the Church through the main entrance)
Brooklyn, NY 11231
Anaïs Duplan is the founder of the Center for Afrofuturist Studies, an artist residency program for artists of color in Iowa City. Interested in preserving the legacies of black artists, the CAS has hosted 11 visiting artists, including Kameelah Janan Rasheed, Tiona McClodden, and Terence Nance since 2016. The CAS explores how Afrofuturism affects people of color outside of America's urban centers, highlighting blackness in the Midwest. Duplan's presentation will focus on the works and strategies toward social and individual liberation used by historical and contemporary black new media artists.  Duplan will also present their personal video and performance work, including work-in-progress excerpts from "The Lovers are the Audience Who Watch," a twenty-four hour video-poem that borrows its title from a line of poetry by Juliana Huxtable. The sequence is constructed from found footage – largely from music videos and art documentaries – where there is a central figure – the artist – being watched by an audience. Parts of the video have been shown at Mathew Gallery in New York and at the Prelude to the 13th Baltic Triennial at the Contemporary Art Centre in Vilnius, Lithuania. 
Duplan will also present their in-progress preparations for "Private Party," a performance piece that Duplan will direct at the Paseo Project, a digital media festival in Taos, New Mexico, in September of this year. Conceived as a performance piece for a photographer, two models, and a director, "Private Party" is an opportunity to witness oneself performing in the public gaze. Live video footage and sound, sourced from YouTube and Taos radio, will form the backdrop against which performers of color will work through a series of meditations intended to explore personality, ambition, the experience of being seen as a brown body, and love. Participants are invited to watch the film/photoshoot and to take selfies at designated selfie points. As a durational, live experiment, "Private Party" explores the friction between technology and intimacy, framing and knowing, seeing and being. 
The Meet Over Lunch series is an ongoing invitation extended to local and visiting art practitioners to present their practice and projects over lunch to the RU community.