Talks | Feb 27 2014 6:30 PM
Little Gloating Eve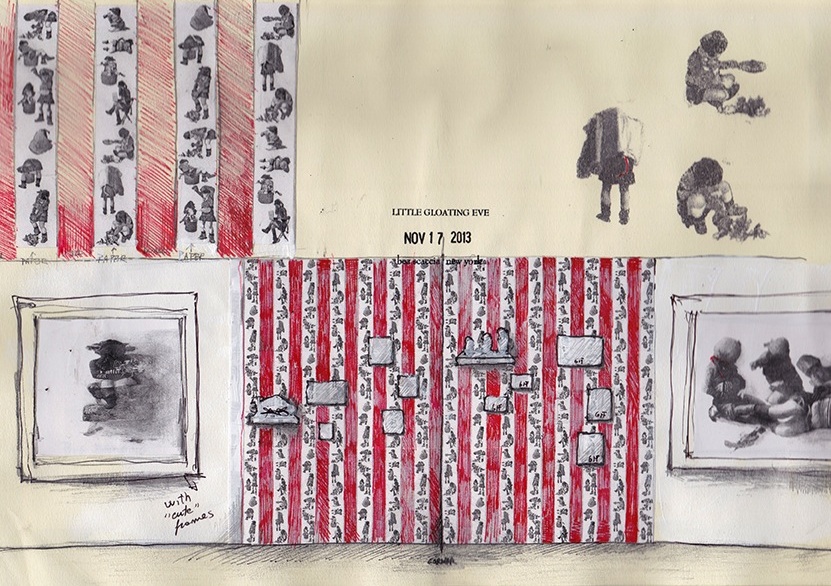 A presentation of new work by Beatrice Scaccia, in conversation with Jodi Waynberg.
Thursday Feb 27, 2014
6:30pm – Free and open to the public
Residency Unlimited
360 Court Street #4 (big green doors)
Brooklyn, NY 11231
Join us for a first look at New York based Italian artist Beatrice Scaccia's developing work, "Little Gloating Eve". The evolution of an ongoing body of work, this installation acts as an immersion into the human condition, inviting us into the world of Eve, Scaccia's central character. Rendering gestures ranging from the banal to the absurd - cooking, dancing, listening to music, jumping, eating flowers - Scaccia uses the faceless Eve, masked in layers of clothing, to closely emulate and isolate dozens of movements, each one set on an endless loop. The forms taken by Eve - fixed in the pattern of a wallpaper, the repetition of an animated gif or the edges of a drawing - converge into an echo chamber of human nature. "Little Gloating Eve" reflects both our freedom to act as well as the absurdity of how we spend our time, creating a world of complete abandon that is stripped down to simple borrowed actions.
Scaccia will present a rendering of "Little Gloating Eve and discuss her most recent work, which began while in residency with RU.
This program is supported by public funds from the New York City Department of Cultural Affairs in partnership with the City Council.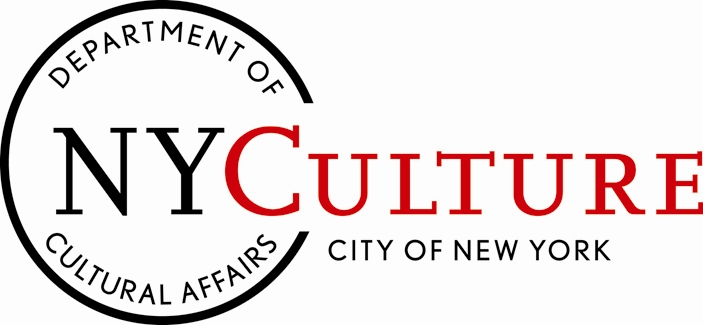 BIOS:
 Beatrice Scaccia works on duration, that is that dilatation of time composed of rhythmic scansions, waits and restarts. Her narrative urge and her need to express herself with figurative painting both originate from a strong communicative instinct that translates into drawings and animation, reminiscent of a certain Renaissance tradition that focuses its artistic study on drawing and the human figure. Indeed key aspects of her works are repetition, interrupted narration and main characters. We could consider her characters kind of drawn performers.
Beatrice's work has been featured in Europe and USA. Most recent exhibitions include: "DiviNA Commedia", Museum Arcos, Benevento; "Fino alla fine del mondo" , 41artecontemporanea, Turin; "Les Intermittences du couer", Ex Elettrofonica. Rome; "Patria Interiore/Inner Homeland", Golden Thread. Belfast; "QuadratoNomade", Palace Expo. Rome. Her work is in the collections of The National Cultural Institute of Oslo and of Seul, the Ministry of Foreign Affairs in Rome and Museum of Contemporary Art of Viareggio (Italy).
Scaccia is an Italian artist who lives and works in New York City.
Jodi Waynberg is the Co-Director at Artists Alliance Inc in New York. She served as an Assistant Curator at the Contemporary Jewish Museum in San Francisco until 2011 and worked on exhibitions that include Chagall and the Artists of the Russian Jewish Theater, 1919-1949 and Maira Kalman: Various Illuminations (of a Crazy World). Additionally, she was a regular contributor to ArtSpeak China, a collaborative encyclopedia of contemporary Chinese art. Waynberg graduated Phi Beta Kappa from the University of California, Santa Cruz with a BA in art history, earning honors for her thesis Judgement's Consumption: De-flective Judgement and Thomas Struth's Museum Photographs series.
RELATED: