Exhibitions | Nov 18 2015 6:30
FLUID PHOSPHORESCENCE, curated by Mette Kjærgaard Præst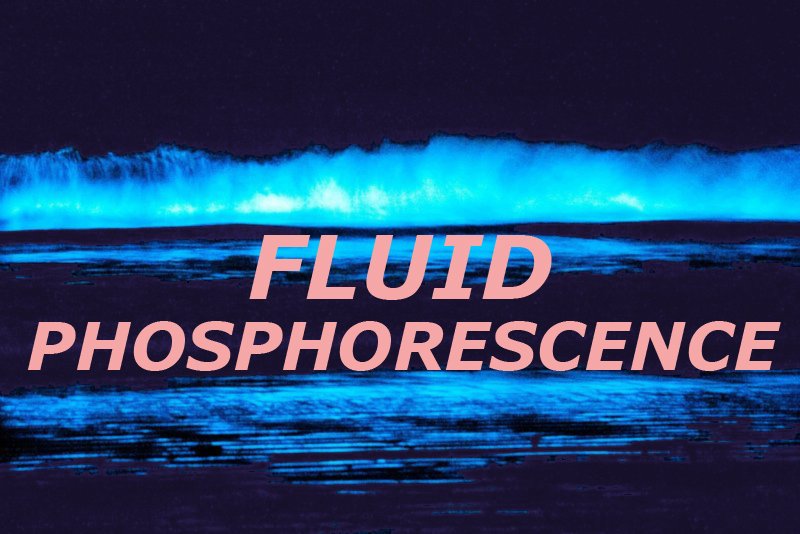 November 18, 2015
6:30-9pm (free, but booking is essential. RSVP here)
Residency Unlimited (RU)
360 Court Street, Brooklyn, NY 11231
FLUID PHOSPHORESCENCE
Fiona James, Lea Porsager, and Jenna Bliss in collaboration with Elise Duryee-Browner and Ashley Coffey
FLUID PHOSPHORESCENCE is a one-evening exhibition; a momentary flash, that lights ideas and actions of collective ecstasy, shared desire, and orgasmic energies. The evening will touch upon bodily enlightenment, sex magic, the function of the orgasm and its potential as a tool for collective consciousness and social change.
The exhibition consists of new installations and performances, which through ideas of chemistry, masturbation, seduction, drugs and orgasms, flirt with notions of worship, while balancing between elucidation and domination.
FLUID PHOSPHORESCENCE is forbidden energy, slowly absorbed and released as a glow in the dark. The illumination lasts a few seconds or goes on for hours. Light shines, attracts, seduces, enlightens, sublimes, lures, disguises and preys.
The evening seeks to evoke feelings of certain bodily states and brief moments of enlightenment – a proposal for a momentary or future 'better'. The event takes place at Residency Unlimited (RU)– a beautiful converted church in Brooklyn, which brings to the event histories of belief systems and human desire for worship and devotion.
Lea Porsager will show #THoTH_LoPLoP_bed (The Avian Menace: Masturbatory Powertool for Levitation and Absorption into Foam), a new work that plays with concepts like sex magic, masturbatory elevation and Max Ernst's alter ego, the bird Loplop.
Fiona James, who is performing for the first time in the USA, will partake with a new and final chapter to her ongoing Leaky Lecture Series - a sequence of performances examining the theories and potential of the function of the orgasm as developed in the ideas of Austrian psychoanalyst Wilhelm Reich.
Jenna Bliss has, in collaboration with Elise Duryee-Browner and Ashley Coffey, developed a new performance that calls for a collective move through an investigation into the history of intoxicating drugs, political liberation or the opposite - proposing a way of thinking through sensations of mind and body.
FLUID PHOSPHORESCENCE is curated by Mette Kjærgaard Præst and exists in conjunction with OCEANS BREATHE SALTY curated by Mette Woller. The two exhibitions are part of the overall exhibition project Sugar Walls – an ongoing examination of love focusing on disparate notions of the phenomena from the Stendhal Syndrome to the T. gondii parasite, while considering love, desire and obsession as forces of both empowering and destructive nature. The first exhibition in the Sugar Walls series - Flirting, playing, eating, drinking, talking, laughing - took place at Kunstraum, London in 2014.
Sugar Walls is produced with curatorial assistance from Javiera Luisina Cadiz Bedini
ENDS:
FLUID PHOSPHORESCENCE TRAILER from Thomas Yeomans on Vimeo.
--
Jenna Bliss (US) is an American artist and filmmaker based in New York. She holds an M.A from the Slade School of Fine Art (2013). For this ongoing project, Bliss is concerned with how "being-on-drugs" in the 1970s New York affected and informed social relations and the revolutionary movements. The history of the Lincoln Detox Center in the South Bronx has informed her past performances as well as an ongoing video series. She uses 'doses' of this revolutionary history to 'bring us down' from the 'high' produced by current collective delusions, while repeating methods of Chinese Medicine that were historically used in Lincoln Detox Center to soften the 'come down'. Recent projects include: Into This Recovery Center, co-commissioned by South London Gallery and PSY and shown at Midway Contemporary Art (Minneapolis Minnesota), South London Gallery, and for the visual art festival Acting Out at Nottingham Contemporary, Nottingham, UK (all 2015). Other involvements include Farm Tour I and II and Holiday Café, New York.
Ashley Coffey was born in Southern California and lives in Ridgewood, Queens. She studied Film Production in the Midwest and she seeks power through joy and friendship. She is interested in BDSM power dynamics, psychodynamic therapy, Fred Moten, Being, boredom, female friendship, sex-work, play, performance, non-performance and Kelela.
Elise Duryee-Browner was born in San Francisco and attended Wellesley College. She lives in New York where she has been involved with Farm Tours I and II, the band Scrimpy, Holiday Café, the Brooklyn Artists Congress.
Fiona James (UK) is an artist based between Ramsgate, UK and St Erme, France. She holds a Sculpture BA from the University of Brighton (2004) and an M.A in Theatre and Performance from Queen Mary University of London (2012). She's currently developing a self-organized UK residency site to host aesthetic experimentation and interdisciplinary production. In support, her live work considers how forms of collective knowledge production can enact radical philosophy and where bodily experimentation contributes to contingent politics. Particular to this is her work on psychoanalyst Wilhelm Reich who's theories on the orgasm emphasize the bodies role in mental and societal structuring. Her performative Leaky Lecture Series (2013- 2015) aims to redirect his controversial ideas within contemporary frameworks of attention and consumption. She is also working with artist Jessica Wiesner on a long-term project that takes the occupation of vagueness as a serious position by forefronting commitment to notions of praxis over professionalized articulation.
Lea Porsager (DK) is a Danish artist based in Copenhagen. She graduated from the Royal Danish Academy of Fine Arts and Städelschule in Frankfurt am Main in 2010 and has recently started her PhD at Malmö Art Academy and Lund University. Porsager's practice interweaves fabulation and speculation with a variety of mediums including film, sculpture, photography and text. Her works reside in the matrixial realm of science, politics, feminism and esotericism. Rather than illustrate or explain spiritual concepts, Porsager creates paradoxical spaces of mad non-violent speculation. Her work is an intra-action between thought and form by way of information, as in literally in-formation—to "give form or shape to"—and often includes mental, physical and social experiments. Her most recent exhibitions include Göttingen Kunstverein (Göttingen, 2015), Overgaden (Copenhagen, 2015), Künstlerhaus Bethanien (Berlin, 2015), Sorø Art Museum (2014), Moderna Museet Malmö (2014), Henie Onstad Kunstsenter (Høvikodden, 2013), Lunds Konsthall (2013), The Emily Harvey Foundation (New York, 2013), Contemporary Art Centre (Vilnius, 2013), Neue Gesellschaft für Bildende Kunst (Berlin, 2013) and Fotografisk Center (Copenhagen, 2013). In 2012, Porsager participated in dOCUMENTA (13) with the Anatta Experiment. She was awarded the Carl Nielsen and Anne Marie Carl-Nielsen Scholarship in 2014. A year later, Porsager was part of the 14th Istanbul Biennial Saltwater: a Theory of Thought Forms. As Annie Besant's "medium," Porsager has recreated 36 of Besant's watercolors from the book Thought-Forms (1905). Link: http://www.leaporsager.dk/
Photo Documentation:

--
This program is supported by Grosserer L. F. Foghts Fond and The Danish Arts Foundation.
This program is supported, in part, by public funds from the New York City Department of Cultural Affairs in partnership with the City Council.