Event | Jan 16 2011 6:30 PM
Discussion/Presentation by Khaela Maricich and Melissa Dyne – Tues Jan 18th, 2010 – 6.30pm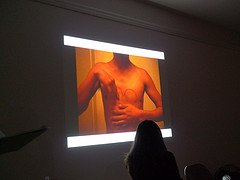 Tuesday January 18 2011, 6.30pm
Discussion/Presentation
by Khaela Maricich and Melissa Dyne
Performance artist and pop musician Khaela Maricich (who performs as TheBlow) and installation/conceptual artist Melissa Dyne will discuss their current collaboration: a music based performance piece, which they arepresenting in a diversity of contexts, from rock clubs to museums, in an exploration of the possibilities and assumptions inherent in each setting.They will demonstrate, among other things, their experience brushing against the invisible boundary lines of convention, the strangeness of the creation of a pop icon, and the intricacies of the collaborative process.
Further venues of this lecture will include the Henry Art Gallery in Seattle, the Carnegie Museum in Pittsburg and The Portland Institute for Contemporary Art in Portland, Oregon among others.
In light of Residency Unlimited's interest in exploring new residency formats and working collaboratively, this event is the first of a series of evenings dedicated to the investigation of collaborative practices.
Location:
360 Court Street, Brooklyn , NY 11231 (subway F/G Caroll street)