Exhibitions | Oct 8 2016 1pm
CYBORG COUTURE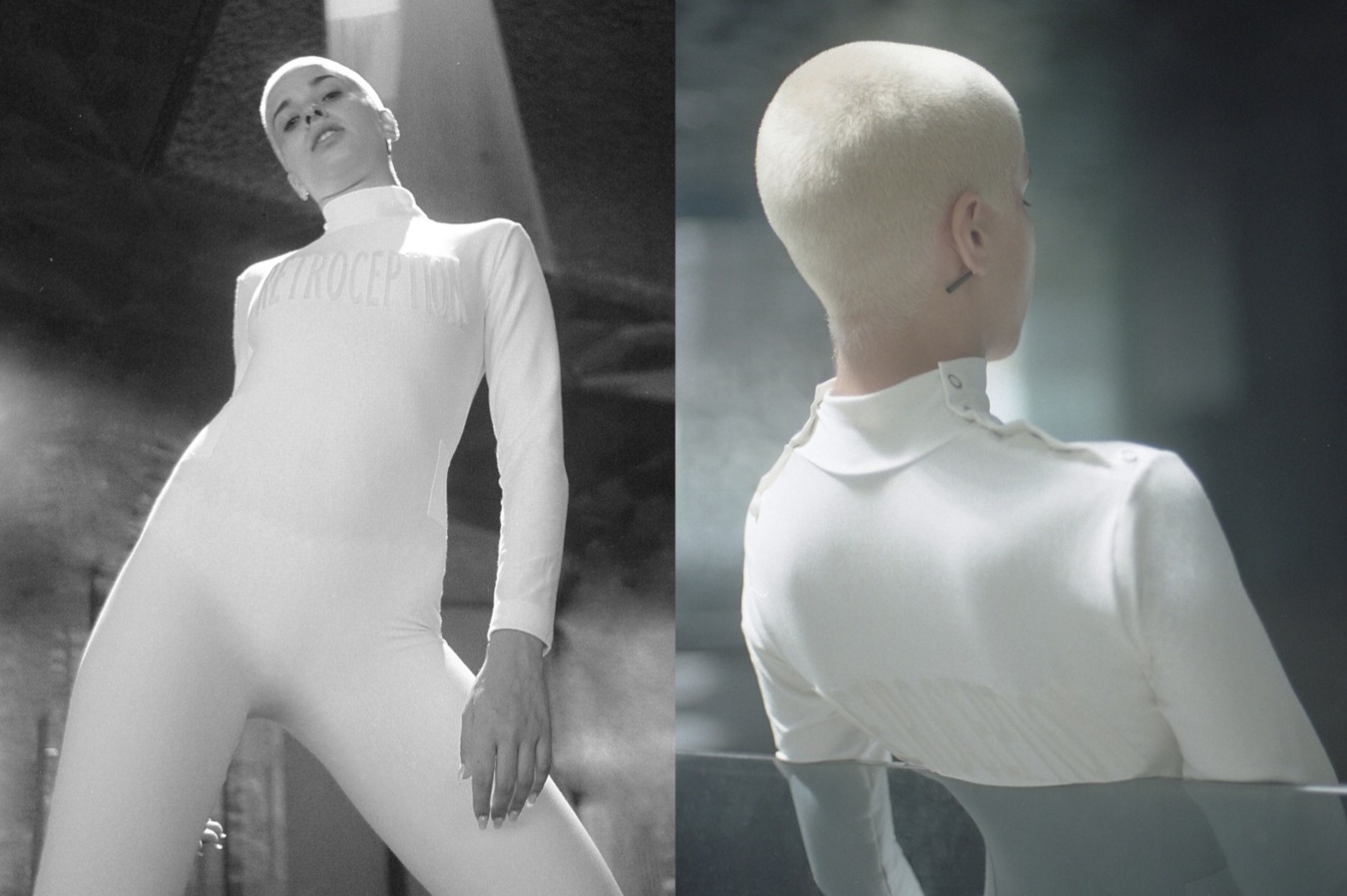 Retroception - modeled by Julia Hernandez, Photographed by Agata Ferrando
Saturday, Oct 8, 2016
1 pm, The Queens Museum
Flushing Meadows Corona Park
New York City Building, Meridian Rd, Corona, NY 11368
In the 2020s we won't wear technology, we will be technology
Cyborg Foundation presents a fashion collection for cyborgs; people whose bodies and minds have been merged with technology in order to gain extra senses and abilities.
Showcasing models whose extra senses are currently in development or already available as implants, the collection will give a glimpse into the post-wearable generation and its future impact on fashion.
The show will include a short talk Neil Harbisson and Moon Ribas about cyborg art  as well as musical performances by Josh Craig, and Txe. The clothes have been designed by Cardona. The show is produced by Matt Starr.
--
The Cyborg Foundation, an international organization that aims to help humans become cyborgs, defend cyborg rights and promote cyborgism as a social and artistic movement, was created in 2010 by Neil Harbisson and Moon Ribas.
Neil Harbisson is a Catalan-raised, British-born contemporary artist and cyborg activist best known for having an antenna implanted in his skull and for being officially recognised as a cyborg by a government.
The antenna allows him to perceive visible and invisible colours such as infrareds and ultraviolets via sound waves. The antenna's internet connection allows him to receive colors from space as well as images, videos, music or phone calls directly into his head via external devices such as mobile phones or satellites.
Harbisson identifies himself as a cyborg, he feels both his mind and body are united to cybernetics. He doesn't feel he is using or wearing technology, instead he feels he is technology. His artworks investigate the relationship between colour and sound, experiment the boundaries of human perception and explore the use of artistic expression via sensory extensions.
Moon Ribas is a Catalan contemporary choreographer and the co-founder of the Cyborg Foundation, an international organisation that aims to help people become cyborgs, defend cyborg rights and promote cyborgism as an artistic and social movement.
Moon graduated in Choreography at Dartington College of Arts (England), and studied at Theatreschool of Amsterdam SNDO (School for New Dance Development).
Since 2007 Moon has been experimenting with different cybernetics devices that allow her to perceive movement in a deeper way. Moon's main research consists in developing the seismic sense, perceiving the movement of real-time earthquakes all around the world, small as 1 in Richter scale. Moon then translates this new sense on stage, her main piece is called Waiting for Earthquakes, a piece where she stands waiting for an earthquake to take place, when this happen she moves according to the intensity of the earthquake, so if there are no earthquakes there will be no dance.
Ribas has performed and given talks in several venues and festivals such as TedxMunich (Germany), TedxMuscat (Oman), Campus Party London (UK), Fierce Fest (UK) or TNT (Festival of New Trends, Spain).
Cardona is a Barcelona based fashion designer and creative director of H+C, a fashion brand that designs clothes for cyborgs - people with an augmented sense of reality and people with new sensory organs. He is also the co-designer of magnetic hair; hair that once implanted in his head it will allow him to gain magnetoception.
This program is made possible with support from ThoughtWorks and The Queens Museum.