Exhibitions | Aug 13 - Sep 3 2016
Beneath Our Feet on and the Surface of Things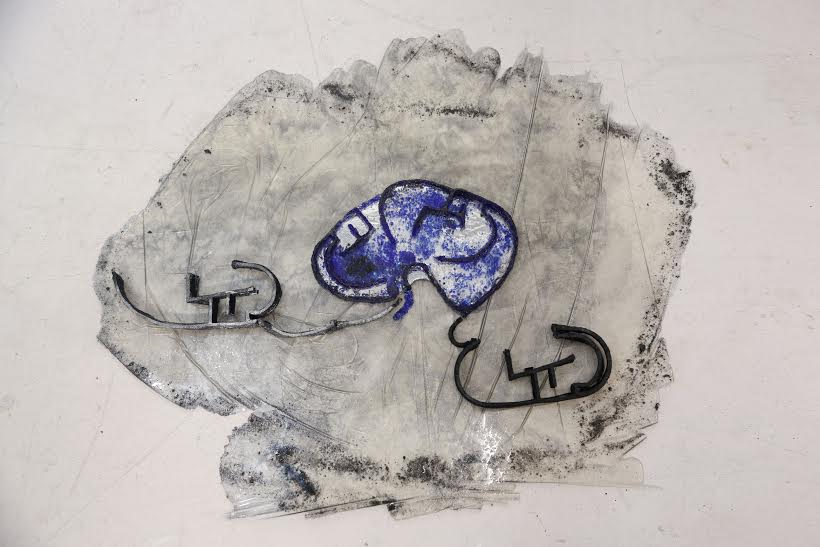 Graciela Cassel, Labyrinth, Glass- sand, cardboard, 32 x 26 inches, 2016
New Rochelle BID and RU are pleased to announce the opening of Art at 5 Anderson main exhibition
Beneath Our Feet on and the Surface of Things
Curated by Livia Alexander

August 13-September 3, 2016
Opening Reception August 13, 12:00pm -4:00pm
5 Anderson Street, New Rochelle, NY 10801
Drawn to the disparate potentials engrained in the deception of seeing and vision, the works in this exhibit aim to unearth, excavate and bring into focus the complex dynamics of power defining what is un/willingly hidden from plain sight. As buildings are built, landscapes transformed, and populations shift and move, in/visibility comes into sharp focus as an integral trope of urban re-development. Which plants rise to the surface and what soil brews beneath it? Whose hands are pressuring to strike roots and what kind of communities do we strive to nourish and sustain?
Seeking to thoughtfully explore how initiatives of urban planning can align with pressing concerns for the lived environment, the exhibition brings together works which link the sustainability of earth, soil, air, and water with the related dynamics of social and political power, shaping the lives of the communities inhabiting the space, materially as well as culturally.
Participating artists include: Ellie Irons and Graciela Cassel in Apartment 101, Jaret Vadera, Silvia Giambrone, Gustavo Prado, Youmna Chlala, and Larissa Sansour in 5 Anderson basement and Itziar Barrio at entrance lobby.
In conjunction with the exhibition, please join us for a number of public programs:
August 20, 5-8pm, Guided Seed Collecting Walk with Artists Ellie Irons and Anne Percoco
Meet in front of 5 Anderson
Stocked with seeds gathered from the vacant lots, street verges, superfund sites and abandoned infrastructure of the greater New York City area, collect and share seeds at our very own New Rochelle outpost of The Next Epoch Seed Library. The seed bank provides a gene pool of tough, highly adaptable plants well suited to live in close quarters with humans and their attendant landscape transformations. Providing services like soil stabilization, moisture retention, heat-island reversal, toxic bioaccumulation and medicinal and nutritional attributes, these plants will be the ideal pioneer species, forming the base of new, novel ecosystems as we move through the bottleneck of the sixth mass extinction
August 27, 5-8pm, Game Night @5 Anderson Patio
Game Night is a series of events presenting artist-made games inspired by underlying themes from popular games such as the Ouija board and Mad Libs. Through playful exchanges created by artists, this series invites participants to interact with works of art, have a conversation, and explore how games illustrate the ways we communicate and reflect on the world around us and each other. The series is organized by Anna Harsanyi, independent curator, artist and educator and Sheetal Prajapati. This special event will include Yasi Ghanbari (Zoom to Unlock), Sheetal Prajapati (Closer) Alison Kuo's Million Dollar Mystery.
In addition, Tokyo based artist Kanako Hayashi will be presenting her video performance piece "Practice for Water Dance." Iranian-born artist Shiva Jlayer will display charcoal and ink portraits are steeped in classical tradition. The exhibits will explore social, political and cultural life in a downtown landscape that is transforming.
This program is supported by New Rochelle Business Improvement District (BID).