Jaye Moon, RU Outbound Resident, reports on her Artist Residency at CJ Art Studio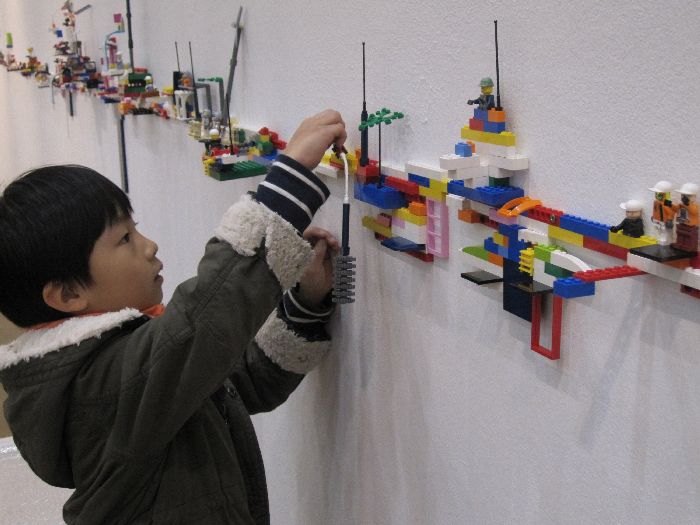 45.-installtion.-2013-Copy
Artist Residency, Cheongju, South Korea, RU Outbound Artist by Jaye Moon
In October, 2012, I participated in the CJ Art Studio Residency program for 3 months. My residency is organized within the framework of Residency Unlimited's partnership with the CJ Art Studio Residency Program in Cheongju, Korea.
I am a New York based Korean artist. I came to New York in 1990 from Korea and haven't been there since then. Therefore, this residency brought me a great opportunity to introduce my work in my homeland for the first time. But when I actually went to Korea to participate in the Cheongju Residency, I learned that things have changed considerably in the 2 decades since I'd left. Learning the culture all over again as an outsider became a challenge for me.
Cheongju Art Residency is in the capital city of Chungcheongbuk-do Province, South Korea. The residency building has excellent facilities: private working and living spaces, each with separate bathroom and kitchen. There are also public spaces, such as a library and a seminar room. They also have 2 museum quality galleries that provide exhibitions for the residents. Every month, each resident gets a solo exhibition there.
During my residency, I wanted to explore the city of Cheongju. I thought that understanding the city could inspire me to create something different from my previous work in New York. While I was strolling around the city I spotted Sangdang Sanseong, near downtown Cheongju. Sangdang Sanseong is a fortress whose walls reach around the top of a mountain. It was built in the late 1500s. The structures are incredible in that they are relics of a time that seems ancient to somebody from the United States. It was comprehensively renovated in 1596 during Imjinwaeran (the Japanese invasion of Korea in 1592) and later remodeled into a stone fortress. This 4.2 km-long, 3 to 4 m-tall fortress was built with stones of various sizes, earth and sand. The trail was very long and steep, but it was worth it to go up to the top to see the spectacular view. The fortress, valleys and hills inspired me, and I decided to recreate this structure of stones, earth and sand with colorful plastic lego bricks, which I have been using as my sculpture medium.
Since 1996, I have been creating sculptures made out of Legos and Plexiglas, such as suitcases, lunchboxes, containers, and drawers with living spaces inside. My theme is portable and instant living in the contemporary world. In 2011, as an extension of my art project, I created lego tree houses and text work in New York, public art in the form of urban landscapes which integrate architecture and nature with Lego bricks. Since I have been thinking about a public art project in Cheongju, I thought the Sangdang Sanseong fortress could be a perfect theme.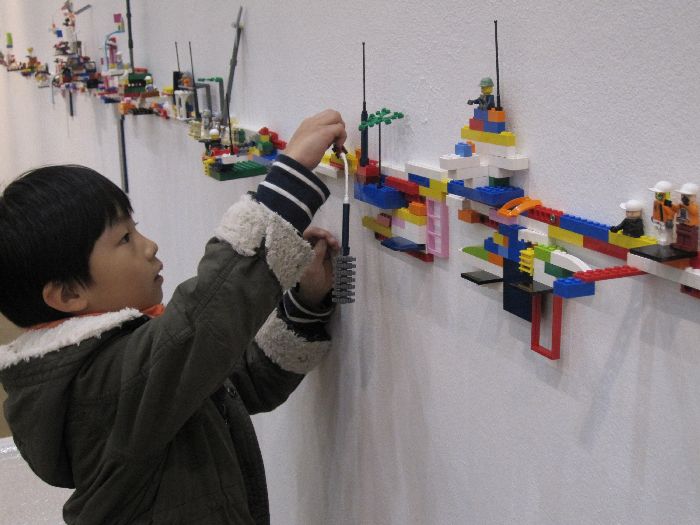 The gallery where I had a solo exhibition was 1330 cm. x 825 cm. x 2000 cm. I attached 2 layers of lego bricks to the walls all around the gallery as a metaphor of Sangdang Sanseong. As time went by, the shapes of the lego wall drawings invited people to participate by adding more bricks. In the end, the drawings became different from the original pieces that I created. I believe that the process of building the fortress was like public art. The work represented a modern day Sangdang Sanseong through collaboration. I also planted 5 trees in concrete to create the views I had seen from the hills over the fortress, and installed them in the middle of the gallery. I let viewers create tree houses and hang them on the trees.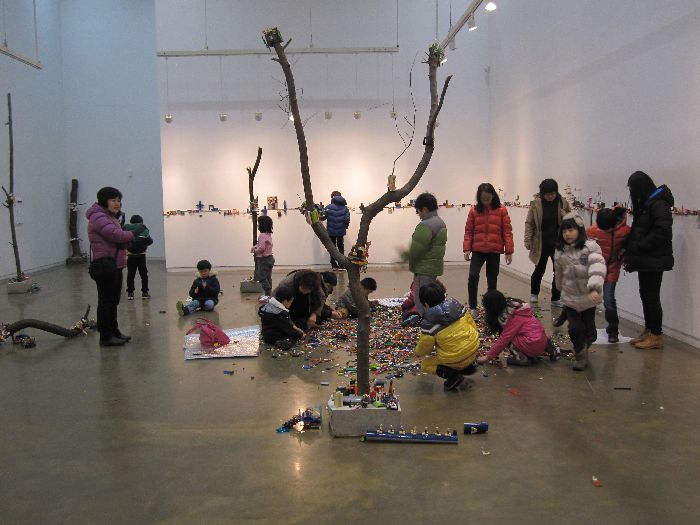 As soon as people walked into the exhibition, they seem to feel connected with my projects, probably because they are made of Legos. Toys are universal and innocent, and create nostalgia of childhood memories. What's interesting is that every time I revisit the sites, I discover that something has been changed. Sometimes the doors have been opened or closed. Sometimes bricks are missing; other times, people actually add bricks to the tree houses and the wall drawings. I learned that people's interactions recreate the shapes of works so they're no longer my projects alone. This is what's great about public art. Since lego is an universal toy, it can bring everybody together to participate in building my project.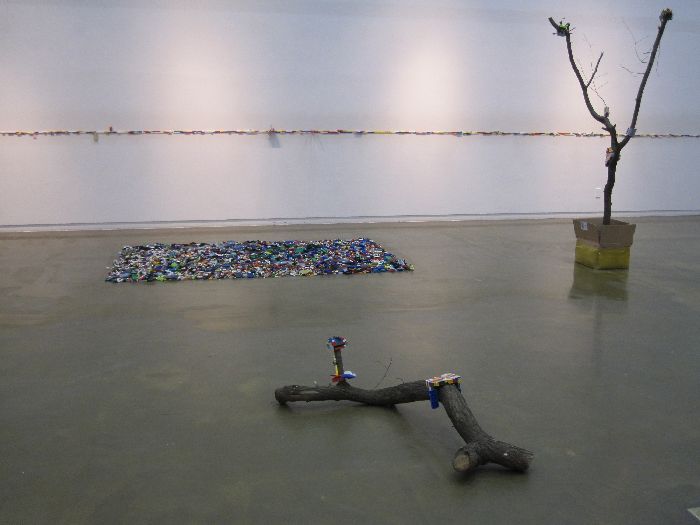 This Cheongju Art Residency gave me an amazing experience. Since I came back to New York, I am trying to develop my lego wall drawings as a form of site specific public art combine with different materials and various themes in different locations.
Jaye Moon, April 2013
RELATED: