RU News |
Nov, 2019
The winner of RU's 2019 Residency Raffle is Bas Peeters!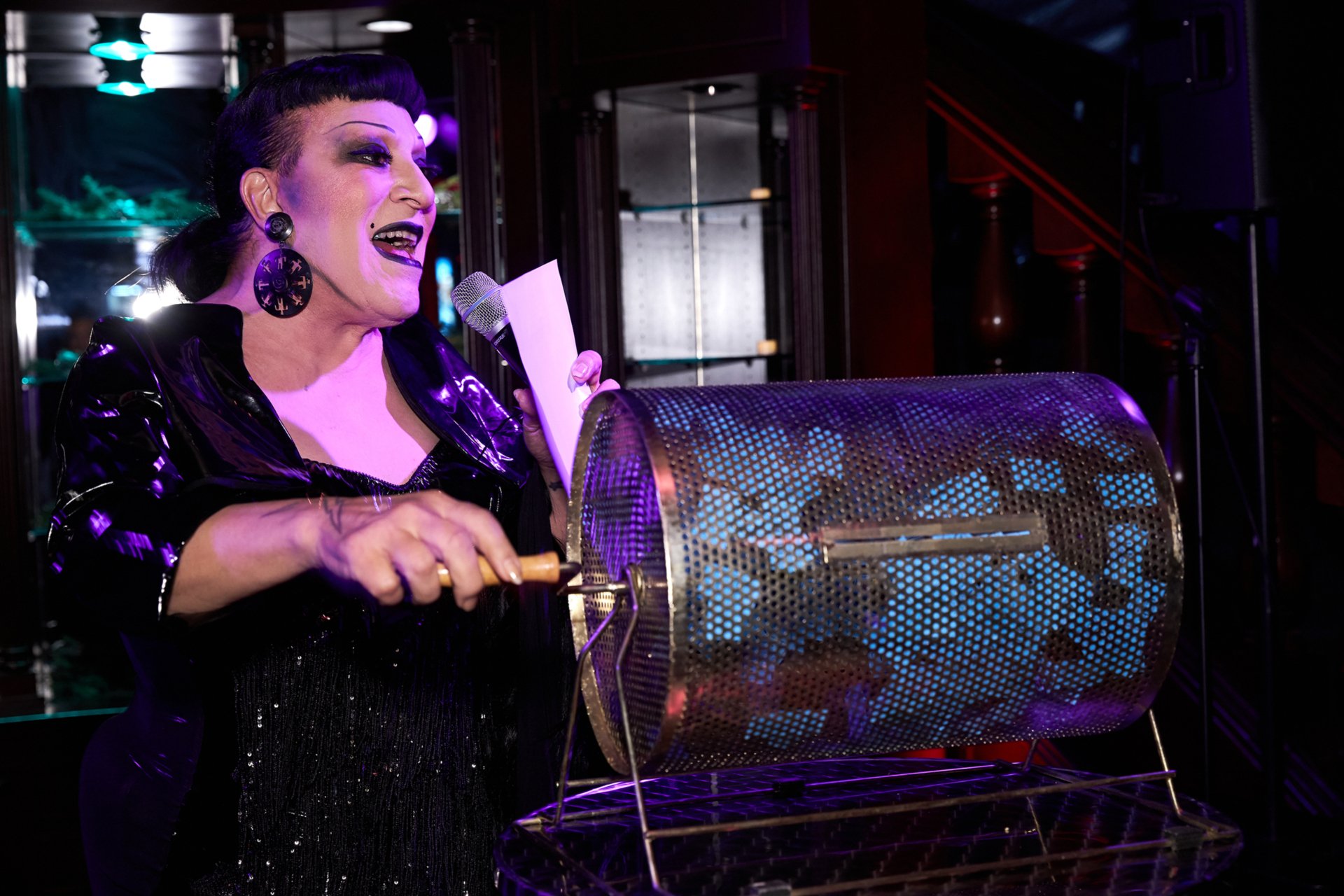 Joey Arias pulling the wining raffle ticket at RU's 10 Year anniversary Benefit Party. Photo courtesy of Argenis Apolinario
Residency Unlimited (RU) is delighted to announce Bas (Sebastiaan Arthur Marie) Peeters as the winning artist of RU's 2019 Residency Raffle for a one-month residency at Points Center for Contemporary Art (PCCA) in Jinxi.
The raffle was drawn at RU's 2019 Ten-Year Anniversary Benefit Party on November 21 in The Seaport District. The winning ticket was drawn by New York icon Joey Arias, a performance artist, cabaret singer, and drag artist alongside RU's Executive Director, Nathalie Angles and the audience. (Photo: Argenis Apolinario)
Bas (Sebastiaan Arthur Marie) Peeters has over 25 years of experience as a spatial designer and light artist who has worked in a variety of sectors including theater, film, TV, events and interior design. His light installations and video mapping projects respond specifically to the area, the history and social context of the environment in which he is working. Revealing the Genius Loci (protective ghost) of a place with the minimal resources of light, Bas Peeters infuses space(s) through more or less radical changes and interventions so that the viewer may experience a place in a new way. Movement is an important element in his building with light, activating illusion with the paradox of the intangibility of light and its luminous presence.
While in residency at PCCA, Bas Peeters will conduct research towards his project Light Matters! and continue to investigate light as immaterial matter in relation to space and the elements of earth, water, fire, and air. Additionally, he will make site-specific installations based on the natural and cultural circumstances of Jinxi and experiment with light underwater and projections on the water.
Bas Peeters has developed several permanent assignments for both city municipalities and project developers. He has participated in Light Art Festivals including the GLOW Festival Eindhoven and Amsterdam Light Festival in the Netherlands, and the Luminale Festival in Frankfurt, Germany. Bas Peeters is educated as a first-degree teacher in art and art history and studied theater-design and art-direction at the Gerrit Rietveld Academie in Amsterdam, Netherlands.
About Points Center for Contemporary Art
Founded in 2017, Points Center for Contemporary Art's 21, 500 sq ft surface incorporates a residency program with studios and accommodation, galleries for exhibition and public education activities, as well as a theater and archival database. PCCA is located in the unique setting of the ancient water town of Jinxi along the Yangtze River, which is shaped by a two-thousand-year-old history and the Wu culture. Jinxi has adopted ecologically mindful policies. Through its residency, PCCA looks to foster a new cultural context both respectful of local tradition and open to international cultures. The residency program brings together artists, curators, writers, musicians, scientists, researchers, and interdisciplinary experts selected based on the relevance of their projects.
Thank you to everyone who participated in our 2019 annual raffle and for making our Ten-Year Anniversary Benefit Party such an amazing celebration!