Alumni News |
Mar, 2017
The Sun That Never Sets presents: It Was a Pleasure to Burn, Featuring Jo Karlins at SPRING/BREAK Art Show!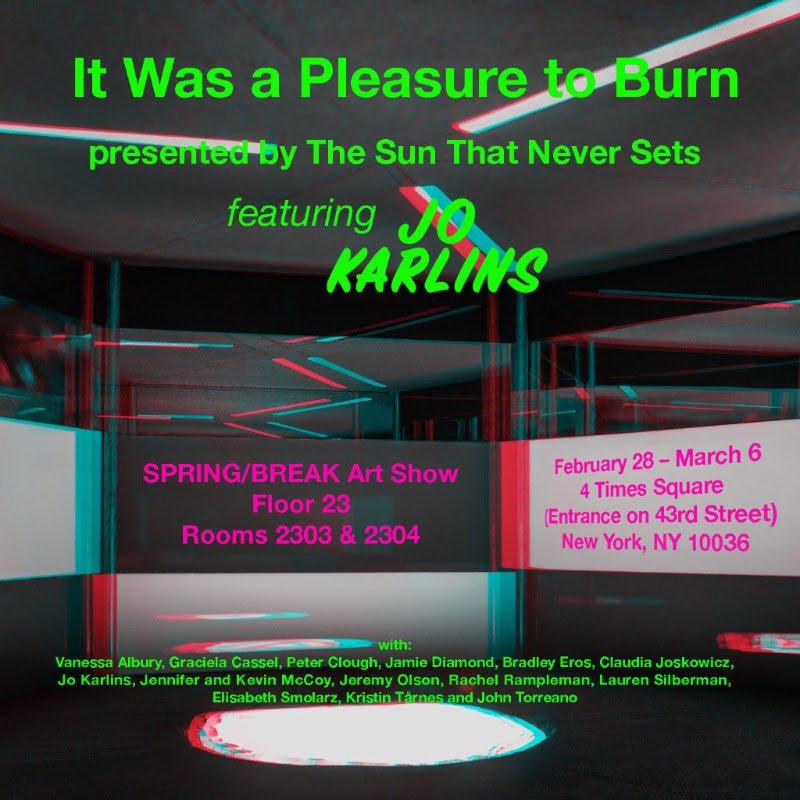 Graciela Cassel, Peter Clough, Bradley Eros, Claudia Joskowicz, Jo Karlins, Jennifer and Kevin McCoy, Jeremy Olson, Rachel Rampleman, Kristin Tårnes, John Torreano, Jamie Diamond, Lauren Silberman, Elisabeth Smolarz and Vanessa Albury
February 28 – March 6, 2017
SPRING/BREAK Art Show
4 Time Square (Entrance on 43rd Street)
New York, NY 10036
Floor 23: Rooms 2303 & 2304 (first rooms to the right off the elevator bank)

Preview Day: February 28 
Collector's Preview 11am - 5pm (get in for free with a VIP card from the Armory, NADA, Independent or Volta)
Press Preview 3pm – 5pm
Vernissage 5pm - 9pm
Daily Hours: March 1 – 6
11am – 12pm VIP hour 
12 - 6pm
Concept/ Tickets: http://www.springbreakartshow.com
Collection: http://www.springbreakartfair.com
Preview of our show: thesunthatneversets.com/It-Was-a-Pleasure-to-Burn
The Sun That Never Sets (TSTNS) teams up with Jo Karlins' curators to  present It Was a
Pleasure to Burn featuring Jo Karlins. TSTNS (Vanessa Albury) collaborates with Jamie
Diamond, Lauren Silberman and Elizabeth Smolarz and to exhibit artworks spoofing
reality and twisting it into real or envisioned narratives. Borrowing the first line of Ray
Bradbury's Fahrenheit 451, It Was a Pleasure to Burn, is inspired by imagination and re-
invention, shared themes with the science fiction genre. We love stories about people imagining
the world and it's possibilities, the real, the re-invented and the tailspins refracting from these
artistic visions. In the future will books be banned, will shells in our ears guide us, will woodland
creatures rule the planet, will authorship become archaic? Both the unknown of the future and
'the other' are great fodder for artistic practices. We present two adjacent rooms at
SPRING/BREAK Art Show 2017 examining some of these questions, a group show and a
solo project by Jo Karlins.