Alumni News |
Sep, 2017
THE HOUSE OF DUST au CNEAI Pantin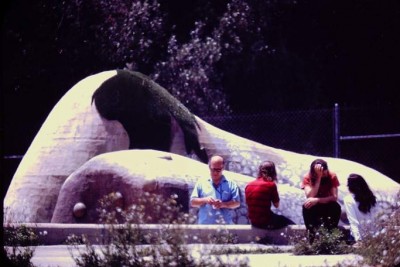 EXPOSITION THE HOUSE OF DUST BY ALISON KNOWLES
RÉALISÉE AVEC ART BY TRANSLATION, PROGRAMME DE RECHERCHE ET D'EXPOSITIONS DE L'ESBA TALM, ANGERS, L'ENSA PARIS-CERGY ET LE CNEAI. 
EN PRÉSENCE DES COMMISSAIRES DE L'EXPOSITION SYLVIE BOULANGER, MAUD JACQUIN ET SÉBASTIEN PLUOT, DE ALISON KNOWLES, DE HANNAH HIGGINS ET DES ARTISTES A CONSTRUCTED WORLD, BONA-LEMERCIER ET CHRISTELLE CHALUMEAUX, DIEUDONNÉ CARTIER, JAGNA CIUCHTA, TYLER COBURN, YONA FRIEDMAN, MARK GEFFRIAUD, RAMIRO GUERREIRO, JEFF GUESS, PETER JELLITSCH, KATARZYNA KRAKOWIAK, KENGO KUMA, LOU-MARIA LE BRUSQ, AURÉLIE PÉTREL, JOSHUA SCHWEBEL, DANIELA SILVESTRIN ET FRANCISCO TROPA.
PROGRAMME
    15h : Discours d'inauguration
    16h : #15 Wounded Furniture (Event Score, 1965), Alison Knowles 
    17h : Conférence, Hannah Higgins, Pr. University of Illinois at Chicago
    18h : Newspaper Music (1962), Alison Knowles
18h30 : Performance, Katarzyna Krakowiak 
    19h : #2 Proposition, Make a Salad (Event Score, 1962), Alison Knowles
Au cours de la journée : 
· An Hysterical Documentation (Parlez aux anguilles) avec A Constructed World.
· Composez votre publication The Office of Gravitational Documents #THE_HOUSE_OF_DUST de Dieudonné Cartier.
· Aménagez Le Nouveau Pavillonaire de Yona Friedman.
· Inscrivez-vous à A House of Roots, performance pour spectateur unique de Tyler Coburn.
· Séance photographique des œuvres de Céline Vaché-Olivieri par Jagna Ciuchta.
PARTENAIRES : MINISTÈRE DE LA CULTURE - DRAC ÎLE-DE-FRANCE, RÉGION ÎLE-DE-FRANCE, DÉPARTEMENT DE LA SEINE-SAINT-DENIS, VILLE DE PANTIN, MINISTÈRE DE LA CULTURE - DÉPARTEMENT DE LA RECHERCHE, ESBA TALM, ANGERS, ENSA PARIS-CERGY, MAGASINS GÉNÉRAUX, F.N.A.G.P FONDATION NATIONALE DES ARTS GRAPHIQUES ET PLASTIQUES, AUSTRALIAN COUNCIL FOR THE ARTS, AUSTRIAN FEDERAL CHANCELLERY, INSTITUT POLONAIS PARIS, FONDERIE DARLING, FONDATION CALOUSTE GULBENKIAN – PARIS, AMBASSADE DU PORTUGAL-PARIS, CAMOES INSTITUTO DA COOPERAÇAO E DA LINGUA, DICRÉAM CNC, FONDATION D'ENTREPRISE RICARD, CONSERVATOIRE À RAYONNEMENT DÉPARTEMENTAL DE PANTIN (CRD), GALERIE PHILIPPE GRAVIER, GALERIE JOCELYN WOLFF.
Exposition associée à la Galerie, centre d'art contemporain de Noisy-le-Sec :
"UNE MAISON DE PIERRE, DANS UNE MÉTROPOLE, UTILISANT TOUT TYPE D'ÉCLAIRAGE, HABITÉE PAR CEUX QUI INVITENT LES AUTRES", d'après Alison Knowles
Du 22 septembre au 16 décembre 2017
THE HOUSE OF DUST BY ALISON KNOWLES
DU 10 SEPTEMBRE 2017 AU 19 NOVEMBRE 2017
DU MERCREDI AU DIMANCHE 13:00-19:00
cneai =
http://www.cneai.com
RELATED: