Alumni News |
Jun, 2019
Shay Arick: Interior Landscapes at Assembly Room, NYC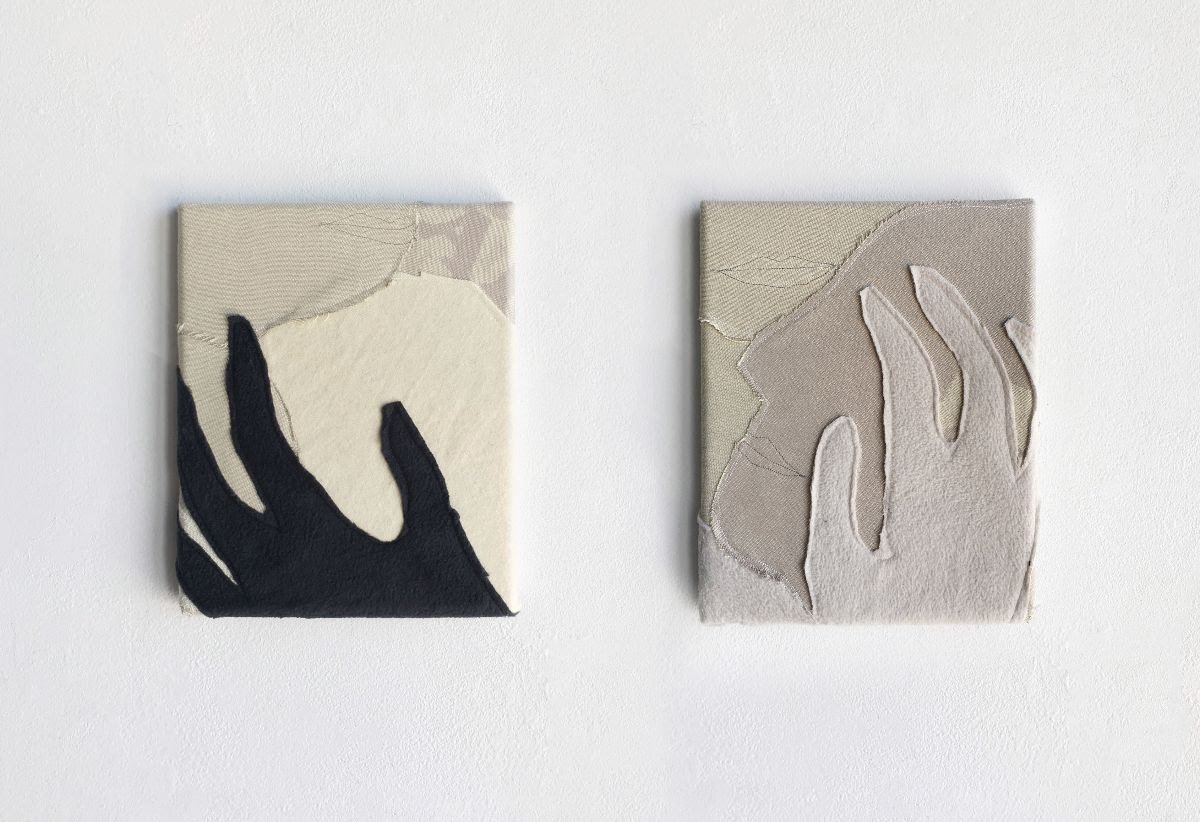 left: Untitled (Korea Airlines, American Airlines and Continental), inflight airlines blankets, 10 x 8 inches, 2019 right: Untitled (Airfrance and Korea Airlines), inflight airlines blankets, 10 x 8 inches, 2019
June 26-August 4, 2019
Opening Wednesday, June 26, 6-9pm
ASSEMBLY ROOM   |  191 Henry Street  |  New York, NY 10002
Gallery Hours: Thursday - Sunday  |  12 - 6 pm and by appointment
Interior Landscapes
Curated by Natasha Becker, Paola Gallio, and Yulia Topchiy
Assembly Room is excited to celebrate our first birthday with Interior Landscapes, a summer group show curated by the co-founders of Assembly Room.
We are celebrating with a summer group show of eleven artists working with themes of reconnection. Interior Landscapes speaks to our immigrant roots and to living in a multicultural city. We are presenting artists who, like ourselves, came from another country and have made NYC home. Navigating the familiar dichotomies of their native land and adopted land of America, their work is part of a rich web of new communities, political intrigues, and cultural exchanges. The artists in the show respond to questions of identity, trauma, displacement, dualities, faultiness, and fractures within the culture. However, through their artwork, create new vocabularies and forms of communication that have the potential to transcend cultural gaps. We are honored to present Eve Ackroyd, Blanka Amezkua, Shay Arick, Chioma Ebinama, Annette Hur, Keiko Narahashi, Kaveri Raina, Daapo Reo, Alessandro Teoldi, Chang Yuchen, Maya Varadaraj.
In keeping with this theme, we are delighted to announce our partnership with The Immigrant Artist Biennial. We are hosting three performance events curated by Katya Grokhovsky to raise funds for the inaugural edition. Please join us in supporting a community which welcomes all by attending these events!
Artist Bios:
Eve Ackroyd studied painting at Chelsea College of Art & Weissensee School of Art in Berlin. Her paintings and collages depict delicate women's figures in intimate, colorful surroundings. Recent group shows include Living and Real, Kapp Kapp, Philadelphia, Sweet cheeks, Big Pictures, LA and Subject III, Cob Gallery, London. Her work has been written about for Brooklyn Rail, I-D, AnOther, Dazed & Confused, Artsy and Hyperallergic.
Blanka Amezkua is a Bronx-based artist currently in residence at the Bronx Museum's AIM alumni residency program. Formally trained as a painter, Blanka Amezkua's multidisciplinary practice employs techniques often considered traditional or domestic – primarily embroidery and crochet to address timely cultural, political, and gender issues. She studied at the Academy of Fine Arts in Florence, Italy, and received a Bachelor of Fine Arts from California State University, Fresno. She initiated AAA3A, an artist-run space in Mott Haven, Bronx, that supports the visibility of Bronx-based artists.
Shay Arick is a cross-disciplinary artist. His practice combines sculpture, video, and drawing. In his most recent body of work, he makes small and intimate oil pastel drawings, composites of abstraction and narrative contained in a compressed space. He studied at The School of Visual Arts (SVA), NYC, while earning his BFA from Bezalel Academy, Israel, from which he graduated with honours. Arick is a recipient of Murphy Cadogan Contemporary Arts Award and the Eileen Cooper Award For Creativity, the America-Israel Award For Excellence in Sculpture and is a HaPais Council for the Culture and Arts Artist Grant recipient, among others.
Chioma Ebinama's multidisciplinary studio practice ranges from works on paper to soft sculpture. She is interested in understanding the role of the African artist in negotiating the representations of the black female body in Western culture. In 2016 she received her MFA from the School of Visual Arts. She recently exhibited at the 2018 Spring/Break Art Fair and was featured in an off-site exhibition in the 2018 Dakar Biennale.
Annette Hur is a visual artist working with abstraction on large scale oil paintings and Korean silk textiles where she investigates the inherited traditional culture that subconsciously manipulates and subverts female sexuality. She has previously shown in solo /group exhibitions at Wallach gallery, Gavin Brown Enterprise, Urban Zen, Times Square Space, 33 Orchard gallery in New York; Zhou B Art Center in Chicago, Dafen international Oil Painting Biennale in Shenzhen, China. She holds a BFA from The School of the Art Institute of Chicago, and MFA(2019) from Columbia University.
Keiko Narahashi explores the principles of painting through clay, metal, paper, photography, and paint. She is best known for her silhouettes, abstract forms that can be imbued with emotional and psychological meanings which can then be intuited by the viewer. She received a BFA from Parsons School of Design, and an MFA in Painting from Bard College. Recent solo and duo exhibitions include Jason McCoy Gallery (NYC), Bennington College Usdan Gallery, and Underdonk Gallery (Brooklyn).
Kaveri Raina's paintings depict the sensation of navigating unfamiliar territory. Working primarily with the woven burlap and canvas surfaces, she creates highly meditative, yet vigorous and energizing visual push and pull—a metaphor for the lively unease of the experience of constant relocation and reinvention. Raina received her MFA in Painting and Drawing from the School of the Art Institute of Chicago in 2016 and her BFA from the Maryland Institute College of Art in 2011. She had her first international solo exhibition in March 2019 at Annarumma Gallery, Naples, Italy. She is currently at Paint School Residency, Shandaken Projects, New York.
Daapo Reo is a self-taught mixed-media artist working in textiles, video, sculpture, and installation. His work examines cross-cultural personal and collective identities of individuals, social groups, and nationalities. He is currently part of the group exhibition "Open Call Group 2" at The Shed, the new multidisciplinary arts center in the Hudson Yards, NY.
Alessandro Teoldi's practice encompasses textiles, sculpture, installation, and drawings. He transforms mass-produced materials into representations of hugs, body parts, and familiar portraits in the attempt to create human connection out of synthetic materials. He has exhibited his work at venues including 11 Rivington, NY; Klaus Von Nichtssagend Gallery, NY; The Cabin, Los Angeles; Suprainfinit Gallery, Bucharest; Galerie Derouillon, Paris; Viasaterna Milan; International Centre of Photography, New York amongst others. He was one of the 2018 residents at La Brea Artist Residency, Los Angeles, CA and a 2015 Workspace residents at Baxter St at The Camera Club of New York.
Maya Varadaraj is an interdisciplinary artist and designer. Her work is often presented as multimedia installations using objects, apparel, and images. Her practice brings to light the unproductivity and violence perpetrated by enforced decorum for women presented through paintings, collages, and mixed media installations. She has exhibited at the Vitra Design Museum, Spazzio Rosanna Orlandi, Block 37 Chicago, and Mana Contemporary New Jersey.
Chang Yuchen is a visual artist with a practice rooted in drawing. From meticulous pencil drawings to loosely woven curls of fabric and drifts of silk, Chang Yuchen takes a line and transforms it across media and in real space. Her practice brings together the graphics and textile arts to pursue resonances between the shifting contexts in which to understand a line as an edge, a thread, or a mark unto itself. Her work has been exhibited at Chambers Fine Art (NY), Salt Projects (Beijing), Bard Graduate Center (NY), Elizabeth Foundation for the Arts (NY), Kyoto Municipal Museum of Art, The San Francisco Center for the Book, Today Art Museum (Beijing). She was recently an artist in residency at the Museum of Art and Design, New York.
RELATED: