Alumni News |
Oct, 2014
RU Residents participating in 2014 Art in Odd Places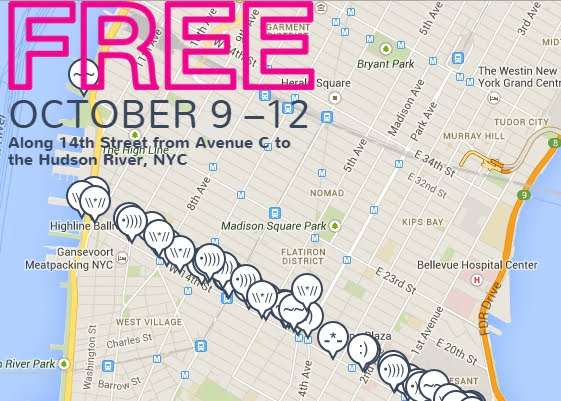 We are very excited to see an abundance of current and past RU residents at the 2014 Art in Odd Places Festival (AiOP) including RU residents Katya Grokhovsky, an intervention by Maayan Sheleff with Frankie the Robot. Past residents Patrick Rowe, with Mobile Print Power and Melissa Calderon presents AmericanThe#FREE. Not to mention Sam Jablon, who donated work for our RU Summer benefit, and Todd Lester, of Lanchonete fame both have projects during the festival.
Slow Dance, Katya Grokhovsky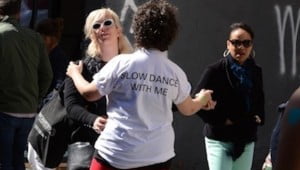 Slow Dance is a participatory, live, durational performance. The audience and passersby are invited to slow dance with the artist and numerous performers to music from diverse cultures and time periods.
Performance Schedule:
Thursday, October 9 from 1-3pm and 5-7pm on 14th Street and First Avenue.
Friday, October 10 from 12-2pm and 3-5pm on 14th Street and Ninth Avenue.
Saturday, October 11 from 1-3pm and 4-7pm on 14th street and Tenth Avenue, under the Highline.
Sunday, October 12 from 12-2pm, 3-5pm, and 6-8pm in Union Square.
details: http://free.artinoddplaces.org/artists/grokhovsky-katya/
Frankie, The Documentarian Robot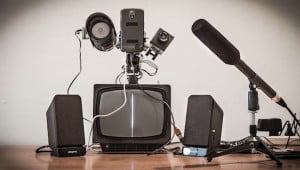 Frankie is an interactive installation: a robot that interviews people and documents them, attempting to learn what it means to be human.
Date - October 9 – 12
See details at: http://free.artinoddplaces.org/artists/sheleff-maayan-eran-hadas-gal-eshel/
Melissa Calderon: AmericanThe#FREE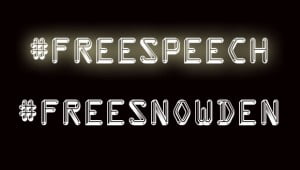 AmericanThe#FREE is a web-­based, social-media-controlled project that allows social media users from around the world to engage the dueling hashtags of #freespeech and #freesnowden in a silent, interactive, yet passive freedom of speech protest.
Date October 9 – 12
http://free.artinoddplaces.org/artists/calderon-melissa/
Patrick Rowe - Talk is Cheap: Mobile Print Power and Bike-B-Q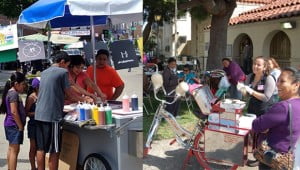 Mobile Print Power will collaborate with Talk Is Cheap: Unincorporated Language Laboratories on a month-long project leading to a public printmaking.
Date - October 11
http://free.artinoddplaces.org/artists/mobile-print-power-talk-is-cheap/
RELATED: