Press |
May, 2014
RU included in Studio International's Training to be an Artist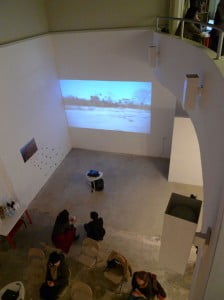 We're proud to be included in this article by Studio International, among a healthy group of strong organizations that support artists.
Training to be an artist: art centres, residencies, collectives and subsidised studio venues in New York City
by NATASHA KURCHANOVA
How many ways are there to train as an artist? Contrary to what you may think, perhaps not that many. You can go to art school, become an apprentice to an experienced colleague, or figure it out alone.
After a relatively brief period of schooling is over, how many ways are there to become an artist – to reach the stage where you feel moderately self-sufficient, accomplished and independent? Perhaps there are as many ways as there are artists themselves. In all cases, however, during this transitional time, artists need support – emotional, financial and institutional – that does not depend on their age or the number of years they have been making art. To find a way from the training stage to becoming a professional is not easy. There are many organisations that help artists along this path, especially in big cities. As one of the art centres of the world, New York attracts thousands of people from all corners of the globe who want to experience the intensity of its cultural life. Rare is a creative person who has not visited this city, some for a short time, some to settle.