RU News |
Sep, 2014
PAST OPEN CALL – RU & Galapagos: Natural Selection – Open Call for 6 month residency for NYC Artists in Switzerland (Deadline: Sun Sept 28th, 2014)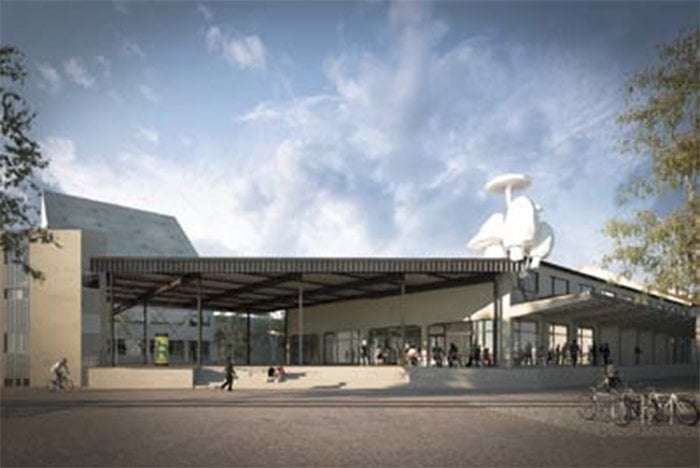 Haus am Freilager-Platz 10, new location for Atelier Mondial
RU and Galapagos has partnered with IAAB, the International Exchange and Studio Program of the Canton of Basel, Switzerland, to each year offer an artist from New York City the opportunity to spend six months near Basel, in the Swiss countryside town of Riehen. In turn, we'll host a Swiss artist here.
This year, IAAB is moving to a new space and becoming the Atelier Mondial – International Arts Exchange Program Basel Mulhouse Freiburg. Opening at Freilager-Platz 10, are 7 new residential studios, housing our guest artists from around the world: five large studios and two smaller studios built around a central project space.
The residency program is generously financed by private and public sponsors. The Atelier Mondial offers a 850 square foot working and living space from January 1 to June 30, 2014, an allowance of $1,200 per month while in Switzerland to cover day to day living costs and a plane ticket to Switzerland with return to New York. In Switzerland the artist will also receive a 'reduced tarif' public transport card for all public transportation in Switzerland.
More info about iaab: http://www.iaab.ch
Who can apply to the iaab?
The exchange program is open to visual artists of all disciplines and performance artists who reside in New York City with an active practice for at least two years, irrespective of age or nationality.
Application procedure for artists from New York
Residency Unlimited will administer and process the open call for the 2015 Residency.
The deadline for submissions is midnight, Sunday September 28th, 2014.
The Jury will review applications and select artists for a final round of interviews.
Interviews will take place on Thursday October 2, at Residency Unlimited.
The finalist will be announced on Friday October 3.
Applicants will need to provide the following information:
Contact Information
Motivation letter
Resume
Project description (detailed concept for the project you would realize during your 6 month stay in Basel, 2 pages maximum)
Digital Portfolio that includes your works of the past 2 years. (PDF, Letter size, small compression, max 3MB) If you work with new media /video you can send us links (3 links maximum).
To apply please submit the required materials here: http://residencyunlimited.org/galapagos-apply/