Alumni News |
Mar, 2015
Juan Betancurth & Onyedika Chuke at 2013-2015 Queens Museum Studio Program Exhibition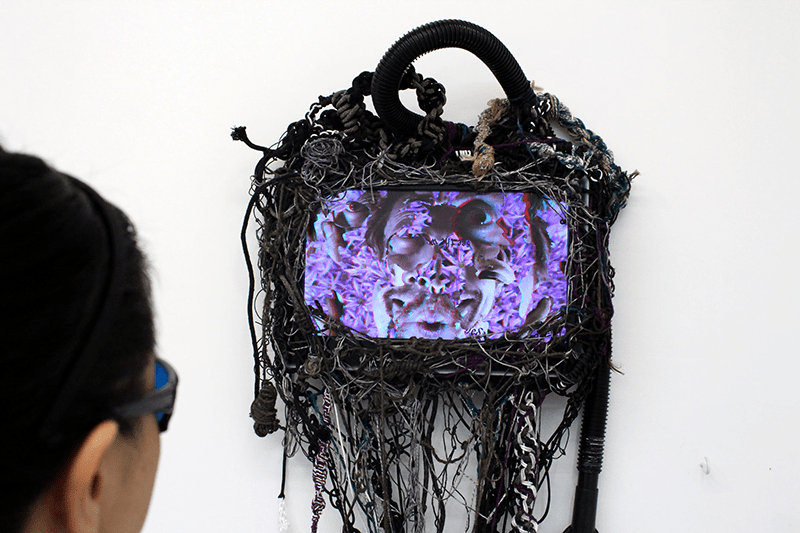 Brian Zegeer, Wilt Thou Tarry to See the Work of Redemption Accomplished?/ Stop Touching My Shit, 2014. Mixed-Media Animation, HD digital video, stereoscopic 3d, 4 minute loop, monitor with fiber enclosure
2013-2015 Queens Museum Studio Program Exhibition
Opening Reception
Mar 21 2015
5:00pm–8:00pm
http://www.queensmuseum.org/events/opening-reception-2
Join us for the opening of the first exhibition at the Queens Museum of the work of the Studio Program and of Social Practice Queens. Visitors are invited to view finished work in the Museum's galleries and a glimpse behind the scenes in the artist's open studios. Although the artists were selected as individuals, rather than as a group, some underlying themes, including sexuality and strains of surrealism, are visible in the show. There will be a walkthrough at 6:00 pm with Queens Museum curator Larissa Harris, Studio Program coordinator Nung-Hsin Hu, and studio program artists.
Participating artists: Nobutaka Aozaki, Juan Betancurth, Onyedika Chuke, Mike Kenney, Caitlin Keogh, galería perdida, Jewyo Rhii, Bunny Rogers & Filip Olszewski, Caroline Woolard & Lika Volkova, and Brian Zegeer.
A performance by Juan Betancurth will take place, time undetermined.
Selected students and alumni from Social Practice Queens (Sol Aramendi, Seth Aylmer, Scott Braun, Barrie Cline, Gina Minielli and Nicky Mourino) will also be participating. A partnership with Queens College (CUNY) MFA program, SPQ occupies a shared studio space in the Queens Museum's studio wing.
As part of Barrie Cline's Workers Art Coalition, a short documentary by Setare Arashloo will be screened at 5:30 pm.
Free shuttle 4:30-7:30 pm from Roosevelt Ave under the Mets-Willets Point 7 train stop.
As part of its 2013 expansion, the Queens Museum added eight artist's studios to its North Wing. One of the only US studio programs housed within a major museum, these highly subsidized spaces are available for one year with a possible extension to a second. Artists are selected through a juried open call and are encouraged to avail themselves of all resources at the Museum and the surrounding neighborhoods. Also sharing studio space are Social Practice Queens students in the Queens College MFA Program.
Artist Services at the Queens Museum are made possible in part by a generous grant from The Scherman Foundation's Katharine S. and Axel G. Rosin Fund. Additional support provided by the New York City Department of Cultural Affairs and New York State Council on the Arts with the support of Governor Andrew Cuomo and the New York State Legislature.
RELATED: