RU News |
May, 2015
RU 2015 ANNUAL BENEFIT UR-our-Patron $500 Ticket – Tuguldur Yondonjamts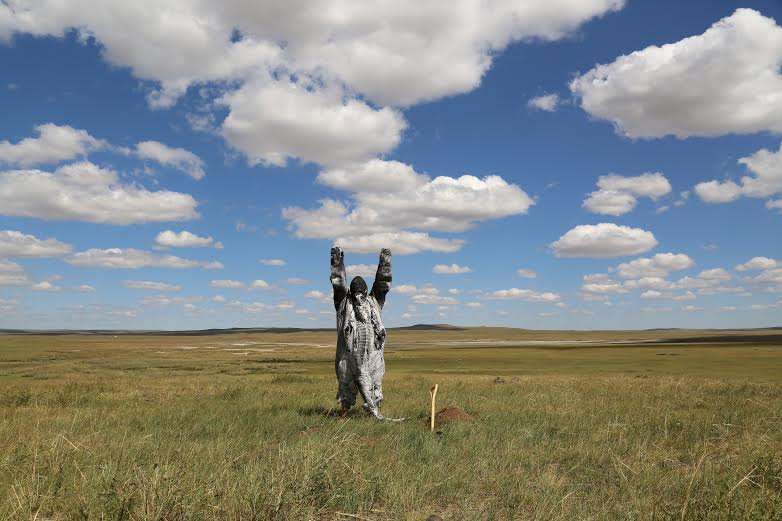 Become the proud owner of a limited photo edition (15 + 5 AP) by Tuguldur Yondonjamts.
Title: Wearing an Antipode costume and installing an artificial falcon nest in Bayan Sum.
Year: 2014
Medium: Inkjet Matte Archival Print
Limited Edition of 15 + 5 AP
Size: 12" x  18" Framed
Description: In this image, I am wearing an Antipode costume and digging a hole to install an artificial falcon nest in Bayan Sum (a location around 100 km south of Ulaanbaatar, Mongolia). This area contains many artificial falcon nests devised to help the species to breed. My Antipode costume's structure and design emulates both King Kong and the Tyrannosaurus Rex. This photograph was taken during the production of the film "My very best, Smuggler" in 2014. From Mongolia I then went with my son to Chile, the antipode of Bayun Sum, in order to chase and capture a falcon in Patagonia.
Bio: Born in 1977 in Ulaanbataar, Mongolia, RU alum Tuguldur Yondonjamts first studied art at Mongolia's University of Culture and Arts, where he learned traditional Mongolian painting style known as thangka. In the late 1990's, he studied under Lothar Baumgarten, which led him to a more conceptual approach to art. In 2013, he received a Fulbright Scholarship to attend the MFA program in Visual Art at Columbia University. His work was featured at the "2nd LAND ART BIENNIAL – Mongolia 360°", The Institute of Contemporary Arts Singapore (ICAS); Mongolian National Modern Art Gallery Ulaanbaatar, Mongolia; Haus der Kunst in Munich, Werkraum Godula Buchholz in Denklingen, and KunstvereinGraz, Regensburg, Germany. In New York at Fisher Landau Center for Art, Long Island City, LeRoy Neiman Gallery, Columbia University, and Miriam and Ira D. Wallach Art Gallery, Columbia University,  In the Fall 2015, he will be a Fellow in Residence at the highly competitive Civitella Ranieri Foundation program in Italy.
RELATED: