RU News |
May, 2015
RU 2015 ANNUAL BENEFIT UR-OUR-PATRON $500 TICKET – ONYEDIKA CHUKE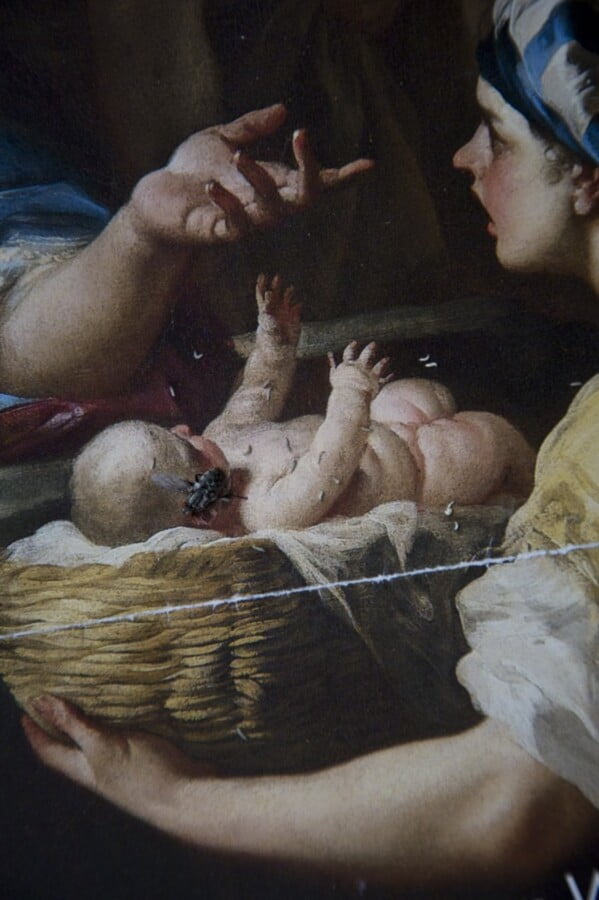 Become the proud owner of a limited photo edition (15 + 5 AP) by Onyedika Chuke.
Title: The Untitled
Year: 2014
Medium: Inkjet Archival Print (Lustre Finish)
Limited Edition of 15 + 5 AP
Size: 18″ x  12″ Framed
Description: Part assemblage, still life and biological study, this work by Onyedika Chuke blurs categorization. With a practice steeped in historiography, archaeology and political theory, Chuke presents an image of a swatted fly with maggots on a Sotheby's catalog advertisement depicting the infant Moses in a reed basket.
This photograph belongs to an expansive ongoing project The Forever Museum Archive where Chuke assumes the role of researcher, archivist, and conservator for a theoretical museum whose mission is to collect and reissue antique forms as it analyzes contemporary ruptures in nature, architecture, and culture by military forces. Since 2011, Chuke has completed portions of The Forever Museum in New York, Switzerland, France, and most recently as a visiting artist for the exhibition Nero Su Bianco at the American Academy in Rome curated by Lyle Ashton Harris, Robert Storr and Peter Benson Miller.
Bio: RU alum Onyedika Chuke studied at The Cooper Union for the Advancement of Science and Art. His work has been included in exhibitions venues such as Queens Museum, Bronx Museum and The American Academy in Rome. He attended several artist residency programs such as Wave Hill's Van Lier Visual Artist Fellowship, Residency Unlimited, Bronx Museum of the Arts' Artist in the Marketplace (AIM) Program, Verbier 3-D Sculpture Park Residency, Verbier (CH). He is currently part of  the Drawing Center's Open Sessions 2014-2016 and Queens Museum Studio Program 2014-2015.
Buy the print:

RELATED: