Alumni News |
May, 2013
Rodrigo Braga and Marcia Xavier are the winners of the ICCo/SP-Arte Prize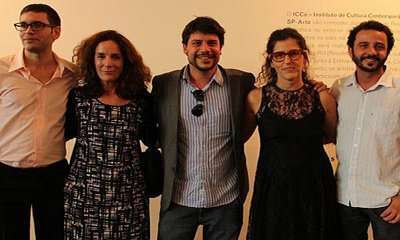 01/May/2013
Brazil, São Paulo
Rodrigo raga (Manaus, 1976), currently living and working in Rio, and Marcia Xavier (Belo Horizonte, 1967), who lives in São Paulo, were the recipients of the artists' residence offered by the ICCo/SP-Arte Prize.
The SP ARTE fair, in collaboration with ICCo-Contemporary Art Institute, offered two residences for artists represented by galleries participating in the event, held April 4 to 7, 2013.
Braga will carry out his residency at Residency Unlimited, in New York, and Xavier will have a study session in Esthia, Rome.
This year, 105 artists represented by 28 galleries participated in the ICCo/SP-Arte competition. The committee selecting the winners included Daniel Rangel, ICCo artistic director; Boshko Boskovic, programming director at Residency Unlimited; and curator Elisa Byington, representing Esthia.
From: https://www.artnexus.com/Notice_View.aspx?DocumentID=25431
RELATED: