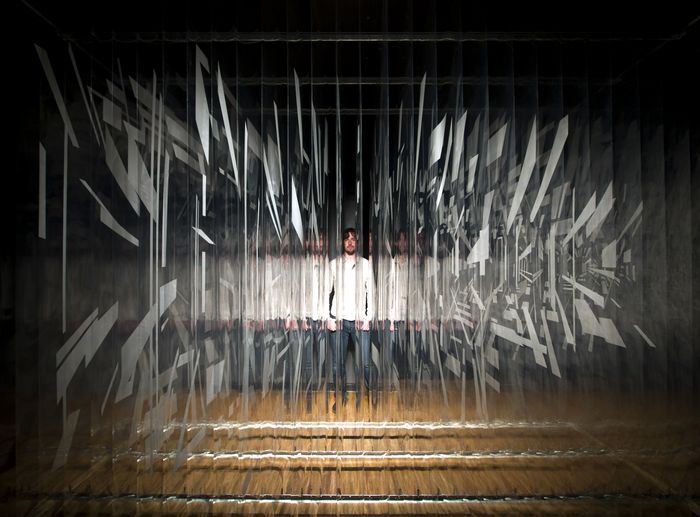 Holocene, 2011, 170 x 289 x 335 cm / 67 x 289 x 132 inches
Acrylic on layered transparent film, metal bar, springs, lights. Installation premiere at the Prague Biennale 5, Prague, Czech Republic
The work of David Spriggs lies in a space between the 2 and 3 dimensions. He explores the representation and strategies of power, the symbolic meanings of colour, movement, and the thresholds of form and perception. The subjects depicted in his work specifically relate to the breakdown and recreation of form and volume – as seen through his interest in cyclones, explosions, and forces. His installations use a technique he developed in 1999 using multiple painted layered images in space to create unique 3D ephemeral like forms. David Spriggs is currently is based in Montreal. He was born in 1978 in Manchester, England, and immigrated to Canada in 1992. He received his Master of Fine Arts from Concordia University, Montreal, and his Bachelor of Fine Arts from Emily Carr University in Vancouver. He undertook student residencies at Central St. Martins College of Art in London, England (1999) and the Bauhaus University in Weimar, Germany (2006). He has recently exhibited work at the Prague Biennial 5, the Louis Vuitton Gallery in Macau, and at the Sharjah Biennal 9 in the UAE. Spriggs' exhibitions in Canada include shows at Galerie de l'UQAM, the Southern Alberta Art Gallery and Rodman Hall Arts Centre. His work is in the permanent collections of the Montreal Museum of Fine Arts and the National Museum of Quebec.
residency is made possible with support from Canada Council for the Arts