Alumni News |
Dec, 2011
Resident Karol Radziszewski launches latest issue of DIK Fagazine.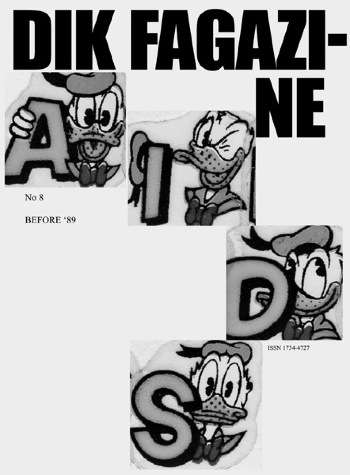 Printed Matter, Inc.
195 10th Avenue
New York, NY 10011
Printed Matter is pleased to launch the latest issue of DIK Fagazine, "BEFORE '89,"  the first artistic magazine from Central and Eastern Europe concentrated on homosexuality and masculinity, published in English and Polish. Join us for a launch event, Saturday, December 10th, 5-7PM , with editor Karol Radziszewski, joined in conversation by Boshko Boskovic, Program Director of Residency Unlimited.
The newest issue of DIK Fagazine, "BEFORE '89," is the culmination of extensive archive work, as well as travels across Europe, that touches on a cultural legacy specific to Poland. Drawing from a range of contributors, the magazine follows a trail through Poland, Romania, Estonia, Latvia, Serbia, Hungary and the Czech Republic.
Bruce LaBruce's text gives the impression that's describing a time when communism is alive and well, and not Poland in the year 2000. Wolfgang Tillmans, who first visited Warsaw in 2011, provides an account of the anniversary of the plane crash in Smolensk, celebrated in the overblown national-religious vein of the Polish right.
The publication follow the trail through park cruising areas, train station, beaches and other casual hook-up spots, at points envious of the sexual encounters with strangers. Ryszard Kisiel shares the astonishing story of his zine titled "Filo", partially reprinted here. Slava Mogutin uncovers the story of homosexuals in the Soviet Gulags. Finally BEFORE '89 conducts a search investigation for Michel Foucault's Polish lover.
This issue also brings the unsettling texts and drawings by Wojtek Bąkowski, as well as a comic strip by Andrej Dubravsky, a young Slovakian bunny-artist. Great contributors of DIK Fagazine 8th issue are:
Arobal, Wojciech Bąkowski, Bruce LaBruce, Boris L. Davidovich, Andrej Dubravsky, Paul Dunca, Christine Fenzl, Nan Goldin, Kamil Julian, Ryszard Kisiel, Slava Mogutin, Jaanus Samma and Wolfgang Tillmans
DIK Fagazine is published by Karol Radziszewski, retails for 15.00 and is available at Printed Matter or online here.
Karol Radziszewski lives and works in Warsaw (Poland) where he received his MFA from the Academy of Fine Arts in 2004. He works with photography, video, film, installations and creates interdisciplinary projects. His practice extends to magazines, artist books, fashion as well as curatorial concept projects. Publisher and editor-in-chief of DIK Fagazine, Radziszewski has exhibited at institutions including The National Museum in Warsaw; Zacheta – National Gallery of Art, Warsaw; Kunsthalle Wien, Vienna; Museum Of Contemporary Art Vojvodina, Novi Sad; Muzeum Sztuki in Lodz; The National Brukenthal Museum, Sibiu; Galerie für Zeitgenössische Kunst, Leipzig; CCA Ujazdowski Castle, Warsaw; 4 Prague Biennale; New York Photo Festival; Bat-Yam International Biennale of Landscape Urbanism; Biennale of Young Artists, Tallinn; Real Art Ways, Hartford; New Museum, New York; Cobra Museum, Amsterdam.
Boshko Boskovic is the Program Director of Residency Unlimited, a New York based residency program that supports international artists and curators. He has curated exhibitions such as Monument-Movement, Center for Photography & Moving Image, New York, Not so Distant Memory, Delaware Center for Contemporary Art & National Center for Contemporary Art, St. Petersburg, Russa, Daniel Rothbart – But I'm An Amerian, KCB, Belgrade Band of Outsiders, CAC, New York, Power of the Brand, Contemporary Art Museum in Banja Luka, Bosnia & Hercegovina, Bite A Bunny for a Day, Exhibition 211, New York, New Paintings – Aleksandra Popovic, MC Gallery, New York, Video Integration, Belef, Belgrade, Performing Body, Marina Abramovic, Speed Art Museum, Louisville.
RELATED: