2018 | NYC | Artist
Tamika Guishard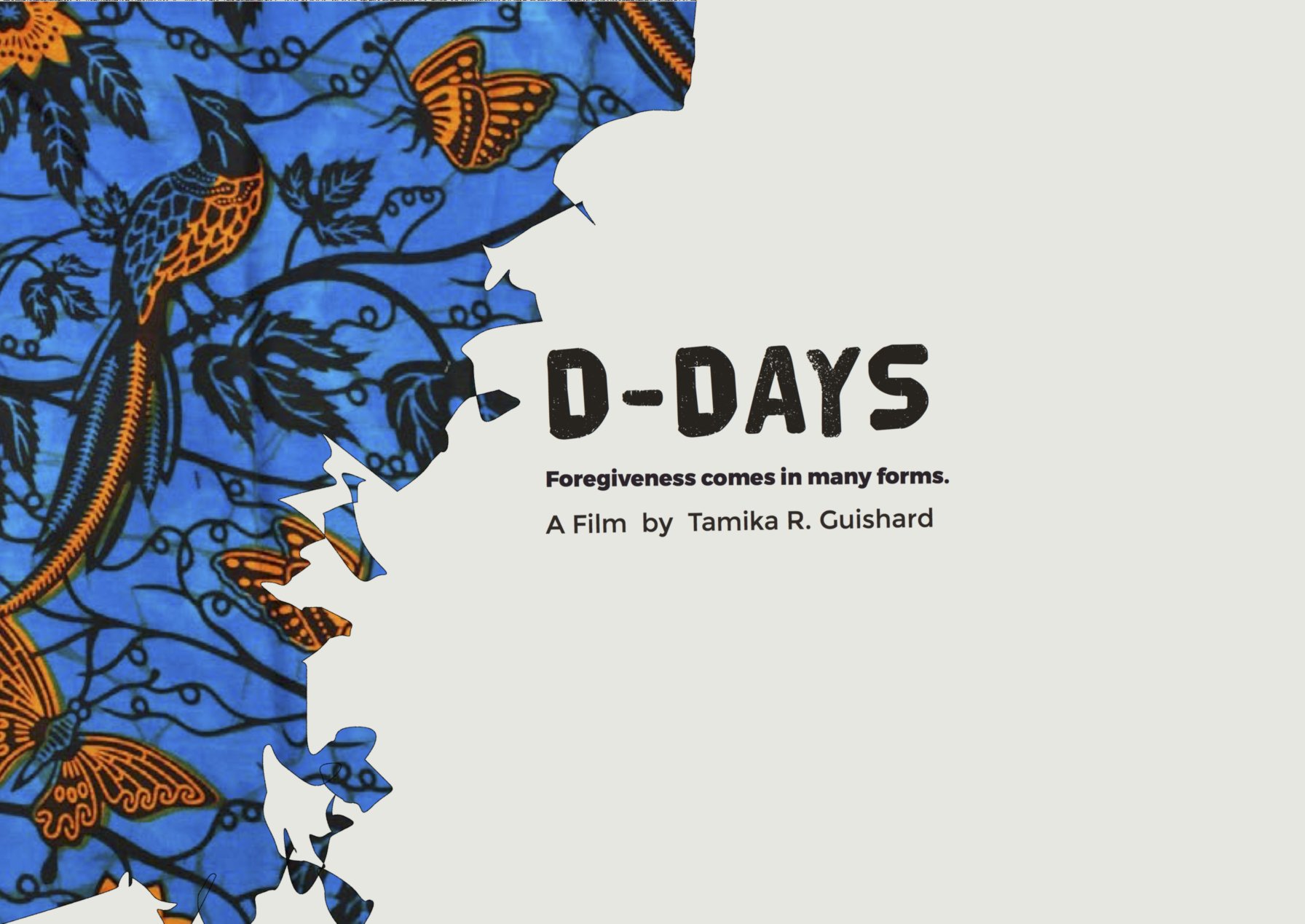 D-DAYS (Look Book Cover Page)
Bio / Statement:
Tamika R. Guishard is a first-generation American born of Kittitian heritage in East New York, Brooklyn. With the mind of a storyteller, heart of a teacher, and soul of a dancer, Tamika taught middle school Social Studies in her native East New York before completing NYU Graduate Film. She believes in the powerful fusion of education and cinema, producing for public school districts, Tribeca Film Institute, Great Minds, and on Leech Lake Reservation in her quest to make "films that help".
While at RU, Tamika continues the development of the film "D-Days" that was recently selected for a Made in NY/IFP Fellowship under the guise of the producer Adetoro Makinde. Shot, written, directed, produced by and starring black women with global Diasporic appeal, while unpacking social justice issues like PTSD, leukemia and foster care, this forthcoming feature is the adaptation of an African dance theatre show originally performed at UPenn in 2000 and produced by the writer/director, then a college junior.
Recognized by Oscar-qualifying festivals and Hollywood Foreign Press for her narrative shorts as well as featured at Harvard University and SXSWedu for her pedagogical video expertise. Since completing undergrad at University of Pennsylvania, she's garnered distinctive opportunities to teach through cinema, even serving as a Park Ranger at Manhattan's African Burial Ground producing webisodes to help launch Ken Burns' "The National Parks: America's Best Idea", with youth from Harlem Children's Zone. After receiving the inaugural Women Cinematographers Grant from Digital Bolex and being named one of the top production-ready screenplays on Tisch's annual Purple List, her passion project, "D-Days", was awarded by New York State Council on the Arts (NYSCA). Tamika's filmmaking acumen most recently landed her at TIFF - as one of only two non-Canadians selected for Black Women Film! Canada - and IFP Project Forum, with D-DAYS being one of twenty U.S.-based narrative projects featured.
Screenwriting & Development Distinctions o Finalist, 2017 Celebrate Equality NY o Official Selection, 2017 IFP (Independent Filmmaker Project) Week ♣ No Borders International Coproduction Market, U. S Features o Grant Recipient, 2017 NY State Council on the Arts (NYSCA) o Fellow, 2017 Black Women Film! Canada ♣ One of two non-Canadian filmmakers accepted to cohort o Official Semi-finalist, 2017 Nashville Film Festival o Inaugural Presenter, 2016 Urbanworld Film Festival, "The Stand" o Winner, 2015 NYU Purple List o Inaugural Recipient, 2015 Digital Bolex Women Cinematographers Grant o Official Finalist, 2014 Canada International Film Festival ♣ Write Brothers' Screenwriting Competition o Official Finalist, 2014 World Series of Screenwriting o Official Selection, 2009 International Family Film Festival o Participant, 2009 NAMIC Writers' Workshop Selected Screenings o 2016 Harlem International Film Festival o 2015 Women of the African Diaspora Film Festival – Winner o 2014 [re]ENVISION Cinema Series, Arts East New York o 2014 & 2013 ABFF Independent, Aspire TV – National Telecast o 2014 Langston Hughes African American Film Festival o 2014 Women's International Film Festival o 2013 45th Reunion of Phillips Andover Academy's Afro-Latino-American Society o 2013 Women Interactive, A Creative Technology Festival o 2012 Show & Prove: The Tensions and Possibilities of Hip Hop Studies in Practice o 2012 Martha's Vineyard African American Film Festival o 2012 International Black Women's Film Festival o 2011 "From the Civil Rights Movement to Hip Hop: The Legacy of the Women" o 2011 NY Short Buzz o 2010 "Lens on Talent," BET Networks – National Telecast o 2010 Newark Black Film Festival o 2010 Newark Black Film Festival in Trenton o 2010 Urbanworld Film Festival o 2010 Schomburg Center for Research in Black Culture, American Negro Theatre o 2007 & 2003 Rooftop Films Summer Series o 2005 University of Chicago's "Feminism and Hip Hop" Conference Honors & Awards • 2015, Published, Bill & Melinda Gates Foundation o Better Feedback for Better Teaching: A Practical Guide to Improving Classroom Observations • 2015, Published, Center for Educational Policy Research at Harvard University o Best Foot Forward: A Toolkit for Fast-Forwarding Classroom Observations Using Video • 2015, Speaker, SXSWedu o "Video Technology: The End of Privatized Instruction" • 2014, Speaker, Strategic Data Project (Beyond the Numbers) o "Fast Forwarding Teacher Development and Evaluation using Digital Video", Center for Educational Policy Research at Harvard University • 2009, Recipient, National Park Service Special Achievement Award
Support: Tamika Guishard's residency is made possible with support from funds generated from RU's 2017 End of Year Appeal. We are truly grateful to our supporters.