2017 | NYC | Artist
Naomi Okubo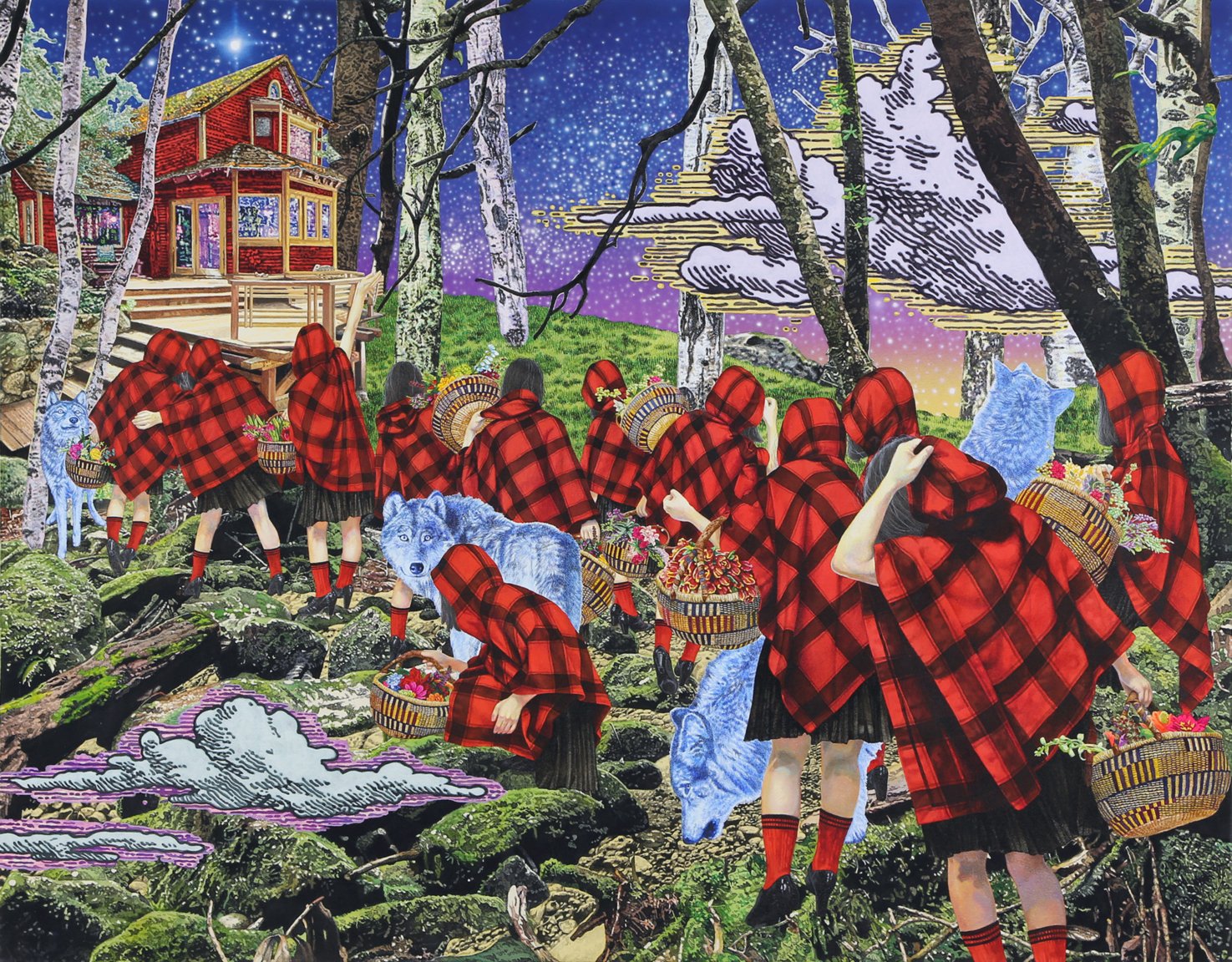 The girls are walking to the house with the wolves.
2015. Acrylic on Cotton, 91x116.7cm
Bio / Statement:
In her painterly practice, Naomi Okubo develops beautiful and seductive  images that mask  darker themes relating to her  adolescence and that are connected to greater problems and inconsistencies in society. Okubo's paintings are populated by shy girls who wouldn't face the mirror, who hide behind books and flowers or simply stare at the floor and let their heavy, black bobs block their view. They are fragile and conscious, also mysterious, almost endearing.
"I've always cared about appearances. The ideas for my work come from an inferiority complex and my experiences during adolescence. That is when everyone starts to think and worry about what others think of their look. When I changed my own image, people changed their attitude towards me," says Naomi. "They started to be concerned about me, and our relationship became better. This made me realize the power of fashion and my own fear of watchful eyes.
In 2016, Okubo received a program of Overseas Study for Upcoming Artist sponsored by the Japanese Agency for Cultural Affairs. She was selected for a residency organized by the Art Department of Halland Municipality, Sweden. Recent solo exhibitions include: THIS IS NOT MY LIFE, GALLERY MoMo, Tokyo(2016); Where should I go? Hamnmagasinet, Varberg, Sweden(2014); A dream beyond deams, H.P.F WINDOW GALLERY(2013); Tokyo Wonder Wall 2007, Skywall of Tokyo Metropolitan Government, Tokyo(2008); Selected group exhibitions: ART AWARD TOKYO MARUNOUCHI, Under Gyoko Ave,Tokyo(2011); Collaboration work: ZEIT-Magazine, Germany.
For more detailed CV check here.
Here you can read a short interview with the artist led by the On Art and Aesthetics.
Galleries:
GALLERY MoMo, Tokyo


Select Permanent Collections: Art Department of Halland Municipality, Sweden
Support: Naomi Okubo's residency is made possible with support from Japanese Agency for Cultural Affairs..