2018 | NYC | Artist
Lin Jingjing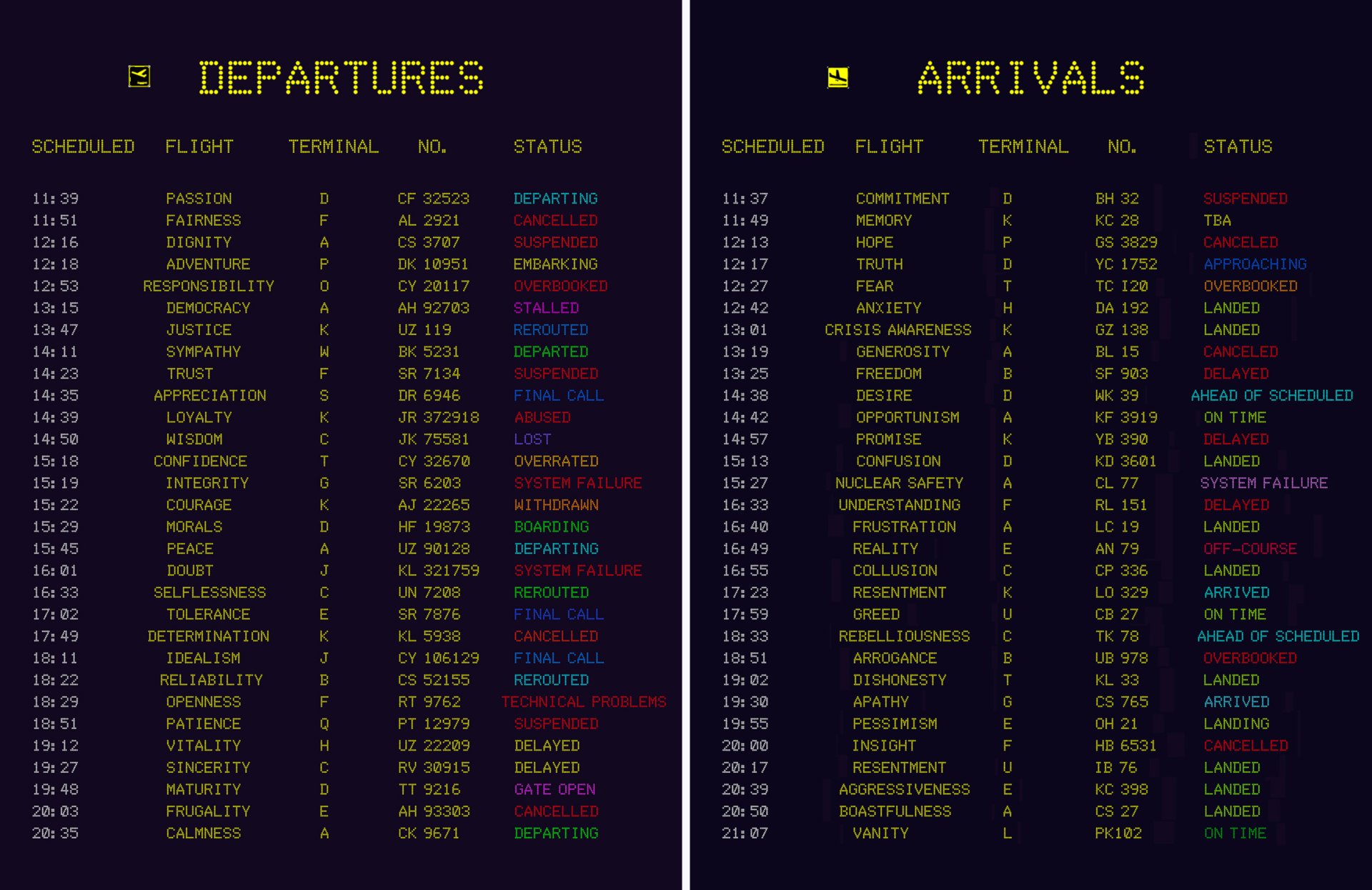 We Are Free to Choose but We are Not Free From the Consequences of Our Choices: Arrival and Departure Board,
2017, LED display panels, acrylic, aluminum-plastic panel, 400 x 200cm
Bio / Statement:
Lin Jingjing develops installations, performances, video and mixed media. In her works, she explores the depths of social and personal identity in the context of contemporary society, by taking themes such as confusion and quest, existence and absence, constraint and resistance and confronting them through the lens of paradox. She is particularly interested in how individuals define themselves in relation to the outside world and its effects, vis-à-vis culture, politics, history and economy. Lin is known for the thread layering process that she applies to her paintings and installations. The surreal effect created through this method creates an immersive experience which takes the viewers into another realm.
Lin Jingjing's works have been exhibited internationally and exhibitions include: Possible of Impossible, Neues Kunstforum, Cologne, Germany (2012); My Promise for Your Happiness, Alexander Ochs Gallery, Beijing, China (2012); The Method Of Paradox, Museo sin muros - Museo Nacional de BellasArtes, Mall Plaza Vespucio, Santiago, Chile (2011); Rose Rose, Museo sin muros - Museo Nacional de Bellas Artes, Mall Plaza Trebol, Concepción, Chile (2011); Public Privacy: The Visual Memory of Lin Jingjing, Whitebox Art Center, Beijing, China (2011); Flying Alone, Magee Art Gallery, Madrid, Spain (2008). She has also exhibited in group exhibitions worldwide: She: International Women Artists Exhibition, Long Museum, Shanghai, China (2016); Research Room III: The Working of Non-Figurative System, Right View Art Museum, Beijing, China (2016); Third Biennale Italy-China, Turin, Italy (2015); (CC)TV, Galerie Herold/Künstlerhaus Güterabfertigung, Bremen, Germany (2014); What If Objects Could Talk, OV Gallery, Shanghai, China (2014); Phoenix Symphony: Female Contemporary Arts, Tree Art Museum, Songzhuang, Beijing, China (2012); Half the Sky: Women in the New Art of China, Leonard Pearlstein Gallery, Drexel University, Philadelphia, USA (2011); Mind In Turmoil, Hand Better Busy, Long De Xuan Contemporary Art Center, Beijing, China (2010); Cruzando el horizonte: Exposición de Arte Contemporáneo de China, Museo Nacional de Bellas Artes, Santiago, Chile (2010).
Select Permanent Collections: National Art Museum of China,Beijing; Ivam Museum,Valencia,Spain; Chile National Museum of Fine Art ,Santiago; The Mountain Group Museum , Taiwan; Liu Hai Su Art Museum,Shanghai; He Xiang Ning Art Museum,Shenzhen; Tai Da Museum, Tian jing; China Museum of the nation,Lima, Peru; White Box Art Museum,Beijing; Long Museum, Shanghai.
Support: Lin Jingjing's residency is made possible with support from Best6.