2019 | NYC | Artist
Inti Hernandez Veranes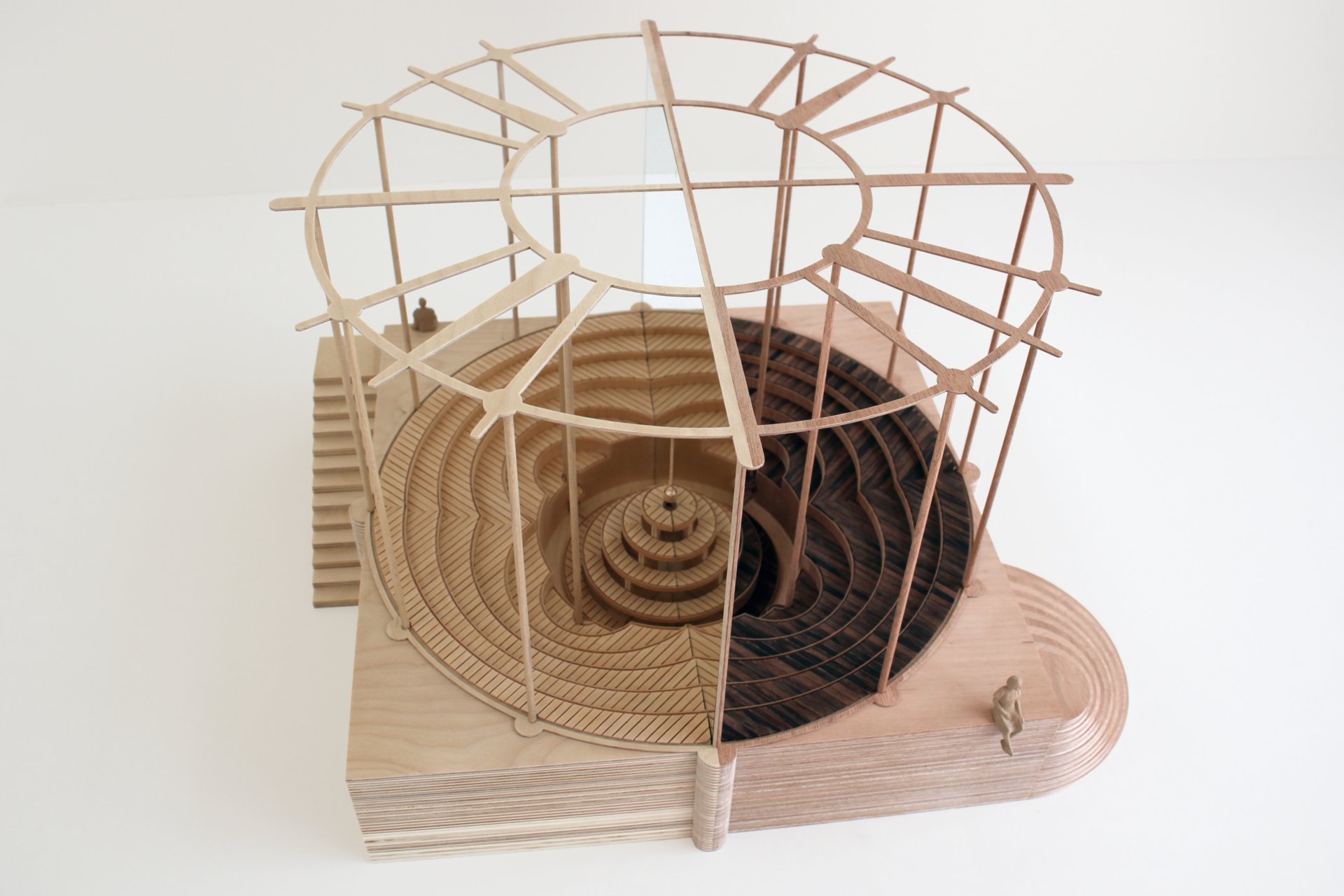 2014 / Wood, Plywood, Balsa wood and Mirror / 39cm x 29,8cm x 50,5cm
Sendero de vida VI (Encounter Place series)
Bio / Statement:
I make my art as a medium to create conversation and dialogue; as a means to share my vision with those who engage with my work. Through my work, I aim to build a common ground between my audience and myself. The results can lead to an encounter - a dialogue between us - yet also trigger self-reflection. Architecture and industrial design are closely connected with daily life. In my work, I use their language combined with simple elements that do not rely on artistic knowledge to be understood and appreciated. I give form to my ideas through drawings, sculptures, videos and objects with daily use, performative actions and structures in public places.
Cuba, where I was born and raised, is an endless source of inspiration. In 1995 I was part of DUPP, a collaborative group of fellow artists led by Rene Francisco, acclaimed artist and teacher at the Higher Institute of Arts (ISA, Havana). In DUPP Gallery we were encouraged to share ideas and engage directly with the social and urban space, entering into dialogue with the people living in the city. I moved to Amsterdam in 2003 and was selected to participate at the Rijksakademie residency from 2005 – 2006. This gave me the opportunity to experiment with materials and methods to develop new work. It was a stepping stone, enabling me to make the first works outside of Cuba and realize my first full-scale Encounter Place. Today this remains at the core of my practice. Fortunately, I was supported and recognized by the Mondriaan Foundation in The Netherlands. In 2011 I was granted the Basis Stipend, in 2017 the Proven Talent Stipend. These financial grants enabled me to participate in exhibitions in the Netherlands, Belgium, USA and Cuba. It allowed me to realize two full-scale/human size projects in public space: Bancontodos and Openlucht Lokaal (outdoor classroom).
Galleries:
Galerie Ron Mandos
Galeria Acacia

Select Permanent Collections: Voorlinden Museum, Wassenaar, NL. PAMM (Perez Art Museum Miami), US. Stedelijk Museum, Amsterdam, NL. Museo Nacional de Bellas Artes, CU. Fab. Beth Rudin DeWoody, US. Ella Fontanals – Cisneros Collection, US. Jorge M. Pérez Collection, US. Susana de la Puente, PE. Pedro Brescia, PE. Pieter & Marieke Sanders, NL. Nederlandse Bank, NL. Meneer & Mevrouw de Bruin-Heijn, NL. Caldic Collection, NL.
Support: Inti Hernandez Veranes's residency is made possible with support from The Rockefeller Brothers Fund and Cuban Arts Initiative.