2017 | NYC | Artist
Farideh Sakhaeifar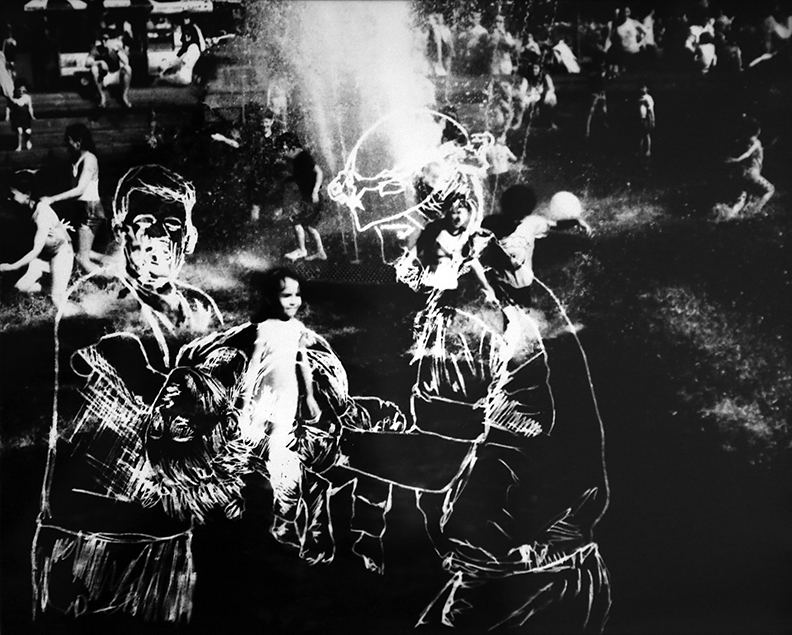 you are in the war zone.
2016, Gelatin silver print, 8x10inch
Bio / Statement:
Farideh Sakhaeifar (b. 1985) is a New York-based artist born in Tehran, Iran. Sakhaeifar's work ranges from photography to installation and sculpture, and is usually related to her life experiences. She attempts to look past forms of ethnic, political, and cultural control in order to reflect upon new forms of expression that highlight the human struggle to establish autonomous forms of self-expression. Her work seeks to produce a translational understanding of the social and political struggles that she has been involved with either directly or indirectly.
Farid Selected solo exhibitions include: Sacrosanct at William Holman Gallery, New York 2015, Laugh track at Cathouse FUNeral, Brooklyn, New York in 2015, The Master's voice curated by Pheed.eu at Centro Cultural Casa Elizade, Barcelona, Spain. Select group exhibitions include: Cathouse FUNeral Harvested:The Hunt Intensifies at Coustof Waxman Annex, New York, NY 2017, Future memories at Pfizer building, Brooklyn, NY, 2016, #makeamericagreatagain at WhiteBox, New York 2016, Picture Yourself at The college of Wooster Art Museum, (CWAM), Wooster, OH 2016, Cathouse Retrospective at Chemistry Creative, Brooklyn, NY 2016, Maximum Entropy, CP Project space, New York, NY 2015, Photography Now,The Center of Photography at Woodstock, Woodstock, New York 2014, and War Stories, William Holman Gallery, New York 2014. Sakhaeifar was awarded a Tuition Fellowship by Cornell University (2009-2011), a graduate organizer of the Cornell Council for the Arts Exhibition (2011) and was selected for the 11th Iranian National Biennial of Photography (2008). She was awarded a Lower Manhattan Cultural Council Residency in 2012-13 as well as the 2017 Bric Media Arts Fellowship. Some of her Publications include: Picture Yourself, Selfies, Cell phones, and the digital Age, #MAKEAMERICAGREATAGAIN takes on Politics at Whitebox by Atif.A.K at ArtFuse, An Iranian Artist Exposes Totalitarian Power and Defaces Its Iconography by hyperallergic, The same Silence by John Haber, Men at Work, Iranian Workers taking photographs-exhibit by Houman Harouni, The Guardian and Iran's undergrand Trade of US army Gear by Cleo Abramian, World policy.
Support: Farideh Sakhaeifar's residency is made possible with support from the National Endowment for the Arts (NEA) ArtWorks Grant..