2012 | Outbound | Artist
Claudia Cannizzaro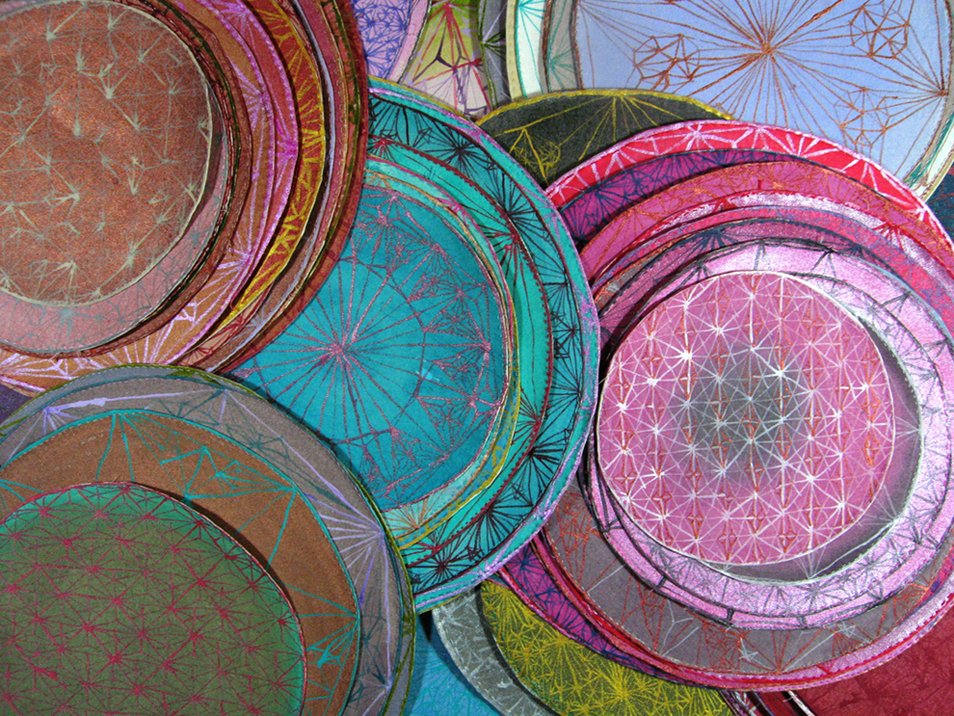 Claudia Cannizzaro, "Halos, All of My Saints," 2007, Acrylic on Cotton, Dimension Variable, Detail
Claudia Cannizzaro was born in Sicily and was raised in Rome, Italy. After her studies at the Academy of Fine Arts in Rome, she moved to New York City, where she has been living since 1997. Though trained as a painter, her interest soon diverged from conventional painting toward the medium's potential as textile. She still considers herself a painter, though her painting is solely the starting point of her textile based installation work.
Cannizzaro has been exhibiting since 1994, and most recently at Pierogi, Brooklyn, NY (2011), Five Myles, Brooklyn, NY (2011), Under Minerva, Brooklyn, NY (2009) Galleria Spazio A, Pistoia, Italy (2007), Centro Cultural São Paolo, Brazil (2006), Torreão, Porto Alegre, Brazil (2006); HDC Gallery, New York, NY (2004), and the Philomatean Society of the University of Pennsylvania, Philadelphia, PA (2001).
Cannizzaro's work is concerned with tradition, rituals, symbols and politics. She is currently working on a series in which she juxtaposes embroidered texts onto hand made textiles. While in residency at Shalini Ganendra Fine Arts, Cannizzaro plans to learn local textiles techniques, and create an installation that incorporates texts based on Malaysian contemporary political issues.
Cannizzaro's residency is organized within the framework of Residency Unlimited's partnership with Shalini Ganendra Fine Arts, Malaysia. In March 2012, the artist will spend 2 months at Shalini Ganendra Fine Arts developing a new body of work. Central to RU's mission is facilitating international residency opportunities for New York based artists with hosting institutions worldwide.