2017 | NYC | Artist
Charlie Gross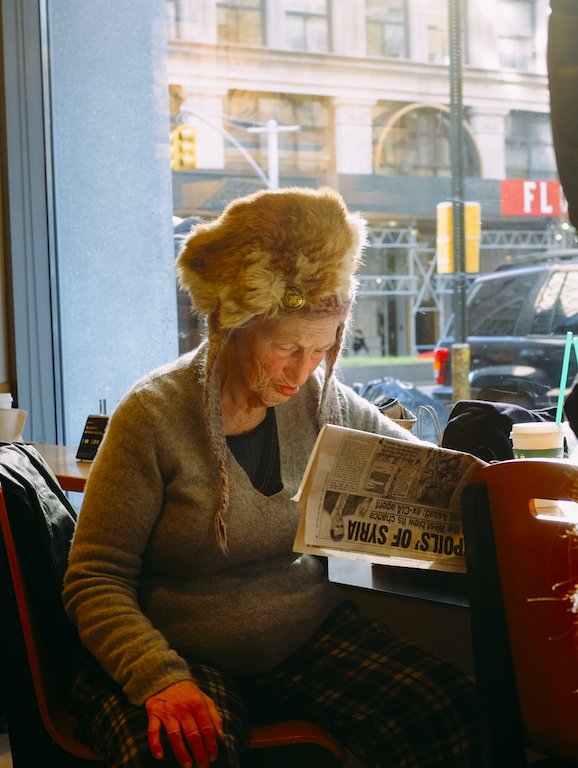 "Spoils of Syria" Starbucks, NYC 2016
Artist name: Charlie Gross
Dates of residency: Nov, 2016; Feb, 2017
Born: Pittsburgh, PA
Hometown: Brooklyn, NY
Lives and works: New York City
URL: http://www.charliegrossphoto.com
Education: BA, Comparative Literature, Columbia University; MA, Clinical Psychology, Graduate Center of the City University of New York
BIO/ STATEMENT:
Charlie Gross lives in New York City and works as a photographer and a psychoanalytically trained therapist. Before embarking on the latter in 2003, he worked as a portrait and reportage photographer – largely in the music world, including a longstanding stint as a touring photographer for Beck. His environmental portraiture - posed or candid - is psychologically infused and captures the surreal nature of everyday moments and the often uncanny, comical, tragic and absurd symbols that surround us. His abstracted urban and natural landscapes strip away and transform banal context but retain a dreamy interior aspect. His work is ultimately about the exploration of mental states in a visual context. It is focused both on private, interior life as well as cultural, social and macro elements and the constant interplay between them.
During his residency at Kings County Psychiatric Center, Gross will focus on the Partial Hospitalization Program which is a transitional day program that lies between inpatient and outpatient treatment. He is documenting - through photographic portraiture and oral history - the process of recovery and hoping to focus on a select number of patients in order to capture their stories, struggles and resilience both in and out of the hospital setting. Additionally, he is in the preliminary stages of planning a multimedia project centered on music therapy in the outpatient department. A portion of his project is likely to be additionally supported by the Economic Hardship Reporting Project.
SUPPORT: Charlie Gross's residency is made possible with RU's in partnership with NYC Health & Hospitals / Kings County and its Behavioral Health Service.