2017 | NYC | Artist
Barbora Kleinhamplová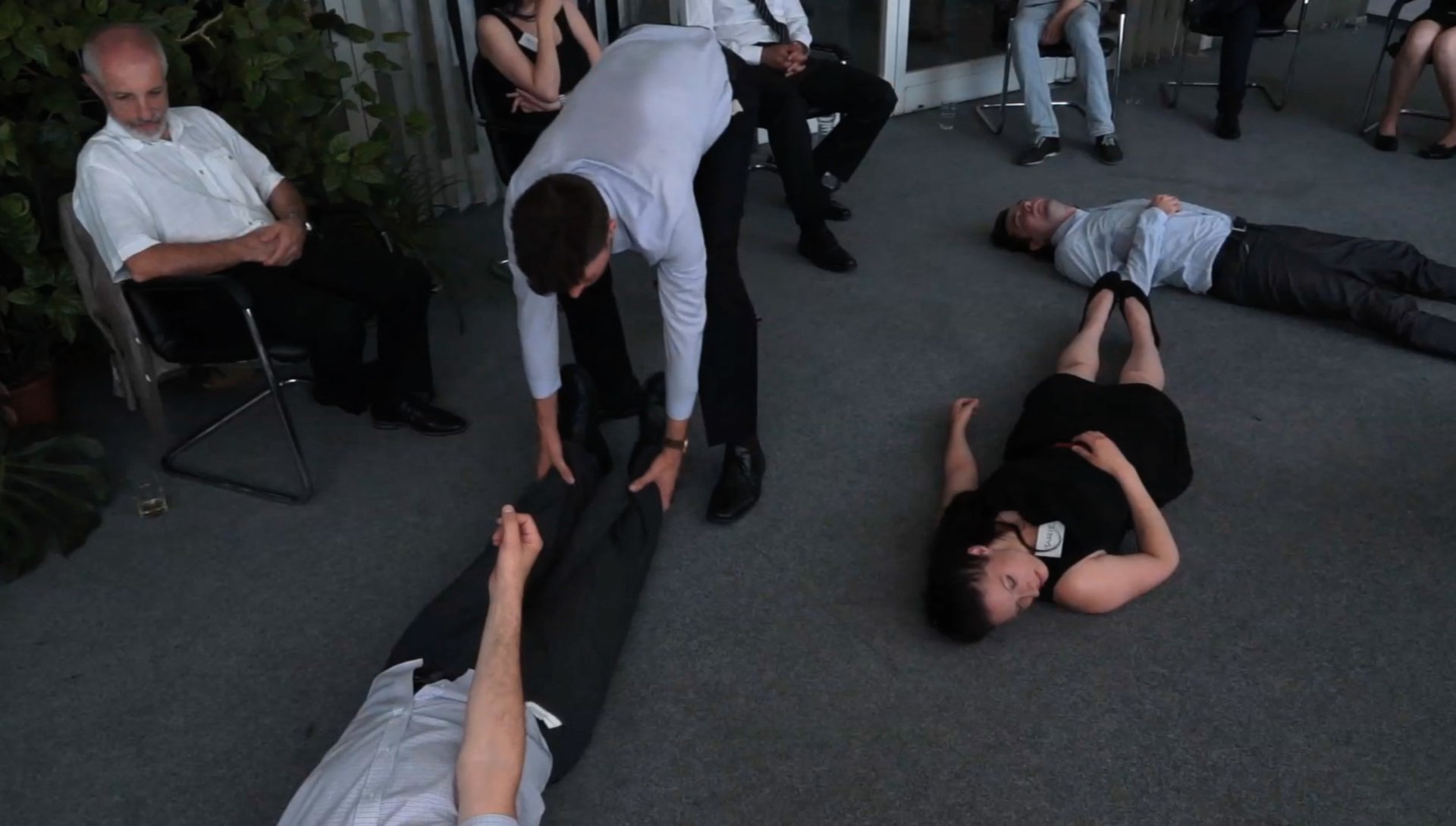 Reliable Relationship, performance and full HD video ( 20'54''), 2015, framecut
Bio / Statement:
Barbora Kleinhamplová is the recipient of the 2017 Jindřich Chalupecký Award  in Czech Repubic. Her practice is rooted in the relationship of human existence and the contemporary political and economic institutions. Kleinhamplová's work is rooted in the relationship between contemporary political and economic institutions and the various public they serve. She often collaborates with people from different disciplines and professions, and uses existing forms of group interaction such as a therapy or coaching sessions with actors and non-actors. Presented as videos and installations, these semi-staged situations are a means by which to examine and test what constitutes a functioning society, and what the role of an individual is within its systems.She is also the co-author of the publication WHO IS AN ARTIST .
Recent solo exhibitions and performances include Fieldwork on the Human Kind, GAMU, Prague (2015); Meeting Expactations, 209, Brno; and Sleepers' Manifesto, Armaturka, Ústí nad Labem (both 2014). Recent group exhibitions The Rule and the Exception, National Gallery in Macedonia, Ny Show #3, Ny Space, Manchester; Liturgie, Centre Tchèque, Paris; Telepathy or Esperanto, Futura, Prague; Subversive Tactics, The Czech Center New York; and New Now 2015, Westergasfabriek, Amsterdam (all 2015). Barbora was a resident artist at MMCA Seoul, South Korea in 2015. Residencies include Gasworks, London (UK) 2015/2016 ; INI gallery, Prague, Czech Republic (CZ) 2015 - MMCA Residency, Seoul, Korea (KR) 2014 ; The Muzychi Expanded History, Muzychi, Ukraine (UA) AWARDS 2015 . She is the laureate of the Jindřich Chalupecký Award 2014 - winner of Other visions, PAF (CZ) 2014 - the prize of the Czech Centres, Startpoint.
Support: Barbora Kleinhamplová's residency is made possible with support from The Trust for Mutual Understanding.