2017 | NYC | Artist
Asia Sztencel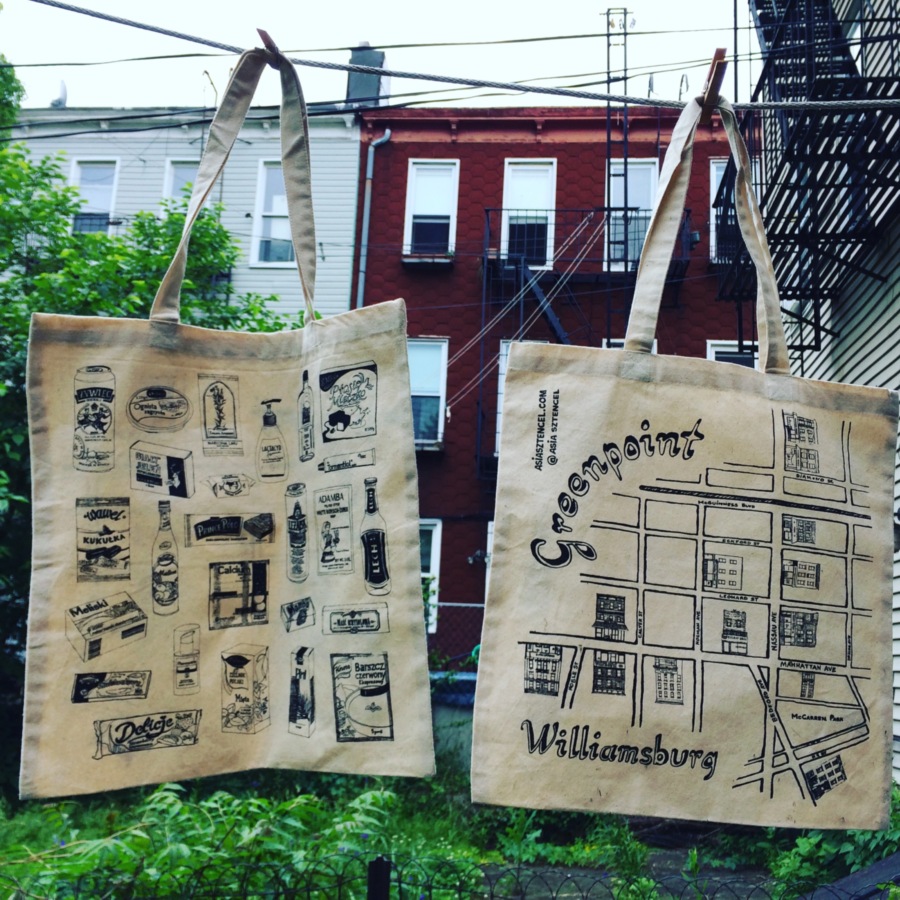 Welome to My Greenpoint, Project, 2017. Silkscreen on tote bags
Bio / Statement:
Asia Sztencel is a Brooklyn-based social practice artist and a first-generation Polish immigrant. Through innovative conceptual practices and traditional craft, her work offers a personal exploration inside the larger narrative of the immigration experience. She often examines themes of exile, recall, and longing. As an experienced artist-educator and a fellow immigrant, she engages the Polish community of Brooklyn and Queens in art projects and introduces them to other cultural communities in NYC.
In 2016 Sztencel's project You can't carry your landscape with you was awarded by Grant Award for Artists, Polish Cultural Institute of NYC; Emigration Museum in Poland and Patronage, and Consulate General of Poland, NYC for the project Parcel from America. In 2015 she warded the grant from Culture Shock Foundation, Warsaw, Poland for a workshop series in Greenpoint in collaboration with the Polish immigrant community; 2004 Young Artist's Scholarship, Mayor of Krakow Award, Krakow, Poland; 2003 National Printmaking Competition, Second Place, Krakow, Poland. Artist residencies include: 2017 Artist-in-Residence, The Hollows, Brooklyn, NY; 2016 Artist-in-Residence, Kurier Plus, Polish Weekly Newspaper, Brooklyn, NY; 2001 Foundation Romualdo Del Bianco Residency, Florence, Italy; 1995 Bydgoszcz Sculpture Residency Program, Bydgoszcz, Poland
Select Permanent Collections: Rosenthal Library, Queens, New York CUNY Queens College, Queens, New York
Support: Asia Sztencel's residency is made possible with support from The Kosciuszko Foundation Polish & Slavic Federal Credit Union and Polish and Slavic Center..