2017 | NYC | Artist
Andrew Nicholls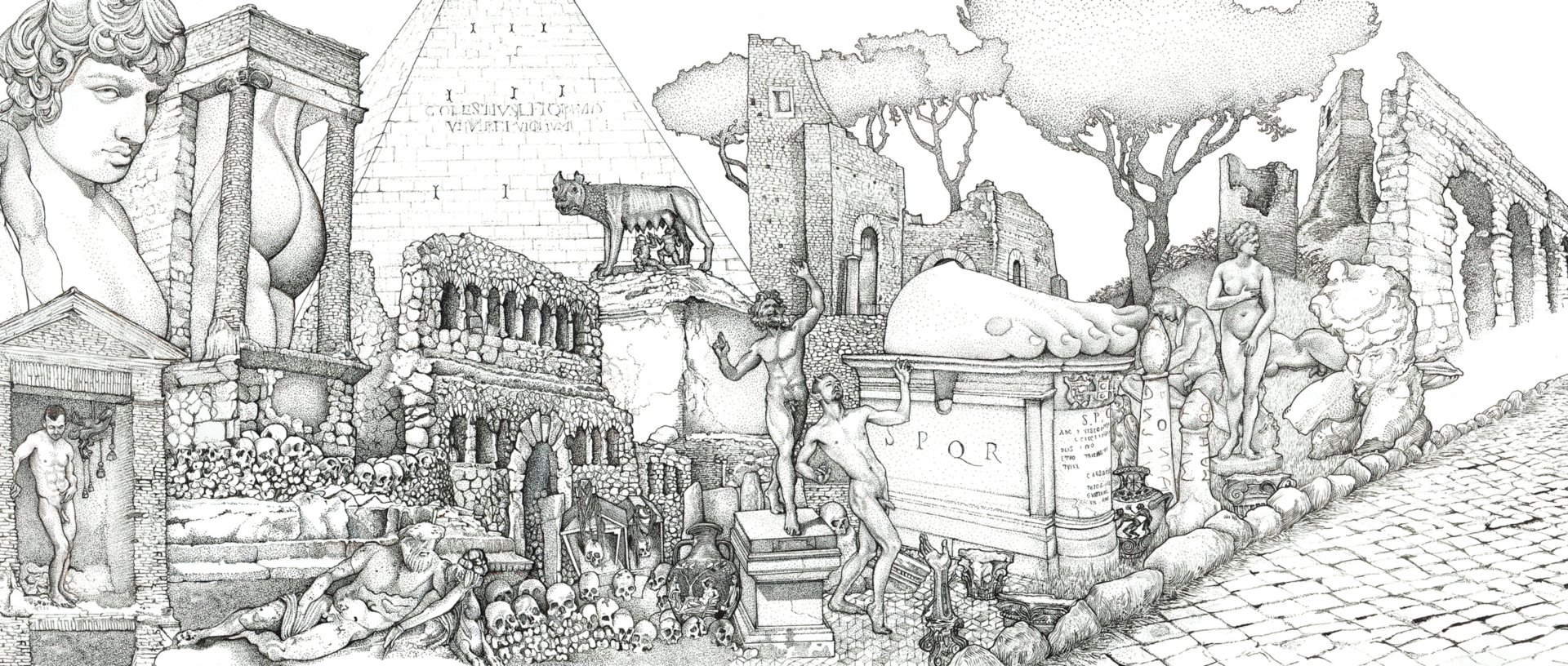 Via Appia Antica (after Piranesi), archival ink pen on watercolour paper, 45 x 350 cm, 2016 (detail)
Bio / Statement:
Andrew Nicholls is an Australian/British artist, writer, and curator whose practice engages with the sentimental, camp, and other historically-marginalised aesthetics, and traces the historical recurrence of particular aesthetic motifs. He is especially concerned with periods of cultural transition during which Western civilisation's stoic aspirations were undone by base desires, fears or compulsions.
While primarily drawing-based, his practice also incorporates ceramics, photography, installation, performance, and filmmaking. He particularly draws inspiration from heritage sites and museum collections, and has coordinated and participated in residencies at locations including Greenough Hamlet (Australia's third-most-significant heritage site), Spode China (at that time the UK's longest-running ceramics factory still based in its original location), Midland Railway Workshops (the southern hemisphere's most intact remaining Edwardian industrial site), the Freud Museum London (family home of the founder of psychoanalysis), and the Royal Pavilion, Brighton (George IV's seaside pleasure palace). In 2015 he was allowed exclusive access to photograph Donatello's David, by the Museo Nazionale del Bargello, Florence, as part of a body of work investigating aesthetic legacies of the Grand Tour, currently in production via a Fellowship from the Western Australian Department of Culture and the Arts.
Nicholls has exhibited across Australia, Southeast Asia, Italy and the United Kingdom, including solo exhibitions in Perth, Canberra and Sydney, Australia, and Plymouth, England. He has been the recipient of two Creative Development Fellowships from the Western Australian Department of Culture and the Arts, and undertaken commissions for several organisations in Australia and the United States, most recently a $250,000 ceiling mural for the City of Perth Library. He is currently completing commissioned drawings for Artbank, and Curtin University. Nicholls has curated projects for organisations including the Art Gallery of Western Australia, the Perth Institute of Contemporary Arts, and Object Galleries Sydney, and has written for most of Australia's major national arts publications. His practice has recently been featured in 'The Australian' newspaper, 'Art Collector', 'GRIFT' and 'Sturgeon' magazines, and 'The Australian Journal of Ceramics'. In 2009 he launched a monograph of the first decade of his practice, 'Love Andrew Nicholls - Drawn Works, 1998-2008'. His work is represented in collections including the Art Gallery of Western Australia, Central Institute of Technology, Edith Cowan University (with Sandra Black), Murdoch University, the Kedumba Collection of Australian Drawings, and the City of Perth. He shows with Turner Galleries, Perth.
Galleries:
Turner Galleries, Perth


Select Permanent Collections: Artbank (in progress); State Art Collection, Art Gallery of Western Australia; City of Perth; Kedumba Collection of Australian Drawings
Support: Andrew Nicholls's residency is made possible with support from Artsource Western Australian Department for Culture and the Arts Lotterywest. The State of Western Australia has made an investment in this project through The Department of Culture and the Arts in association with Lotterywest..