2019 | NYC | Artist
Ana Kuzmanić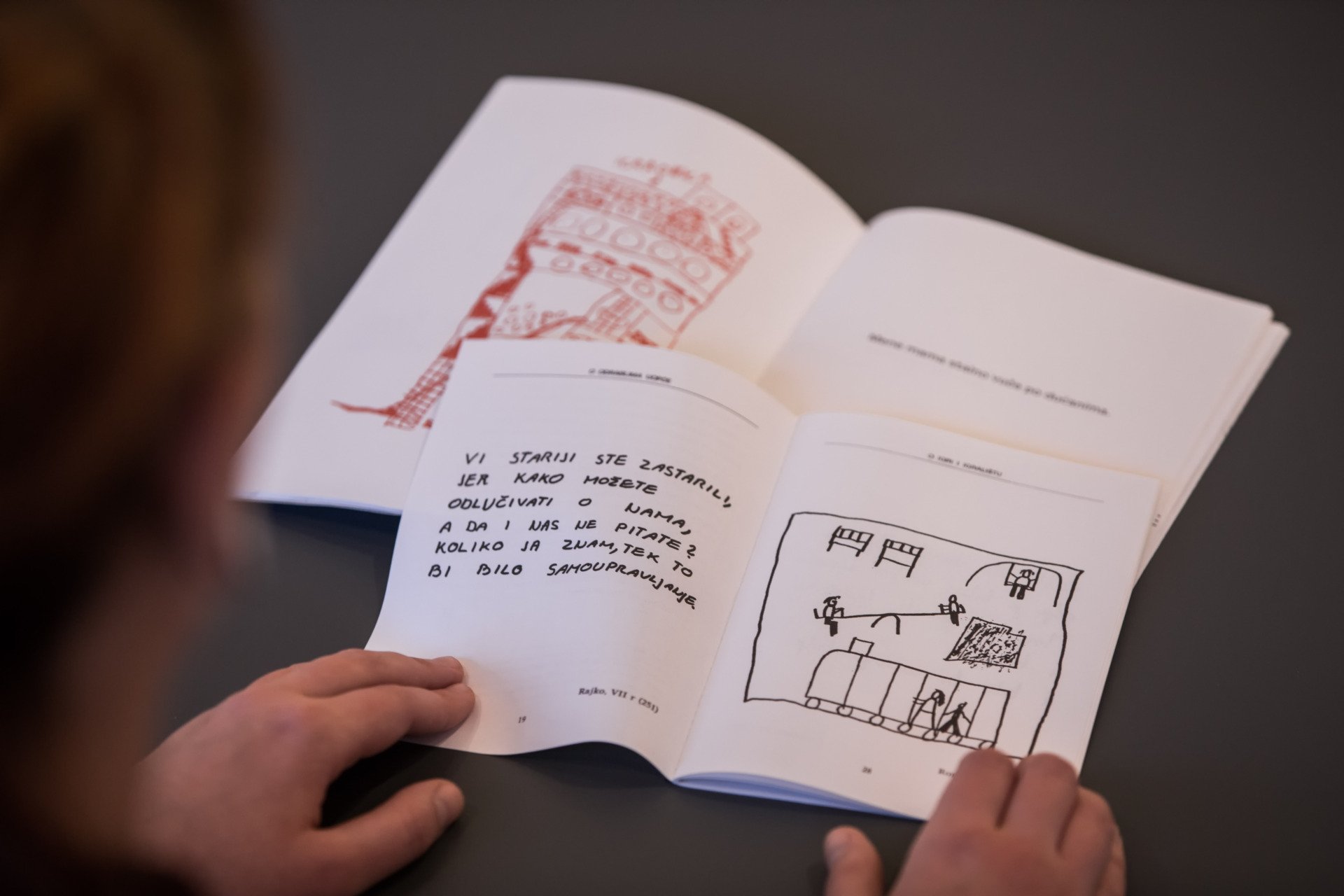 You're small, I'm big (2015.-2017. artist's book )
Bio / Statement:
Ana Kuzmanić is the 2018 Winner of Radoslav Putar Award2018, Institute for Contemporary Art in Zagreb. In her own words: " My work deconstructs dominant social readings of the reality. I observe everyday life and explore more or less subtle patterns that define social identities. I explore ways in which they arrive into being – shaped by the society, the spirit of times, and the culture of origin. I approach deconstruction by recognizing own critical position, and by fostering dialogues with the processes of domination and various stakeholders within them. The dialogue starts from myself – through reading, watching, and learning. I reveal layers and ways in which our identities acquire added meanings and conform to myths and pre-conceptions. Then, during the process of creation, I enter the dialogue with the object of my study. I interact with people, objects, disciplines, physical and virtual spaces, audiences, spectators, random passengers. This dialectical process takes place through various practices and eventually mixes with various media: video, sound, light, performance, drawing, installation, artist book, and picture book. In this way, I chronologically undergo phases of conceptual, critical, and artistic revelation of the interplay within explored constructions and their readings that takes place between the collective and the intimate, the universal and the particular. The result is trans-disciplinary, inter-generational, and trans-ideological. Hence, my work transcribes the dynamics between various people, generations, genders, geographies, and ideas. By involving others, my work creates spaces of dialogue and alternative learning experiences based on emancipation and empathy. It is my hope that the arts can become a platform for social transformation."
Her most recent project You're small, I'm big! investigates the ideological constructions of childhood.
She works as Associate Professor of Arts at the University of Split and is part of the collective Eastern Surf
Selected recent solo exhibitions include : 2018 Louder! Speak louder!, Green Room, Zabok, Croatia;, 2018 Louder! Speak louder, Gallery Miroslav Kraljević, Zagreb, Croatia; 2017 This is not a box, Galerija Prozori, Zagreb, Croatia; 2017 A change from the bench, Artists for neighborhood, Blok, Zagreb, Croatia; 2017 Collective Eastern Surf, Ilovemyjob, net.cub, Croatia;  2015 Public Dreaming, Sound-Object cycle, MKC Split, Split, Croatia
Selected group exhibitions include: 2018 26. slavonski biennale, Gallery of Fine Arts, Osijek, Croatia; 2018 Almissa Open Art Festival, Omiš, Croatia; 2018 Exhibition of finalists of Radoslav Putar Award, Mali salon, Rijeka, Croatia; 2018 Bringing Up the Future, Gradska Galerija Osijek, Osijek, Croatia; 2017 Grad na drugi pogled, Museum of Fine Arts, Split, Croatia; 2017 Bringing Up the Future, Gallery SC, Zagreb, Croatia
In 2015, Kuzmanić was in residency at Hangar-fundació aavc, Barcelona, Spain and was in Summer School of Engaged Art by Chto Delat, Rosa Luxemburg Foundation, Berlin, Germany.
Support: Ana Kuzmanić' residency is made possible with support from Trust for Mutual Understanding.