Talks | Sep 15 2015 6:30pm
XLerateArt: Man Bartlett in Conversation with Theo Edmonds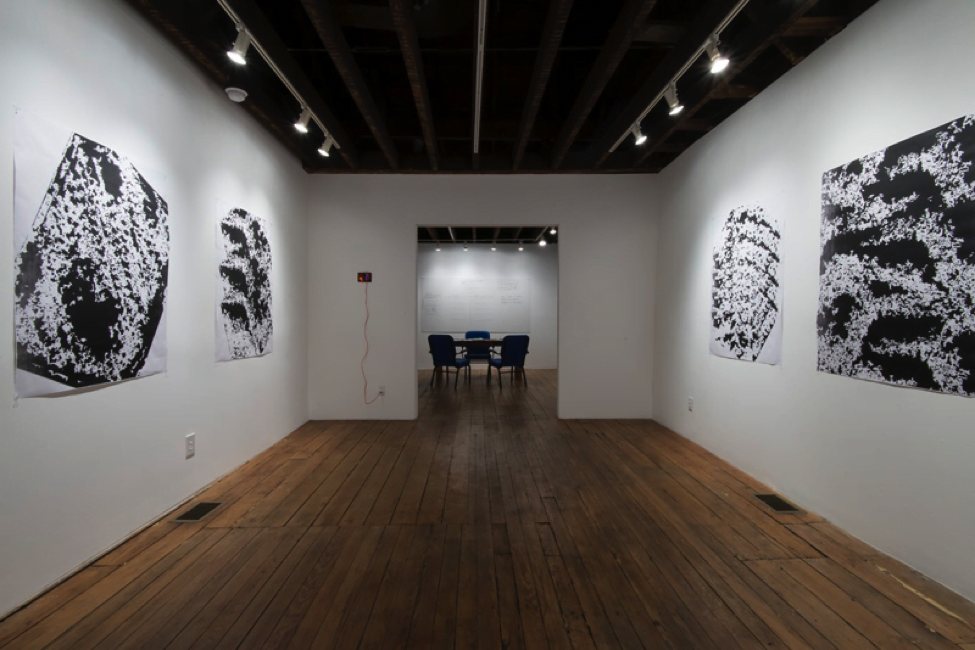 Man Bartlett, 'Hey, Sugar' installation view, 2015, Zephyr Gallery. Photo by Kenneth Hayden
Tuesday, September 15, 2015
6:30pm (free and open to the public)
Residency Unlimited (RU)
360 Court Street, Unit 4 (enter through the green doors)
Brooklyn, NY 11231
Join us this evening with Man Bartlett who discusses his residency experience at Thrive 365 in Louisville (KY). This project is part of XLerateArt, a yearlong corporate artist in residency program in Louisville (KY) that places artists as agents of change and innovation across major industry clusters such as healthcare and advanced manufacturing. XLerateArt is an initiative spearheaded by Louisville-based International Dialogue and Engagement Art Strategies (IDEAS) with RU's support, and funded by an NEA "Our Town" grant.
Man Bartlett was selected to do a residency at Thrive 365, a proprietary mobile health platform addressing the 385 million world-wide market of people with diabetes.  Thrive 365 is part of XLerateHealth - an enterprise-focused healthcare business accelerator that helps early stage healthcare companies build out their commercialization strategy.
As part of the project, Bartlett set up a "clinic" on the second floor of the Zephyr Gallery where he interviewed individuals with Type II diabetes or who were pre-diabetic in an effort to ultimately make the app more effective for its users. In coordination, he also exhibited select works at Zephyr Gallery that examine the corporate influence and cultural impact of diabetes.
--
A special livestream convening, CATALYTIC FORCES, which explores the potential impact of all the XLerateART projects will be hosted by IDEAS xLab and RU on October 3, 2015 in Louisville, KY. For more information, please visit http://www.catalyticforces.com/#catalyticforces
--
Man Bartlett (b.1981) is a multidisciplinary artist who lives and works in New York. His diverse practice includes drawing, collage, video, performance and digital projects that use online platforms as outlets for playful yet subversive social critique. Bartlett has exhibited or performed in a variety of venues including: The V&A Museum (London), his tiny windowless bedroom, The Brooklyn Museum, a Best Buy store, Freies Museum (Berlin), Eyebeam (New York), Flux Factory (Long Island City), iMOCA (Indianapolis), Port Authority Bus Terminal, Winkleman Gallery, Skydive Art Space (Houston), Platform Gallery (Seattle), Hinge Gallery (Chicago) and the Whitney Museum of American Art, among many others.
Bartlett has also participated in residencies at VCCA, The Institute for Electronic Arts (iea), Flux Factory, The Wassaic Project, IDEAS, and with Residency Unlimited as their first Social Media Artist-in-Residence.
He has guest-lectured at various institutions including: MICA, Pratt, and to the Kindergarten class at the Amherst Elementary School in Amherst, Virginia.
Bartlett's work has been featured in numerous online and print publications including ARTnews, C Magazine (cover, #class), LA Weekly, Art in America online, Art Fag City, Hyperallergic, Huffington Post Arts, The L Magazine, ARTINFO, The Daily News, and The Stranger. Bartlett was listed in TIME's "140 Best Twitter Feeds of 2013."
Theo Edmonds JD/MHA/MFA was chosen by Southern Living Magazine as one of "50 People Changing the Face of the South in 2015". He is Co-Founder of IDEAS xLab (Formerly IDEAS 40203) - a catalytic organization run by artists and art professionals working at the nexus of cultural production, social investigation and marketplace. IDEAS was created to help corporations and NGOs make the leap into the future by accessing artists as a strategic human resource for building creative capacity at the frontiers of knowledge in healthcare, manufacturing, ecommerce and vocational education. IDEAS work is lsupported by the National Endowment for the Arts, ArtPlace America and The Educational Foundation of America.
Before founding IDEAS, Edmonds was both an artist-in-residence and then Creative Development Director for Residency Unlimited (RU). Focusing the artistic process in strategic ways to create innovative, entrepreneurial activity while simultaneously contributing depth and substance to emerging forms of contemporary art is at the core of his professional and artistic endeavors.
A trans-disciplinary artist, Mr. Edmonds practice investigates the implications of gentrified ideas and the commodification of identities (i.e., "artist") within capitalist structures. His work is dedicated to establishing new value paradigms and mutually-beneficial relationships between artists, entrepreneurs, corporations and emerging philanthropic structures.
Photo Documentation:


--
Bartlett's residency at Thrive 65 was organized through XLerateART, a project created by IDEAS and Residency Unlimited, supported by an "Our Town" grant from the National Endowment for the Arts.
This program is supported, in part, by public funds from the New York City Department of Cultural Affairs in partnership with the City Council.