Talks | Jul 16 2015 6:30pm
"Wearable Structures," by Dominique Paul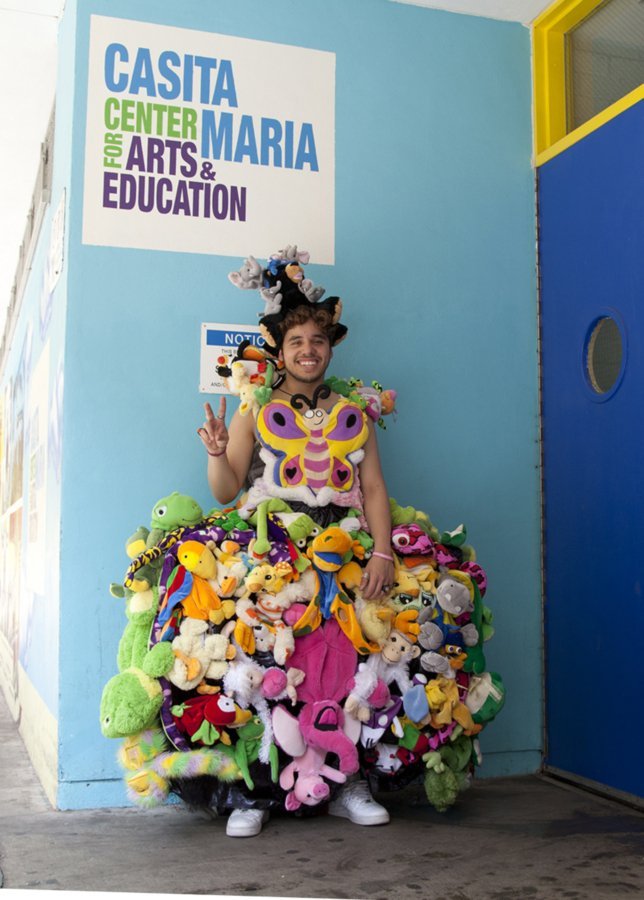 Brian Rodriguez, wearing the "Animal Population Decline Dress" by Dominique Paul in front of a TatsCru mural at Casita Maria
Thursday July 16
6:30pm (free and open to the public)
Residency Unlimited (RU)
360 Court Street (enter church building through main entrance)
Brooklyn, NY 11231
RU/Casita Maria Center For Arts and Education resident artist Dominique Paul will discuss together with Special Projects Curator Ayelet Danielle Aldouby her "wearable structures" developed while in residence in the South Bronx and performed within the public sphere.
This interdisciplinary body of work is based around sculpturally designed, themed dresses, made out of unconventional materials such as electronics and technology, recycled plastic bottles and stuffed animals . Paul's practice involves embodying  social data in order to present accessible, physical dialogues with local communities and raise awareness around the increasing correlations between socio-economic inequalities and over-consumption of natural resources.
During her residency, Dominique Paul worked with Casita Maria's afterschool program  in conjunction with  fashion design teaching artist, Sean Kendricks and their middle and high school students on their up-cycled design creations, inspiring them to work with found and recycled materials in innovative ways. The fashion program concluded in a runway show in which one of the students, Brian Rodriguez, was invited to model Paul's "Animal Population Decline Dress",  made from 84 stuffed (and 16 non-stuffed) toy animals, representing the South American WWF's statistics on animal population decline over the past 40 years.
In the South Bronx, Paul also completed the "Median Revenue Per Household Dress" realized in collaboration with the Montreal based programmer Patrice Coulombe. This outfit responds to the US Census' data map and color-coding for median revenues per household.  As part of the performative aspect of the work, Paul mapped out a series of walks throughout each of New York City's boroughs, wearing the   dress and conversing with local residents about the project in order to raise awareness of the economic disparities within the city.
For her "Bronx Walk," Paul invited Casita Maria's fashion students Rickyle Robinson and Shanika Brown; fashion teaching artist, Sean Kendricks; and Casita tutor and group leader, Jasmine Benoit to join her on a walk through Hunts Point wearing their up-cycled designs. Throughout the walk, they discussed the potential impact and issues upon the local community of the changing data being represented through the dress.
--
Dominique Paul 3 months residency is made possible with support from Conseil des arts et des lettres du Québec, Québec - New York State artist-in-residence program. Dominique Paul's residency is organized within the framework of Residency Unlimited 's partnership with Casita Maria Center for Arts and Education.
This program is supported, in part, by public funds from the New York City Department of Cultural Affairs in partnership with the City Council.
Bios: