Exhibitions | Sep 15 2012 3:00 PM
THE LUMIPHONIC CREATURE CHOIR BY MARK BOLOTIN – CASITA MARIA – Sept 15th, 2012 – 3pm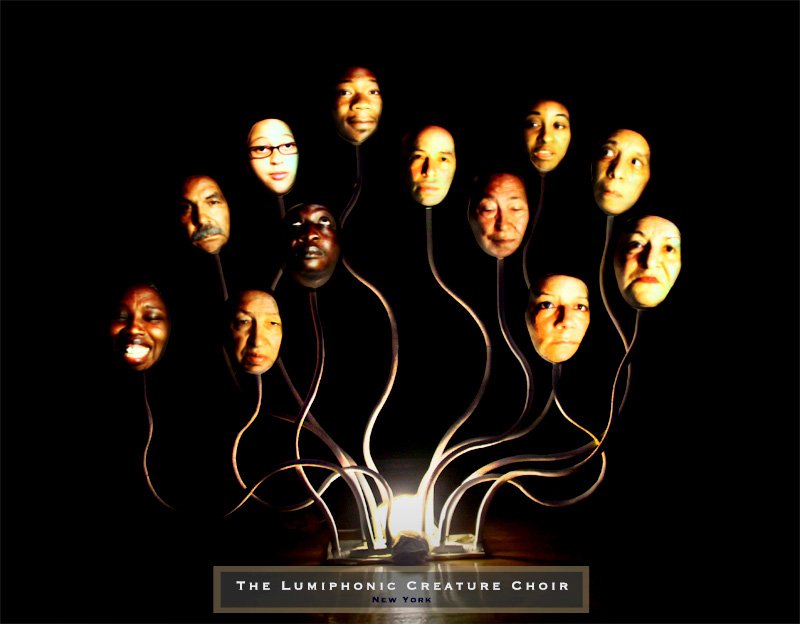 RU Exhibition: The Lumiphonic Creature Choir, a multimedia performance by Mark Bolotin at Casita Maria (Bronx)
Saturday September 15, 2012
3:00pm
Location: Casita Maria Center for Arts and Education
928 Simpson Street  Bronx, NY 10459
directions here
Casita Maria Center for Arts & Education and Residency Unlimited (RU) present The Lumiphonic Creature Choir, by the award-wining Australian artist, Mark Bolotin. on September 15th at 3:00 pm at Casita Maria. The Lumiphonic Creature Choir is an innovative multimedia performance in which live musicians interact and play with a monumental installation that consists of a twelve-headed audio-visual "creature".
The Lumiphonic Creature Choir was realized within the framework of Mark Bolotin's joint residency organized by Residency Unlimited and Casita Maria. For this project, Bolotin spent four months collaborating with and filming community elders, "beatboxers" and children from the South Bronx community. The giant Creature Choir contraption that he has invented will take on these faces, stories and voices from the Bronx, as well as those from his land of Oz, in a unique cross-cultural, interactive performance.
"When I created The Lumiphonic Creature Choir I asked myself what would a choir at the end of the universe sound like? The creatures sing in this multimedia rock'n'roll show, exploring new forms of cinema and music", explains Mark Bolotin. To see a video of The Lumophonic Creature Choir, please visit: http://www.synarcade.com.au/lumiphonic.html
The special premiere of The Lumiphonic Creature Choir is free. Casita Maria is located at 928 Simpson Street, Bronx, NY. For more information please contact Aisha Jordan, Arts Manager at Casita Maria, at (718) 589-2230 *6054 or send an email to ajordan@casitamaria.org.
Mark Bolotin's RU residency is supported by BigCi and  Synarcade Audio-Visuals. This event is made possible in part by the New York State Council on the Arts with the support of Governor Andrew Cuomo and the New York State Legislature, as well as from Material for the Arts.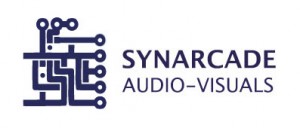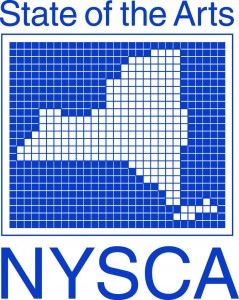 MARK BOLOTIN (b. 1979 Sydney, Australia) is an award-winning multimedia practitioner and the founder and artistic director of Synarcade Audio-Visuals (www.synarcade.com.au). He has created numerous large-scale interactive work both in Australia and internationally, including "Emergence: Build Your Own Being" (2007, Sydney Opera House). Mark also teaches and works with diverse communities throughout the world to empower them through the creation of multimedia art. Synarcade's current new audio-visual work is a twelve-headed, holographic band called "The Lumiphonic Creature Choir" to be premiered in New York City.
CASITA MARIA CENTER FOR ARTS & EDUCATION continues its 78-year legacy of serving youth of the South Bronx community and other New Yorkers at its new, state of the art facility with comprehensive kindergarten through college arts and education programs supported by a gallery and a theater to bolster learning. Casita offers safe, rigorous and creative programs both during the school day and during out-of-school time that help transform the lives of the youth we serve. Its mission is to empower youth and their families by creating a culture of learning through high quality social, cultural and educational opportunities. For more information, please visit http://www.casitamaria.org.
This event