Virtual Symposium | Jun 8 - Jul 28 2020
The End of the Grand Tour?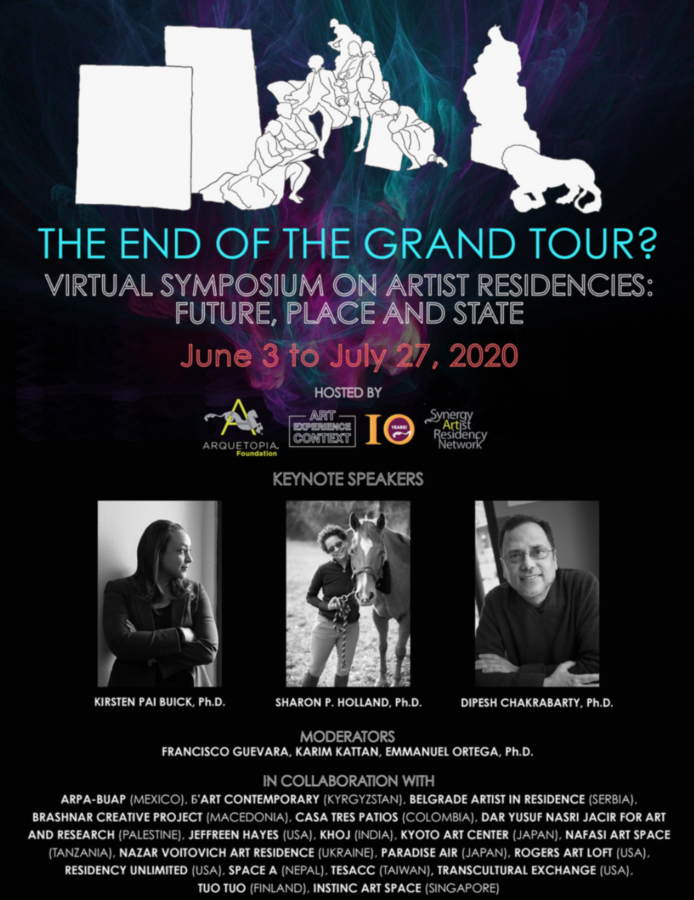 The End of the Grand Tour? Virtual Symposium on Artist Residencies: Future, Place and State

Enroll for free here.
Simultaneously taking place in 18 countries, The End of the Grand Tour? will focus on the invention of place, mobility, tourism, and historical roots as open-ended questions at the intersection of artist residency, putting into relevance concepts such as dignity, solidarity, reciprocity, community, sustainability and social justice.
The event is organized in virtual sessions featuring keynotes and a series of panels that will include the perspectives and experiences from artist residencies and cultural institutions, as well as the expertise of scholars from diverse backgrounds and different locations around the globe.
On Wednesday, July 15 at 10am EST, RU founder and executive director Nathalie Anglès is participating on Panel #5:  How Do We Move From Here: Rethinking Community, along with Yang Chun-Sen, TESACC (Taiwan) – Sheng-Li Chilian, Escuela de Artes Plásticas y Audiovisuales ARPA-BUAP (Mexico) – Junpei Mori, Paradise Air (Japan) – Gordana Zikic, Belgrade Artist in Residence (Serbia). Panel #5 is moderated by Francisco Guevera, Co-Executive Director, Arquetopia Foundation (Mexico, Peru, Italy).
7:00 AM PDT
9:00 AM Mexico City CDT
4:00 PM Paris CEST
10:00 PM Taipei CST
11:00 PM Tokyo JST
For the program overview, itinerary and official brochure, click here.
The End of the Grand Tour? is organized by Arquetopia Foundation, an internationally established, nonprofit arts and cultural foundation with a social scope that emphasizes critical thinking through artistic practices.